Lack of depth keeps MLS teams in CCL hole
With each passing year, MLS teams chip away at the advantage that Mexican clubs have in the CONCACAF Champions League. Clubs from south of the border can no longer field reserve-laden lineups and expect to win, either at home or on the road.

Yet when it comes to the crunch of actually winning the competition, the prime reason why MLS clubs fall short -- namely a lack of depth -- reveals itself again and again, and that sad refrain was evident in the first legs of both semifinal series.

-- Gomez inspired against MLS clubs

Yes, both the Seattle Sounders and the Los Angeles Galaxy lost their respective home legs to Santos Laguna and Monterrey by a solitary goal. And the impulse is to think that there is everything to play for. The reality is that it will take a miracle straight out of the movie "Victory" for either side to progress. Of course, the U.S national team proved just last week that unlikely results in Mexico are possible, but Seattle and L.A. need more than just a result. They need to win, and in L.A.'s case, they'll have to score multiple goals to progress.

In both series, a forward who has made a habit of breaking the hearts of MLS clubs twisted the knife yet again. Santos Laguna and current U.S. international Herculez Gomez scored the game's only goal against Seattle on Tuesday, his ninth in nine CCL appearances against MLS sides. A day later, it was Monterrey striker Humberto Suazo who was staking his claim to all-time CCL villain. Back in 2011, Suazo famously scored the game-winner in the second leg of the final series against Real Salt Lake, and on Wednesday, it was his equalizer that stunned the Galaxy, setting the stage for Aldo De Nigris' 90th minute winner.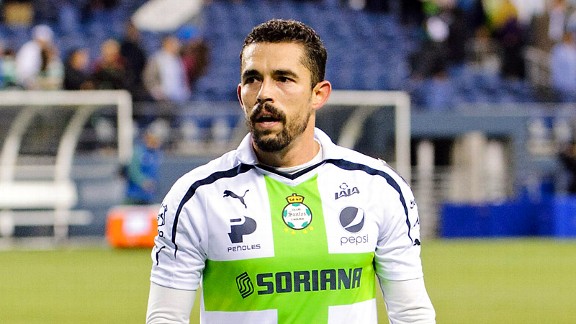 Steven Bisig/USA TODAY SportsSantos Laguna and USMNT striker Herculez Gomez has won league titles in both MLS and Liga MX.
Yet the goals by Gomez, Suazo, and De Nigris were merely the symptom. The underlying disease remains a difference in depth borne of a wide disparity in salary budget. This is revealed on the field in all manner of ways. When injuries or suspensions strike, managers are forced to turn to players with less talent and experience, and this can manifest itself in mistakes at both ends of the field as well as poor game management. That's not the case for Mexican clubs, whose payroll is often three to four times that of MLS teams.

In Seattle's match, the absence of Eddie Johnson, Obafemi Martins and David Estrada meant manager Sigi Schmid had little choice but to deploy Sammy Ochoa as a lone striker. And with Mauro Rosales and Steve Zakuani both going through a dip in form, the Sounders' attack was bereft of the kind of creativity and finishing that was going to seriously test the Santos defense.

In some respects, Schmid's side should be applauded for managing to keep Santos within touching distance, and he hopes to have Johnson and Martins back for next week's second leg. But even if Seattle is able to snag a precious road goal, it seems unlikely it will be able to contain Santos' attacking trident of Gomez, Oribe Peralta, and Carlos Darwin Quintero. The trio was a constant menace throughout the night, and only some desperate defending on the part of Seattle kept Santos from bagging a second goal that would have all but decided the series.

But if there was any doubt that the Seattle semi revealed a difference in quality throughout the respective rosters, L.A.'s encounter with Monterrey drove the point home in ruthless fashion. The Galaxy had taken a deserved lead through an A.J. DeLaGarza goal in the 28th minute and appeared to be in control as the first half ended. But then Monterrey manager Victor Manuel Vucetich went to his bench, and was able to bring on former Argentina international Cesar Delgado, and later Mexico youth international Guillermo Madrigal. Delgado in particular had a significant influence on the game as it progressed toward the latter stages.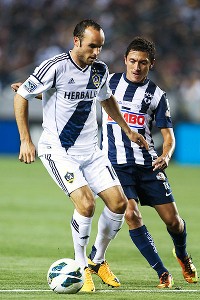 AP Photo/Bret HartmanAn out-of-form Landon Donovan served to highlight the Galaxy's depth issues in CONCACAF Champions League competition against Monterrey.
But another area where the game turned came when Galaxy midfielder Juninho was forced to leave the match with an ankle injury in the 61st minute. Prior to his departure, Juninho and midfield partner Marcelo Sarvas were able to blunt the influence of Suazo's runs back into midfield. But when Juninho was injured, L.A. manager Bruce Arena had no like-for-like replacement, and was forced to turn to Michael Stephens, a player whose strengths lie more on the attacking side of the ball. Combined with poor game management on the part of L.A., Monterrey began to make considerable territorial inroads, and space opened up for Suazo, De Nigris, and Delgado.

Arena did have the luxury of bringing on Landon Donovan in the second half, but the U.S. international is clearly short of match sharpness after missing all of preseason and the first month of the regular season. This was evident when he dragged a shot wide in the 65th minute.

Donovan wasn't the only player to misfire, however. The match might have ended differently if Robbie Keane had converted a wide open chance in the 67th minute, but he was denied by goalkeeper Juan de Dios Ibarra, who made superb point-blank save. Yet even if L.A. had scored a second, it's unlikely that Monterrey would have altered its approach all that much, and the substitutes' impact began to tell.

In the 82nd minute, Delgado shook free from Stephens on the right wing, and his cross was met by De Nigris, only for his header to be saved by L.A. keeper Carlo Cudicini.

Unfortunately for L.A., the rebound fell right into Suazo's path, and he buried the rebound on his second attempt. Then with just seconds of normal time remaining, Madrigal knocked down a cross into the path of De Nigris, and with Omar Gonzalez caught ball-watching for just an instant, the Mexico international deftly side-footed the ball over Cudicini and a game that was in L.A.'s grasp was now in the hands of Monterrey.

That the rosters of Mexican clubs are deeper is not a new development, and it's a well-known fact among MLS managers whose teams are competing in the CCL. MLS as a league has tried to provide monetary relief to clubs participating in the tournament, but that only comes to just over $100,000 in allocation money, not nearly enough to compete on level terms with Mexican clubs, or survive the loss of a Juninho or Johnson.

All of this highlights that until MLS decides to open up its coffers, its stated aim of becoming a top league by 2022 is just white noise. In the meantime, unless Seattle or L.A. can conjure up some Sylvester Stallone-inspired heroics, it looks like MLS will be faced with more CCL disappointment.