Argentinean talent finding home in form of MLS DPs
As he stood in his club's private box, Brian Bliss breathed a sigh of relief.

-- Carlisle: Thoughts on first five weeks
-- Gomez enjoys last laugh with MLS

"I said it wasn't the third goal in a 3-0 win, it was his first," the Columbus Crew's technical director, told me.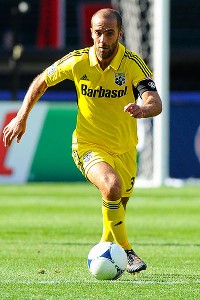 Brad Mills/USA TODAY SportsArgentinean Federico Higuain of Columbus took some of the pressure off his designated player status with his first goal of the season.
The strike he's referencing was that of Federico Higuain against Chivas USA. It was the Argentine's first goal in his second MLS season, and with its arrival, a significant amount of the pressure associated with his transfer evaporated into the night sky.

More than just a designated player, Higuain represents a growing trend of players being exported from Argentina to earn Major League Soccer's most princely contract. With a salary cap of $2.95 million, a designated player will cost a club up to $350,000, depending on the player's age. The designated player rule (or Beckham rule) allows for teams to pay players six- and even seven-figure sums that would previously have not been possible.

Of course, success is not guaranteed. Selecting a designated player can be a difficult process that requires a considerable amount of evaluation. Javier Morales of Real Salt Lake gravitated to the level of DP after five years in Salt Lake, a period in which he was twice named an All-Star. Yet contrast that with Diego Valeri or Claudio Bieler. The former was a player that despite time with FC Porto in Europe and national team experience still held an element of risk. His deal with the Portland Timbers is only temporary, but given his instantaneous impact (similar to that of Higuain) one would imagine owner Merritt Paulson is already looking to activate the permanent option they have on him.

For some clubs, the move toward Argentines is a concerted effort. Clubs like Higuain's Columbus even have a specific age range. While unwilling to rule out the possibility of acquiring an exciting youngster on big money, the Crew know what they're aiming for.

"We don't want to get into the 33- and 34-year-old guys," Bliss explained. "We've been trying to stick with the 27 to 30 range and obviously those guys have a history and a built resume and there's less risk involved. Some other clubs' philosophy is to take more chance or risk than we are. I'd never say never on a younger guy and investing that kind of money, but it would have to be an awful good case to go in that direction."

At the far end of that age bracket is Bieler. Now 29, he arrived at Sporting KC with a pedigree for potency having spent his career between Ecuador and his native Argentina. Expected to lead the club's attack following Kei Kamara's loan move to Norwich City in the English Premier League, his debut goal highlighted the kind of clutch moment clubs are now attempting to cultivate with their Argentine DP acquisitions.

Just as with 2012's spate of Colombian talent coming to prominence -- including Fredy Montero, Diego Chara and Fabian Castillo -- there are socio-economic reasons behind the appeal for Argentinian players. For example, the chance to taste American culture was something beyond the money that appealed to Seattle's Mauro Rosales, and the new lifestyle is something that sides are keen to help their players smoothly transition into. Technical directors at both the Portland Timbers and Columbus recently spoke about how they will help with everything from getting players' utilities set up to arranging their supermarket discount cards.

As someone who spent time playing in Germany with Energie Cottbus, Bliss is aware of the difficulty in moving continents.

"I had it a bit easier because I was single," he said. "But if a guy comes over here with a wife and kids, there are a host of issues that need to be resolved."

But if there is one notable facet of the culture players are not left pining for, it is the emotion in the stands. As a player who has been witness to the boisterous crowds at both Ajax and River Plate, Rosales has seen encouraging signs at his latest club.

"They have the same passion," he said. "I can see in my club this passion is coming to America, being part of Seattle Sounders fans is great. We have 40,000 every game in Seattle. This is something I don't miss from Argentina in that respect because we have it in our team."

Both Bliss and Rosales agree that Argentinians by their nature travel well -- thus why so many have moved seamlessly toward MLS. In particular, Rosales also feels early exposure to the game is why young players like his former Newell's Old Boys teammate Maximiliano Urruti, 22, are being looked at by clubs in MLS with a view to a DP contract.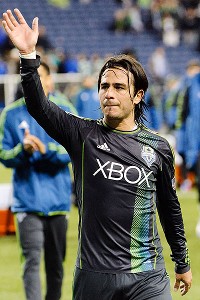 Steven Bisig/USA TODAY SportsThe chance to taste American culture drew the Sounders' Mauro Rosales to MLS.
"I think we become professional very early and you have enough experience if even if you are 22-23 years old," he said.

Whereas for Colombians many have spoken of their domestic league's financial instability as a contributing factor to turn to MLS, the same is not quite as prevalent in the Argentine Primera Division. Unquestionably, the league has been on something of a downturn financially -- "[The clubs'] resources are now very low," AFA President Julio Grondona noted in 2009 -- but Rosales told me that players going unpaid is not as regular an occurrence as you may be lead to believe.

However, the fact that paychecks always arrive on time in MLS is something that has undoubtedly appealed to South American players, not to mention something that has served Bliss well during his negotiations.

"That's another selling point of our league," he said. "You can go sign a contract for $1 million, but if you're only going to get 33 percent you're really only making $300,000. If we tell you you're going get $425,000, you're gonna get that in equal installments two times a month. I think that's attractive to guys that they're never having to chase the money and having their agents chasing the club. A good sound business model is a good selling point definitely."

With regard to this Argentine invasion, Columbus has a strong history of Albicelestes. Former Boca Juniors midfielder Guillermo Barros Schelotto not only represented the first Argentine DP in the league but was arguably the best as his three years at Crew Stadium not only saw him provide a number of eye-catching moments dripping in his esoteric class, but also the club's first (and only) MLS Cup in 2008. Players like Rosales, Higuain and Portland's Valeri have already shown just why they are so coveted by teams. With Schelotto now manager at Lanus in his homeland, the former midfielder is now serving as a character reference for his former employers.

"It's a funny story actually," Bliss said with a laugh. "Federico's wife is the daughter of the fitness coach at Boca and was the fitness coach when Schelotto played there for all those great years. So when he [Higuain] finally decided to put pen to paper and sign with us we made sure those two guys connected via the phone and Schelotto was gracious enough to sell the city itself, its fans, and the support he'd receive."

Meanwhile for Rosales, the role is reversed. "They ask my opinion of many players but certainly it's just to know how they are and how they did in Argentina," he explained.

Where Columbus first ventured, others have since followed and Bliss is not naive enough to ignore the increased MLS presence in South America during his scouting forays. Even Rosales notes that in many ways himself and players like Higuain serve as pioneers for their compatriots.

"In the next years every time one of us is coming to the league we are opening windows for them and they want to show us how their soccer is over there," he explained. "They [Argentines] want to join the league. I'm sure in the next years there are going to be more argentinian players coming to the league."

Bliss also believes that Argentinians in MLS will only continue to grow.

"I think it goes back to having guys that come into the league from that part of the world who are successful," he explained. "They're producing players -- it's just a case of 'Can we get them into the league?'"

Kris Heneage is a writer and podcaster specializing in MLS and European soccer. He has worked with ESPN, the Guardian and The New York Times, among others. He can be found on Twitter at @KHeneage or via email at Kheneage@gmail.com