Five thoughts on MLS season's first five weeks
Throughout its history, MLS has been a league that has made the likes of John Edward and the Amazing Kreskin tremble in fear. Predicting which teams will rise and fall each season has proven to be an almost impossible task, and so far 2013 is no different.

Five weeks into the regular season, underdogs have risen up to assume the top spot in each conference, with Montreal setting the early pace in the Eastern Conference while FC Dallas has done the same out west. And some teams thought to be prohibitive favorites to reach the postseason have fallen flat on their backsides to start the current campaign.

There is time of course for the fortunes of individuals and clubs to change. As the Los Angeles Galaxy showed in 2012, the MLS postseason format remains forgiving to the point that even an anemic first three months doesn't preclude hoisting the championship trophy when December rolls around. Yet while observers of all stripes can argue as to the relative importance of the season's opening weeks, what isn't in dispute is that it's been fun to watch. Here are some impressions from the month that was.

1. Fear the Goats

Back in preseason, Chivas USA manager Jose Luis Sanchez Sola, a.k.a. Chelis, made what appeared to be an empty boast, telling ESPNFC.com, "In October, call me please, and tell me the talent of this team."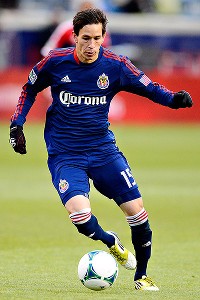 Mike DiNovo/USA TODAY SportEric Avila has benefitted from Chivas USA's attack-first style. The side leads the league in goals scored.
By all appearances there was little quality to speak of, and Chelis seemed a lock to be the first manager fired this season. Yet if the team's opening five games are any indication, that call might have to come much sooner. The Chivas locker room may be the soccer equivalent of the Island of Misfit Toys, but Chelis and his players have fashioned a 3-1-1 record, good enough for second place in the Western Conference.

The team hasn't been dull either. Juan Agudelo and Eric Avila have been the biggest beneficiaries of Chelis' attack-first (and second, and third) mentality. Chivas currently leads the league in goals scored, which has more than made up for a shaky defense.

Can Chelis' band of castoffs keep it up? It seems unlikely, but given how the former Puebla manager has fared so far, it would seem unwise to bet against him. And if he can somehow get more people in the L.A. area to care about his team, that would prove to be an impressive double.

2. Unusual suspects top the standings

One of Chivas' early victims was FC Dallas, but that has so far proved to be the only blemish on FCD's record, and Dallas leads the Western Conference with 12 points. Some scheduling quirks mean there is still skepticism surrounding the club, but manager Schellas Hyndman has fashioned a deeper, more talented side this season, especially up top. This has been borne out by the fact that Dallas has won games where they've deserved to prevail (Houston and New England) and even some where they didn't (Colorado). That's not a bad trait to have.

Out east, Montreal is off to a similarly exceptional start, and new Impact manager Marco Schallibaum looks set to join Chelis in breaking the trend of foreign coaches who have struggled in MLS. It helps of course to inherit a settled team, something the Impact was in possession of by the time it reached the end of the 2012 regular season. But Schallibaum has his side playing a smart, counterattacking game that has already seen the Impact snag road wins in tough environments like Seattle and Portland. With a stout defense and Patrice Bernier excelling in midfield, this team appears to be built for the long haul.

3. Magee fills the void

The Los Angeles Galaxy spent the first month of the season showing off its depth. Landon Donovan was on hiatus. Robbie Keane missed two games due to a combination of international duty and injury.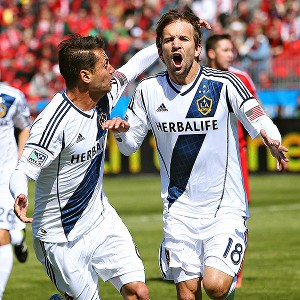 Tom Szczerbowski/USA TODAY SportsMIke Magee has a league-leading five goals filling in for Landon Donovan.
It mattered little. Youngsters Jack McBean and Jose Villarreal both impressed, but L.A. is the only unbeaten team in the league because Mike Magee, like several Spinal Tap drummers, looked ready to spontaneously combust. Normally a wide midfielder, Magee filled in up top to devastating effect, tallying a league-leading five goals, already equaling his regular season total from a year ago.

With Donovan now back, and having already seen the field as a substitute last weekend against Toronto, Magee's stint as a forward seems set to end in the next few weeks. But what is clear is that he gives manager Bruce Arena a first-in-class insurance policy should injuries or suspensions reduce the team's numbers up front.

4. Tight race for biggest disappointment

Both Chicago and Seattle were playoff participants a year ago and appeared to have made the needed upgrades to their rosters to go deeper in the playoffs. Chicago retooled its midfield, acquiring Joel Lindpere and Jeff Larentowicz. Seattle bagged forward Obafemi Martins as well as central defender Djimi Traore. Yet both teams find themselves at the bottom of the standings in their respective conferences, with a point each from four games.

Seattle's struggles in midfield are certainly surprising, but Chicago's start ranks as the bigger implosion. Not only has the Fire's defense been a shambles in the absence of Arne Friedrich, but the team's passing has been abysmal, ranking 17th in terms of pass completion percentage. No wonder then that Chicago has scored just a solitary goal this season. The usual caveats about how it's early still have merit, but the pressure is building for Fire manager Frank Klopas to turn things around quickly.

5. Wondo's tough start

Last season, not every shot went in for San Jose forward Chris Wondolowski. It just seemed like it. That's what happens when a striker ties the league record for goals in a season with 27. The reality is that Wondolowski, like any forward, missed a few chances during that stellar campaign.

So is the fact that Wondolowski has just two goals so far -- and just one from the run of play -- anything to worry about? Perhaps "worry" is too strong a word. But given that the 2013 campaign has witnessed a few more glaring misses than one normally associates with the Quakes' newest DP, it's at least worth some low level anxiety for San Jose fans.

Granted, it hasn't helped that Wondolowski's resident bodyguards, Steven Lenhart and Alan Gordon have been sidelined for most of the season. Ditto for winger Marvin Chavez. But the Earthquakes' striker has induced an uncanny number of double-takes with some of the chances he's squandered, including some jaw-dropping misses against Real Salt Lake and the Houston Dynamo that might have turned losses into results.

Gordon returned to the field last weekend against the Dynamo, and Lenhart is set to play a part this weekend against Vancouver. It's possible that this will be sufficient to get Wondolowski back into his comfort zone. Otherwise, it will begin to look more and more like he's feeling the pressure of his DP status.