USA's new dynamic duo deliver in Mexico
MEXICO CITY -- As the U.S. national team warmed up for its final practice prior to Tuesday's World Cup qualifier against Mexico, defender Clarence Goodson made what had to be an agonizing decision. He went up to manager Jurgen Klinsmann and declared that the hamstring injury that had been bothering him since Friday's win over Costa Rica wouldn't allow him to start.

Goodson's absence looked every bit like a devastating blow. The U.S. was already short-handed in the back and the highly experienced Goodson was coming off an excellent performance against the Ticos.

- Report: U.S. earn valuable point
- Ramos: El Tri adrift
- Video: Guzan: "We disrupted their rhythm."
- Video: Klinsmann, Gomez reactions
- Video: Mexico not happy
- Video: Lalas on U.S. evolution
- Insider: D key for U.S.

Klinsmann's was then left to pair Omar Gonzalez -- who entered the match with only five caps -- with the even less experienced Matt Besler. There seemed no way that the two international neophytes would be able to stop the likes of Mexico striker Javier "Chicharito" Hernandez, attacking midfielder Giovani Dos Santos and winger Andres Guardado.

Yet the pair -- with some help from outside backs Geoff Cameron and DaMarcus Beasley -- delivered a performance for the ages, helping the U.S. garner a 0-0 tie as well as a precious point in the World Cup qualifying standings. Gonzalez was immense throughout. He was dominating in the air, read the game superbly and delivered some crucial blocks in a clear Man of the Match performance. Not bad for a man just 14 months removed from ACL surgery.

Besler was nearly as impressive. The only blemish on his night was a yellow card he received early for a tactical foul in midfield on Dos Santos. Otherwise, he timed his tackles to perfection and was largely mistake-free.

"They definitely stood tall," said goalkeeper Brad Guzan of his two center backs. "And I think a lot of credit goes to them because I think they were getting a lot of unfair criticism going into this game, saying that they weren't going to be good enough to get the job done. I think not only those two but the entire back line really stepped up and they were fantastic."

It was a partnership that was forged in an unlikely locale, that being the annual January camp in Carson, Calif. It's a get-together that is often derided as nothing more than a gathering of fringe players and no-hopers. The reality is that the camp is a critical component for developing depth and allowing young players the chance to familiarize themselves with Klinsmann's methods. Cameron used the 2012 edition to accelerate his development, and Besler and Gonzalez made the most of their opportunity in 2013.

"[The camp] gave us a chance actually to have Matt and Omar working every day, side-by-side," Klinsmann said at his postgame news conference. "There was already a great understanding because they trained a month together."

The two delivered solid, if unspectacular performances in a dour 0-0 tie against Canada. But following Goodson's performance against the Ticos, the odds were long that Gonzalez and Besler would be reunited. Of course, that all changed after Goodson's unselfish act.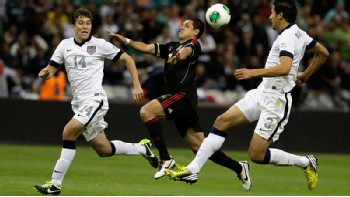 APUSA pair Matt Besler and Omar Gonzalez deal with Mexico striker Javier Hernandez
"This was highly professional," Klinsmann said of Goodson's decision. "This is what you wish from a player. ... That honesty is huge. So we changed it after [the media left practice], and we shift right away to Matt Besler. We worked on that back line."

"You're always ready, you're always open," Besler said after the match. "But yesterday during our walkthrough we realized that Clarence was really struggling with a hamstring injury. That's when we focused on 'Let's get prepared, I'm going to start.'"

By the time Besler was officially informed at 11:30 a.m. on game day that he would start, he was more than ready. And later that day, the January investment in Gonzalez and Besler paid off tenfold against the Americans' bitter rivals.

"Tonight we looked like we've been playing a long time together," Gonzalez said of his partnership with Besler. "I thought it felt pretty natural."

That isn't to say Hernandez and the rest of his El Tri teammates didn't have some chances. His bullet header in the first half from a Javier Aquino cross flew just over the bar. There were also some tense goalmouth scrambles in the second half during which Hernandez seemed inches away from putting El Tri ahead. But for the most part, the man renowned as the best forward in CONCACAF was held largely in check.

"[Hernandez's] movement is unreal," said Besler. "He's always on that back shoulder. If you don't take a look, he's gone. Tonight that was one of the focuses me and Omar had, communicating a lot. Is he between us? Is he on our back shoulder? I think we did a good job."

Communicating is something that is supposed to be impossible in the Estadio Azteca, especially when a near-capacity crowd is on hand like it was Tuesday night. But Gonzalez stated that this was one occasion in which the Azteca crowd didn't live up to its reputation.

"The noise wasn't really that bad," he said. "I thought it was going to be louder, but we were able to talk quite a bit."

So now the quest that has absorbed the American team throughout this World Cup cycle -- that of finding replacements for an aging back line -- has made the jump to light speed. While it's possible that captain Carlos Bocanegra will still have a part to play in this hexagonal, the need for his experience doesn't seem as urgent now. The same is true for the likes of Oguchi Onyewu and perhaps even Goodson. Granted, as the last month has shown, circumstances can quickly alter the makeup of the team's depth chart. Just a few months ago, there seemed little question that Cameron's future was at center back, only for a need at outside back to dictate otherwise. Dips in form can also waylay a coach's plans.

But what Klinsmann will find most comforting is that Tuesday's performances showed that solutions exist in the back, whereas before there were only problems. The U.S. manager now has until late May, when the team will reconvene for its next set of games, to figure out how those pieces best fit together. Given the play of Besler and Gonzalez, he'll be doing so from a position of strength.