U.S. earns a precious point against Mexico
MEXICO CITY -- For the second time in its history, the U.S. men's national team secured a golden point in a World Cup qualifier at the Estadio Azteca, battling Mexico to a 0-0 tie.

The draw didn't require the defensive heroics of the 1997 side, when the U.S. played most of the match with 10 men. But it marked a coming of age for the young central defensive duo of Matt Besler and Omar Gonzalez. Besler, making just his second appearance for the U.S., delivered a composed performance in place of the injured Clarence Goodson. As for Gonzalez, he was the man of the match by a clear margin, putting out countless fires in just his sixth appearance for the Americans.

- Report: U.S. earn valuable point
- Ramos: El Tri adrift
- Video: Guzan: "We disrupted their rhythm."
- Video: Klinsmann, Gomez reactions
- Video: Mexico not happy
- Video: Lalas on U.S. evolution
- Insider: D key for U.S.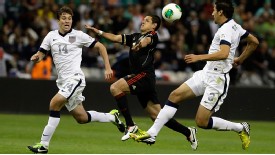 APUSA pair Matt Besler and Omar Gonzalez deal with Mexico striker Javier Hernandez
The result saw the U.S. drop to third behind Costa Rica on goal difference and a point behind first-place Panama in the table for the Hex. Mexico, meanwhile, fell to fifth and has already dropped four points at home in this Hexagonal, increasing the pressure on manager Jose Manuel "Chepo" de la Torre.

A makeshift American lineup, which was already missing eight players, sustained further losses prior to kickoff. Jermaine Jones had been sent home due to an ankle injury he sustained Friday against Costa Rica, and as expected his place in the lineup was taken by Maurice Edu. What was surprising was that Clarence Goodson was rendered unavailable due to a hamstring injury, leaving Besler to take his place. With Besler paired alongside Gonzalez, it meant the center of the U.S. defense entered the match with a total of six caps combined, a trifling total given the stakes involved.

The opening exchanges revealed that the Americans' defensive issues weren't in the center but on the flanks. Mexico attacked stand-in left back DaMarcus Beasley from the opening whistle, and while Javier Aquino might have done more with some opportunities, Beasley was wilting under the pressure and was duly booked for a takedown of Aquino in the eighth minute.

Fortunately for the Americans, Gonzalez and Besler repelled most everything Mexico threw their way. And on the occasions when they were beaten, either Mexico was oddly reluctant to shoot, fired straight at U.S. goalkeeper Brad Guzan, or failed to hit the target. Besler was booked for a tactical takedown of Giovani Dos Santos in the 20th minute, but otherwise held up well.

El Tri's best chance of the half came in the 21st minute when Javier Aquino's inch-perfect cross found the head of Hernandez, but his header flew just over the bar. Hernandez came close again eight minutes later, but his header from a Jorge Torres Nilo cross was deflected over the bar by the Manchester United striker.

The Americans weren't without their spells of possession, but weren't nearly as dynamic as the hosts. The best U.S. opportunity came in the 44th minute when a nice exchange of passes saw Jozy Altidore try to feed Michael Bradley in the box, but the pass was a tad too long, allowing Mexico's defense to break up the play.

The second half began with Mexico continuing to apply more of the pressure, but couldn't find a way through the U.S. defense, Gonzalez in particular. The Los Angeles Galaxy defender was on hand to break up plays time and again, including a block of an Aquino shot in the 53rd minute.

But midway through the half, the U.S. began to establish a toe-hold in the game, with substitute Eddie Johnson winning some fouls and the team just making smarter decisions with the ball.

Mexico manager Jose Manuel de la Torre had brought on Angel Reyna in the 71st minute and while the U.S. countered with Brad Davis, Mexico was back on the attack, forcing the U.S. to ride its luck at times. A Diego Reyes shot from inside the box was deflected just wide in the 69th minute, and Aquino's penalty appeal from an Edu challenge in the 76th minute was denied.

Mexico had one last chance in stoppage time, but Guzan parried away Reyna's shot with a brilliant diving save to his right.

All that was left was for the Americans to celebrate a draw that in many respects felt like a victory, and it will no doubt increase the confidence level of Jurgen Klinsmann's charges going forward.

Player ratings: (0-10; 10=best)

G Brad Guzan, 7: Flawless in every respect, from his handling, to his positioning, to his ability to command the box, especially on a punch in stoppage time.

D DaMarcus Beasley, 4: It was a case of one match too many as an emergency left back. He struggled to cope with Aquino as well as his passing when pressured. And in his eagerness to close opponents down, overran his mark again and again. He hung in there in THE second half and did have some timely challenges, but he labored overall.

D Matt Besler, 8: For a player experiencing just his second cap, he didn't look overawed at all. Took one for the team in the first half, getting booked for a tactical foul on Dos Santos, but otherwise was performed well, especially in the air.

D Omar Gonzalez, 9: A massive performance. Gonzalez provided several timely interventions both in the air and on the ground, and his reading of the game was superb. He's a player who is growing with every game.

D Geoff Cameron, 6: Struggled initially to contain Guardado, but eventually recovered to provide some steady defending. Even found time to get forward, but wasn't effective with his deliveries.

M Michael Bradley, 7: One of the few Americans to show much composure on the ball when put under pressure, and showed his usual defensive prowess.

M Maurice Edu, 5: Defended decently enough and even got into the attack on occasion. Tried to dribble out of the back a tad too often, but provide huge amounts of energy in midfield.

M Herculez Gomez, 5: Spent much of the half helping Beasley on defense, which took away some of his attacking influence. Struggled with his set piece deliveries.

M Clint Dempsey, 4: Contributed more defensively on the set than he did in the attack, as his off-the-ball movement wasn't up to his usual standard. He looked heavy-legged.

M Graham Zusi, 5.5: Another player who was pegged back by Mexico's pressure and his defensive header in the 72nd minute saved an almost certain goal.

F Jozy Altidore, 4: Needed to be more optimistic, and anticipate balls into the box better. Linked up with his teammates decently enough. To be fair, he didn't always get the needed support, but rarely got in good positions to threaten when the U.S. had the ball.

Subs:

M Eddie Johnson, 5.5: Offered a bit more of a physical presence up top, and helped the U.S. catch its breath by winning some free kicks. His crossing left something to be desired, however.

M Brad Davis, 4: Conceded a silly free kick late that could have proven costly.

M Brek Shea, 5: Came on and provided some valuable energy in the midfield late.