Jozy Altidore: The goals will come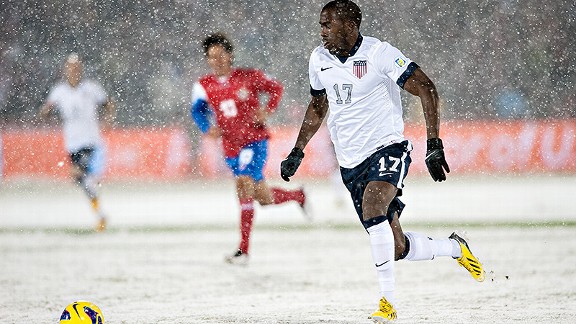 Dustin Bradford/Getty Images"Throughout my career, I've shown that when I get consistent time and when I'm comfortable in a place, I score goals," said Jozy Altidore.
MEXICO CITY – As Jozy Altidore sat on a sofa in the U.S. team hotel, the same four words kept finding their way into almost every answer.

The goals will come.

On the surface, the reason for the mantra seems obvious. Prolific for club side AZ Alkmaar, Altidore hasn't scored for the U.S. since a 3-2 win over Slovenia 16 months ago, a streak of nine games. But for the U.S. international striker, his words didn't sound ridden with panic or self-doubt. Rather, they were borne of confidence forged at club level, as well as recognition of what's at stake when the U.S. faces Mexico in a titanic World Cup qualifier at the Estadio Azteca.

"Throughout my career, I've shown that when I get consistent time and when I'm comfortable in a place, I score goals," he said. "I know that I'm going to do that here. I just need time to get back in the lineup, get consistent, and when that happens I know I'm going to score."

- U.S. jumps from ice to fire
- Steady progress at Azteca
- Debate: Who has edge?
- Futbol Mexico blog
- Ramos: Mexico needs win
- Azteca mystique?
- Video: U.S.' left back problem
- Press Pass: Azteca showdown

There was a point last year where Altidore found himself in the doghouse of U.S. manager Jurgen Klinsmann, and he was surprisingly left out of the last two World Cup qualifiers in the semifinal round. At the time of his banishment, Klinsmann was highly critical of Altidore's work habits and ability to contribute in ways other than scoring. These included his ability to hold the ball and link up with his teammates, as well as his effort on the defensive side of the ball.

"I think he was talking about just being harder to play against," said Altidore. "That's one of the things he always stressed to us. Just because you're a forward doesn't mean you have to let it be easy for the defenders to play against you. If you start defending from there, we become a tougher team to beat."

Yet Altidore has gradually worked his way back into Klinsmann's good graces. The forward pointed to a friendly last November against Russia as a turning point in his quest to get back in the national side. In that match, he showed some of the work rate and tenacity that had been missing from previous performances.

But some more recent developments have also aided Altidore's pursuit of more playing time with the national side. Against Costa Rica, Klinsmann altered his tactics to play more of a 4-2-3-1, with the advanced midfield trio of Herculez Gomez, Clint Dempsey and Graham Zusi in support of Altidore. In previous matches, the Americans' poor movement and inability to string passes often left Altidore on an island. That wasn't the case in the first half of Friday's match.

"Every time the ball came up I had somebody to lay it off to," said Altidore. "Not only that, you're more dangerous when the defense has other things to think about. That obviously helped out. I thought we did a good job of supporting. Clint was always there, Graham Zusi did a good job of supporting, Eddie when he came on, Gomez is always running up and down the flank. Wherever he's playing, he's giving everything."

Gomez's presence looks to be one of the keys to making it work. The Santos forward is an attack-minded player with the kind of engine that allows him to attend to his defensive duties. He also has an appreciation for the positional demands placed on Altidore.

"I've played that lone striker position, and I know how difficult it can be," said Gomez. "And you definitely want players up there who want to get in front of goal, want to get close to goal, want to combine, and want to be dangerous. [Jozy] definitely does give us a different face."

In the first half against Costa Rica, Altidore showed off the same kind of aggressiveness that has seen him rack up 25 goals for AZ this season in all competitions. On one occasion in the 16th minute, it was deflected effort that Dempsey tucked away for the game's only goal.

"I think with the national team, in the last year and a half I just haven't gotten into those spots," said Altidore. "That game, with the lineup we played, the energy, everything from everybody, it just got everybody in good spots, especially in the first half. Obviously when the game went on with the weather, that kind of dictated how we played. At the same time, when I get into those spots I think I can be dangerous."

The U.S. will need that to continue on Tuesday against El Tri. For all the hand-wringing over the composition of the U.S. defense, not to mention the potency of Mexico's attack, it seems likely that the Americans will need to find the back of the net if they are to walk out of the Azteca with a result for just the third time in their history.

"There's really nothing to lose here," he said. "It's still early on in the process. We still have time to recover, so we're going to go out there with no regrets. I don't really think we're scared of the opponent. We just have to stick to our game and from there we can be successful."

Perhaps then the goals will come for Altidore.