U.S. feeling confident ahead of clash with Mexico
MEXICO CITY -- It seems as though, every four years when the U.S. plays a World Cup qualifier away against Mexico, the feeling is that this is the time for the Americans to get a competitive victory over El Tri at the Estadio Azteca. Mexico always seems to be in some crisis, with the coach on the hot seat and the pressure turned up full blast on the players. Meanwhile, the U.S. comes in with nothing to lose.

This time looks to be no different. The U.S., despite bringing a short-handed squad to Mexico, has a bit more bounce in its step after beating Costa Rica 1-0 on Friday. As for Mexico, it is off to its worst-ever start in a Hexagonal, with only two points from its first two games. There is speculation that if El Tri loses to the U.S. on Tuesday, manager Jose "Chepo" de la Torre will lose his job, as well.

There also are other factors in the U.S. team's favor. The Americans have been at altitude for a week; the temperatures in Mexico City have been downright pleasant; and the kickoff is scheduled for 8:30 p.m. local time. With some of Mexico's home-field advantage blunted, the U.S. can sense the opportunity waiting in front of it.

- U.S. jumps from ice to fire
- Steady progress at Azteca
- Debate: Who has edge?
- Futbol Mexico blog
- Ramos: Mexico needs win
- Azteca mystique?
- Video: U.S.' left back problem
- Press Pass: Azteca showdown

"I think it's one of those games we're just hungry for," said U.S. manager Jurgen Klinsmann at Monday's prematch news conference. "Playing Mexico in a sold-out stadium in Mexico City, it's just an awesome opportunity for those guys, so I want them to really embrace that moment."

For the U.S., that means taking the game to El Tri, something the Americans have done only on rare occasions at the Azteca.

"Let's be honest, the pressure is on [Mexico]," U.S. midfielder Michael Bradley during a roundtable with reporters. "The pressure for them at home at Azteca, to not only play a good game but to win. For us, if we can take things that we've done well in the past -- whether it's the '09 game, whether it's the Gold Cup final, whether it's the win in August -- and use some of those things, I think there's a real chance for us. If we can start well, if we can show them early on that we're going to close them down, we're going to make the game difficult for them, we're not going to sit so deep and let them have the ball the whole time, I think then that will start to put them under the pressure."

Given the makeshift nature of the team's back line, there is plenty of logic to that approach. The 4-2-3-1 Klinsmann trotted out against Costa Rica resulted in a more cohesive attack -- at least for a half -- that looked much more fluid than in the Hexagonal-opening loss to Honduras. The U.S. was able to provide better support for lone striker Jozy Altidore through Clint Dempsey and Herculez Gomez.

But with Mexico typically having the edge in possession, an attacking approach will take the U.S. only so far, at which point the American defense will be tested. It will become imperative that the U.S. stay compact and not get sucked into a wide-open contest.

To that end, there has been speculation that Maurice Edu would slide into the back to provide some more mobility. However, Klinsmann indicated in his news conference that he intended to make few changes to his lineup, which hints at keeping the status quo with Omar Gonzalez partnering Clarence Goodson in the middle, flanked by Geoff Cameron and DaMarcus Beasley. Not only does this establish a modicum of chemistry in the group, but having Cameron, Gonzalez and Goodson on the field gives the U.S. three big targets on set pieces.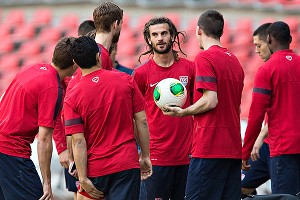 Miguel Tovar/Getty ImagesThe U.S. must come up with a plan to shut down the Mexican attack, especialy Giovani Dos Santos and Chicharito.
Much of the pregame attention has focused on how the U.S. will stop Mexico's poacher extraordinaire, Javier "Chicharito" Hernandez. Without question, Hernandez is the most talented striker in CONCACAF, with his movement making him a nightmare to defend.

"Hernandez kind of reads off your movement," Cameron said before Monday's practice. "If you move to the right, he'll slide to the right and then drop real quick. He's always playing off your back shoulder, and he's just got a knack for the goal. He's always sniffing around."

But every striker is dependent on service to a degree, and the key to stopping Hernandez is somehow muzzling his main providers, especially Giovani Dos Santos and Andres Guardado. Guardado probably will go up against Cameron, who is coming off some shaky performances in the past two qualifiers. Hernandez has lately been feasting off Guardado's crosses into the box, and denying that service will be high on Cameron's list of priorities.

Dos Santos typically has a free role in the attacking half, and with Jermaine Jones sidelined by a sprained left ankle, it probably will fall to Edu -- but possibly Kyle Beckerman or Sacha Kljestan -- to partner Bradley in the center of midfield and make life difficult for the Mexico attacker. Given the way Dos Santos tormented the U.S. in the 2011 Gold Cup final, that will be a monumental task.

"Dos Santos is skillful, and in his own way very athletic, with a low center of gravity, strong and balanced," Bradley said. "He's one of the guys that now is able to find little spots between the lines, play off of guys and really, with his vision and way of moving with the ball and passing, is able to cause trouble. When you talk about playing against Mexico and closing down their key guys, he's certainly one of them."

Beasley also figures to come under pressure, given that Friday's win over Costa Rica was the first time he had played the position in several years. Whether he'll face Dos Santos or someone such as Javier Aquino won't be known until just before kickoff. Gomez figures to give Beasley plenty of help, but it's also hoped that he'll get forward often enough to test Mexico right back Severo Meza.

So, will the U.S. prevail? Mexico has tended to get the win it has needed in this fixture, no matter the pressure or the form of the U.S. team. For that reason, El Tri remain strong favorites to do the same Tuesday. But the U.S. definitely has a chance to at least repeat the performance of the 1997 team that garnered a 0-0 draw.

"It's a game that we feel has come at a good time," Bradley said. "We're confident, we're excited, it's a huge challenge. As a player, these are the games you want to play in."

And win, as well.

Notes:

-- FIFA announced Monday that it has received Costa Rica's protest of Friday's match with the U.S. and that the next steps would be determined "in due course." FIFA refused to state whether there was a timetable for making a decision. Looking back at the playing conditions that existed, in which there were 3-4 inches of snow on the ground, the match should have been suspended. But that was the decision of referee Joel Aguilar and match commissioner Victor Daniel, and no one else. For that reason, the most likely outcome is that Aguilar and Daniel will be disciplined but the result allowed to stand.

-- It sounds as though there will be no divided loyalties in the Omar Gonzalez household Tuesday. Gonzalez, a first-generation American who estimates that half his family still lives in the Mexican city of Monterrey, said of Tuesday's match, "To be able to play against Mexico in the Azteca is something that I can't wait for. I'm going to have a lot of fun with it."

But when asked for whom his family would root, he responded, "Probably me."

-- Bradley admitted that one issue the team discussed in the run-up to the Costa Rica match had to do with the team's mentality. It's an attribute that long has been one of the U.S. team's strengths, yet it had slipped down a few notches.

"The commitment, the determination, that ... winning mentality, the willingness of every guy who steps on the field to run and fight for every guy on that field; when you talk about winning big games, hard games, big games on the road, those things have to be there," he said. "For me, if I'm looking closely, I'll look back at times in those games, those qualities didn't shine through as much as they normally do and as much as they have to to win big games. We talked in the buildup to Costa Rica ... feeling like, listen, that part is nonnegotiable. Those qualities, that commitment, that determination, that mentality has to be there, and it can't ever come down at all."

On Friday, those traits were in abundance. Now the trick is to give that same effort Tuesday.