USMNT vs. Mexico: Predictions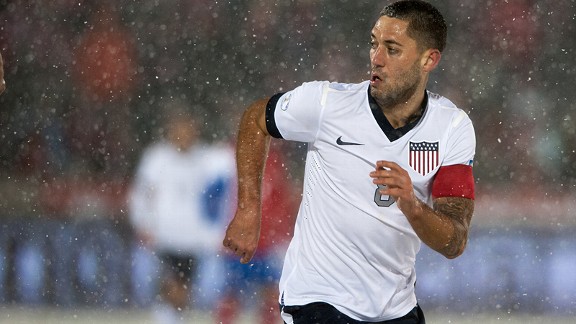 GettyImagesUSA skipper Clint Dempsey: A man for all seasons?
One game, three victories: When the U.S. men's national team overcame Costa Rica, the weather and the demons of internal divisions revealed in a Sporting News story earlier in the week, the Americans reversed much of the negative feelings surrounding the team. The timing is fortuitous, with the most difficult match on their Hex schedule coming up Tuesday.

Jurgen Klinsmann's team heads to Mexico City to battle a different trio of opponents: Mexico, the clear top team in the region despite a bumpy start to their own fourth-round schedule; the conditions in the Estadio Azteca, where 100,000 rabid El Tri fans will raise a wall of sound cloaked in lung-searing smog; and expectations, of which there are rarely any of success when the Americans trek below the Rio Grande.

- U.S. jumps from ice to fire
- Steady progress at Azteca
- Debate: Who has edge?
- Futbol Mexico blog
- Ramos: Mexico needs win
- Azteca mystique?
- Video: U.S.'s left back problem
- Press Pass: Azteca showdown

The maelstrom of competing dysfunction and burgeoning confidence swirling around the U.S. team makes pinning down just what to expect Tuesday a difficult proposition. Does beating Costa Rica by a goal in a heavy snowstorm change anything about the prospects of getting a result in Mexico? Can the previous malaise-cum-drama that popped up just a week before the trip to Azteca be wiped away by one supremely atypical victory?

This Hex trip to the cauldron of Azteca is much different from the same game the last time World Cup qualification was on the line. Back in 2009, the United States hit Mexico City brimming with confidence off a strong performance in the Confederations Cup. Charlie Davies brought an injection of speed and energy to the team, and appeared on his way to forming a long-term partnership with young striker Jozy Altidore. Expectations for a U.S. trip to Azteca were probably as high as they'd ever been.

It ultimately wasn't to be. Even that American team couldn't finish the job, despite coming in bursting with confidence, and despite taking an early lead through the aforementioned Davies. Like in so many other trips to Mexico, developments conspired against them. Maybe if Landon Donovan hadn't been hampered by the swine flu.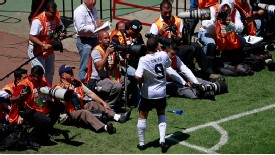 GettyImagesUSA's Charlie Davies celebrates his goal in the Azteca Stadium in 2009
Three and a half years later, the trajectory of the team is significantly different. One win in adverse conditions might help salve a few very public wounds, but it can't make up for all of the uncertainty surrounding a team still searching for the answers to questions across the lineup.

To better pin down the feeling about expectations heading into Tuesday, we've tapped the opinions of several close observers of the U.S. national team. Did Friday's win change expectations for Azteca?

Jared DuBois, 'The Best Soccer Show'
If the movie "Alive" taught me anything, it's that fighting for your life in the snow can do odd things to a sports team. In this case I think it was able to force these 23 men to work together and put aside the petty bickering from earlier that week.

Clint Dempsey aside, I'd be surprised to see many changes to this lineup. His fitness was overplayed all last week. But we know he's coming off injury and that the Azteca game is a free roll. We'll see how Klinsmann chooses to spend his newfound capital. I'm optimistic they might be able to squeak out a 1-1 draw.

Alexi Lalas, ESPN soccer analyst
I don't think Klinsmann should change the lineup versus Mexico, primarily because I don't think there is anyone better on the bench. The U.S. has no pressure because there are very low expectations of getting points. All the pressure is on Mexico, but that is nothing new. If the U.S. can avoid giving up an early goal, a point is possible. But I think Mexico will win comfortably (which, by the way, would not signal the end of days for the States).

Eric Beard, A Football Report
Like many college nights, Friday's match against Costa Rica was unforgettable, but ultimately we ended up learning very little. In fact, the same can be said for the USMNT's last trip to the Azteca. Words such as "courage" and "heart" and "passion" swarmed Twitter with their incessant buzzing of meaninglessness, and the truth is that our samples of blizzard conditions in Denver and 100-degree heat in San Pedro Sula function as a barometer for the USMNT's true ability as well as Ebert & Roeper's brackets as a guide to March Madness.

Most bizarre was the fact that the U.S. were able to maintain possession with more ease in a few inches of snow than on Honduran grass. Of course, this can work to Klinsmann's advantage, as no one -- neither U.S. fans nor Mexicans -- knows exactly what is being mixed in the German's formula for success.

One thing we did learn is that Jurgen was right to choose Clint Dempsey to captain this team. Unlike most players, Clint is able to maintain an ethereal presence even when disgruntled, with contrasting histories of sheer ridiculousness (RIP Big Hawk) and unquantifiable ability (THAT chip). The heart tells me to trust the back line of DaMarcus Beasley, Omar Gonzalez, Clarence Goodson and Geoff Cameron after they kept a clean sheet in conditions in which there were 20 yards of visibility.

I can't see the U.S. pulling off a positive result, but this shouldn't be a make-or-break moment for the United States, either. If anything, this could be the USMNT's biggest opportunity to learn yet, which is as novel as it is needed.

Jason Davis, ESPNFC
Whether it's more because Mexico is dealing with its own blip in confidence or because a win in a blizzard gave the Americans a dose when they most needed it, Tuesday night's showdown at the Estadio Azteca possesses something no one was sure would be in evidence: uncertainty. El Tri is still a heavy favorite, and the U.S. is still struggling with issues of identity and injury, but at least there's reason to believe a shocking result could happen. Klinsmann might have actually learned something Friday. America might have found a captain.

Expectations were low before the win over Costa Rica, and they're still low now. The difference is that the low expectations as they exist now also have a tinge of hope to them -- hope that the togetherness and spirit forged in a snowstorm give the Americans a puncher's chance to shock their rivals on the road in the world's most daunting national stadium. In the end, I don't think it will be enough and Mexico will prevail by a goal or two. That doesn't mean the trip can't be successful for Klinsmann and his team if that togetherness is further tempered in the fire of Azteca.