Who has edge at Azteca among troubled sides?


Like Boca Juniors-River Plate or Man United-Man City, the rivalry between the U.S. and Mexico is one that has deep roots, a rich history and plenty of passion on both sides. The tension is always great when the two teams meet, but recent form -- Klinsmann's side losing in Honduras, El Tri's worst-ever Hex start -- has amplified it to astronomical levels ahead of Tuesday's meeting.

- Ramos: Mexico needs win badly
- Both sides of the border: Lalas, Borgetti

Oh, and they're squaring off in the rivalry's most historic arena: Estadio Azteca.

With both sides hungry for a campaign-defining result, we asked ESPNFC columnist Jeff Carlisle and Eric Gomez, a freelance writer who covers Mexico's national team for ESPN Insider.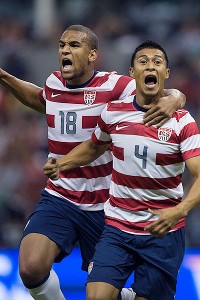 Miguel Tovar/Getty ImagesMichael Orozco and the U.S. showed they can win at Azteca last August, but the stakes against Mexico are much higher this time around.
Gomez: This is probably the least buzz I've sensed for a Mexico-USA clash in recent memory. The reason, actually has nothing to do with the USMNT in itself. Mexico was buzzing for so long over playing Honduras in San Pedro Sula, a city in which El Tri strolled into with zero wins since 1965, that it just kind of forgot about the USA. Is that fair?

Some were even suggesting that Honduras is starting to supplant the United States in terms of the "important" CONCACAF rivalry. That's big talk for sure, but I think that what was generated for Honduras would have been about the same if Mexico played the USA on the 22nd and not the 26th.

All that being said, with both teams starting slow ... I've got to assume that Mexico is the favorite to win at the Estadio Azteca. No way this team allows Klinsmann and Co. to sneak up on them like they did in August.

Carlisle: This is exactly how the U.S. likes it. The underdog role suits the U.S. to a tee, and given the bare-bones roster at Jurgen Klinsmann's disposal, that is definitely the case here. The U.S. will also have been at altitude for the better part of a week. It would be better if they had more time to acclimatize, but they'll be in much better shape physically then they normally are heading into the Azteca. Meanwhile the pressure will get heaped on El Tri, which has just two points in two matches against Jamaica and Honduras.

Gomez: They've always been the underdogs, save for those fateful clashes in 2001 and 2009 where a strong, confident USA team stepped into Azteca with Javier Aguirre needing to net three points out of each match or risk missing out on the World Cup. I'm not going to tell the United States to not use that as motivation, but I mean, it is the norm after all.

Klinsmann is a master motivator, a starry-eyed optimist who talks about "taking U.S. soccer to the next level" as if that next step is palpable. I think his idea of that next level can best be represented in the short-term by winning Tuesday. No doubt he's going to pass that along to his players. There's where your pressure factor comes in. With all the buzzards starting to circle Gulati, Klinsmann and this era of the USMNT as a whole, there's a very real chance that the U.S. could be stuck on three points after three matches. That would certainly alert the USA's coaching staff into an ill-advised strategy come Tuesday.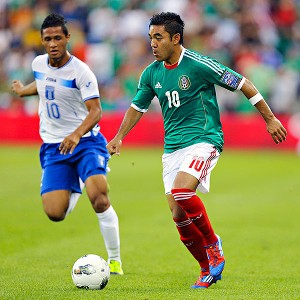 Ed Zurga/Getty ImagesHas Honduras, which is atop the hexagonal standings, supplanted the U.S. as Mexico's biggest CONCACAF rival?
Carlisle: Perhaps, but Klinsmann's tenure has been highlighted by grandiose proclamations and raised expectations. Now the U.S. team is sliding back into its comfort zone where any kind of result will be taken as a positive. And if they don't, well, they weren't expected to win there anyway.

And they're facing a Mexico team that has plenty of problems of its own. The Azteca Aura has started to fade of late. Yes, the result against the U.S. last August will have supposedly woken Mexico up, but wasn't that what was supposed to happen against Jamaica last month? That has to be a concern if you're a fan of El Tri.

Gomez: And yet, Friday's draw offered a glimmer of hope, and again, pushing toward a direct comparison, something the United States was not close to doing. Mexico strolled into San Pedro Sula and for 75 minutes had complete dominance over a tough Honduras side that launched itself past the United States a month ago. Sure, the USA could argue that, like Mexico, they were victimized by a surge after having dominated themselves, but what this tells us is that aura and mystique aside, recent form would seem to give the edge to Mexico.

The very, very illegal match in Denver on Friday was almost stopped after 54 minutes, which put Costa Rican players in a bind. "Do we stop now, and play a full 90 minutes at a later date, further compromising our physique?" they surely thought. Then, the wildness of the conditions pushed them on, rightfully thinking that the ball could do anything in those conditions, and a bounce here or there could benefit them. And they almost had it if not for an errant offside call. Comfort zone or not, this team is far from the old U.S. sides Mexico has been accustomed to seeing.

Carlisle: The conditions were the same for both U.S. and Costa Rica. Eight of Costa Rica's players play in Northern Europe, so I don't think the snow benefited the U.S. all that much. And please, for years Costa Rica played games on that abomination of a pitch at the Estadio Saprissa. Pure sour grapes. Had Costa Rica equalized, I'm sure they would be praising the officials for continuing the match. As for the offside, there was nothing "errant" about it at all. It was a good call, as the replay clearly showed.

But I digress. It's interesting that you talk about "glimmers of hope," this for the presumed Kings of CONCACAF. Yes, Mexico played well in Honduras, but they couldn't close the deal could they? Just like at home to Jamaica. The bottom line is that two points is the fewest Mexico has started with over the past five hexagonals. The pressure has only escalated.

Is this U.S. team as good as in years past? No team has the amount of injuries the U.S. has sustained. But there are factors trending in their favor. They've already spent a week at altitude, so unlike years past that won't be an issue. The game is being played at night, so heat won't be a factor either. El Tri is taking tons of abuse from the Mexican media. Imagine what will happen if the U.S. gets out of the Azteca with a draw. That will have been four points already dropped at home. For El Tri, it's squeaky bum time.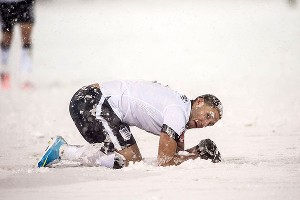 Dustin Bradford/Getty ImagesClint Dempsey and the U.S., always an underdog at Azteca, weathered the conditions in Denver and earned three points against Costa Rica.
Gomez: In essence, a win at Azteca could offer the same thing for Mexico that Aspen, er, Denver, delivered for the USMNT: a false sense of confidence after a shaky start. However, both seemingly troubled managers would be able to point to the same thing: scoreboard. After two matches, all six teams are incredibly close. After three matches, not much would change if certain results pull through.

Bottom line? A win launches Mexico up to safety and pushes the press and fans off Chepo and his boys. And the USA's play offers us no indication that there is anything they can offer to dissuade that prediction. Mexico's biggest enemy after two matches has been the enemy within. Avoiding mental mistakes is pretty much all they need to do to get the win, especially if Klinsmann decides to throw out his 25th different lineup after 25 games.

Funny how the voices crowding Klinsmann seemingly quieted down after 90 minutes of slop and snow.

Carlisle: The voices around Klinsmann are quieting because his decisions -- for once -- contained an internal logic to them. With his back line in shambles due to injuries, he relied on his most experienced players -- Clarence Goodson and DaMarcus Beasley -- to pull the team through. His midfield also had better balance between defense and attack as opposed to the defense-heavy selections that characterized previous games. Now, after pulling Chicharito and Gio dos Santos in the second half against Honduras, it is de la Torre's decisions that are under scrutiny.

Is Mexico favored? Of course. At home against CONCACAF opposition they always are. But that doesn't mean the task before the U.S. is impossible. That was proven last August. Yes, there was little at stake, and the crowd Tuesday will be much bigger, but it's a start. And the U.S. will actually have about the same number of first-choice players available Tuesday as they did in that match.

You talk about avoiding mental mistakes. Can Mexico really be counted on to do that, even with Maza Rodriguez suspended?

Gomez: I don't think it's a question of "if," but now that Rodriguez has been sidelined due to yellow card accumulation, we can talk about a different, younger, more dynamic defensive unit that will have either a Diego Reyes or Hugo Ayala with something to prove. I cannot fathom how anything other than the result has given the United States confidence going into Azteca.

You said it yourself: There's going to be actual stakes in play Tuesday, with a huge crowd as the same circumstances that have frustrated and befuddled the USMNT for the better part of a century. This, ironically, is the game Mexico is born to play. A high-pressure Clásico with mediocre results in recent games pushing them to save their skin. If the USA is comfortable being a scrappy underdog, they certainly don't show it. They've never won a meaningful game here. I'm confident that will remain a truth after Tuesday evening.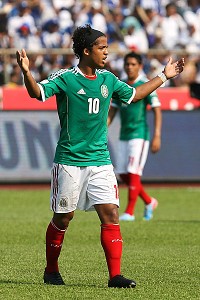 Carlos Perez/LatinContent/Getty ImagesMexico manager "Chepo" de la Torre may have tricks up his sleeve, but using Giovani dos Santos wide didn't help score a home win against Jamaica.
Carlisle: But the U.S. doesn't need to win. A draw will put them in a position that they dared not dream about just a few days ago and heap even more pressure on their rivals. And getting a draw is something they have done before, albeit once, and the present circumstances have some similarities to that game in 1997. The U.S. is prepared for the altitude, the weather looks to be cooperating, and despite injuries and off-field turmoil, the team looks to be united heading into the match.

The big question for me is can the U.S. defense hold up, especially Geoff Cameron, who has not looked sharp in his last few outings? He'll be going up against an in-form Andres Guardado. If Cameron can summon up a better performance, then I think the central midfield duo of Jermaine Jones and Michael Bradley will be able to provide a sufficient shield to protect the rest of the back line. I think a draw is definitely doable.

Gomez: Maybe they don't need to win, but Mexico will force the issue. If El Tri notches an early goal like they did Friday against Honduras, that spells doom for Klinsmann's side. The way you're describing it, the U.S. is counting on parking the bus for 90 minutes. Well, Chicharito, with four goals in the past four games for the national team, has found his stroke with Giovani dos Santos and Guardado raising their game as you noted.

It might not be an option. Another curveball Chepo is willing to throw is the fact that in my mind, not even he knows what formation he'll come out with. Javier Aquino was less than adequate on the right side of the midfield. He might be tempted to throw dos Santos out there and add a second striker, namely Raul Jimenez. Or the 4-2-3-1 we saw against Honduras would prevail, only with Angel Reyna in for Aquino. The mix of speed, physicality and in-form offensive players for Mexico is, at this point, too much to bear for the United States. It is Chepo's wish to suck Klinsmann into his game, and once that happens, I don't see the U.S. being capable to adjust under the circumstances.

Carlisle: I don't think they'll park the bus per se, but the U.S. will be tactically smart. As you noted, with El Tri's attack beginning to find its form, it behooves the U.S. to stay compact and defend smartly, something I think they're more than capable of doing.

Gio out wide? That didn't exactly work well against Jamaica, and I think it's something the U.S. would welcome. If something is working, why change it? It will no doubt be interesting to see which team makes the opponent bend tactically. Employing a defend-and-counter strategy may not be all that different than what we saw from the U.S. under Bob Bradley, but in this instance I think it can be plenty effective.