Freddy should find that Adu-lation in Bahia
If you're seeking a little divine intervention, a good place to start is the Igreja do Bonfim, the best-known church in the exhilarating and sometimes chaotic city of Salvador, Brazil. The offerings room is testament to past requests, granted or otherwise -- bank statements (pleading for financial assistance), student ID cards (help with an exam), faded photographs (missing persons, or perhaps unrequited love), even an artificial limb or two.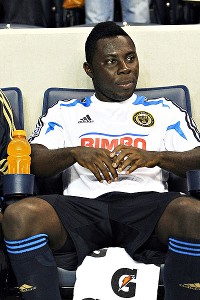 AP Photo/Michael PerezDesperate for playing time, Freddy Adu may find a fit with a Bahia side that lost its young playmaker.
At the beginning of every season, or when there's a crucial game coming up, it's time for one or both of the Brazilian city's two big football teams, Bahia and Vitoria, to pay a visit to the church. It certainly worked last year for the latter, who clinched promotion back to Serie A a few days after their pilgrimage.

It's not known whether Freddy Adu, a man who often seems in need of help wherever he can get it, plans to pay the church a visit any time soon. After all, he'll be too focused on the loan move that's taken him from Philadelphia to Bahia, his ninth club in nine professional seasons. Yet it might just be that the Baia de Todos-os-Santos, the aquamarine bay around which Salvador sprawls, will provide a safe harbor for a player whose career has been in seemingly constant stasis (if not outright decline) ever since he burst onto the U.S. scene all those years ago.

Adu's tribulations are well documented. Drafted by D.C. United as a chunky 14-year-old. The magazine covers and "Best Young Player in the World/American Pelé" quotes. The ill-fated move to Benfica when still a teenager, which is when things really started to unravel.

Unable to deal with the burden of great expectations, Adu played just a handful of games at the Estadio da Luz before the slow, dispiriting trudge around Europe began, with loan spells at Monaco, Belenenses and Aris. Global domination had become a distant memory. Simply finding playing time was now the dream.

That, and a kind of redemption, was found in the most unlikely of places, the Turkish second division, with Caykur Rizespor. Adu got some games and responded in kind, performing well enough to earn a place in the U.S. squad for the 2011 Gold Cup, where he played in both semifinal and final.

Then he was back in the U.S. and in Philadelphia on a free transfer, remarkably still young enough to play for the U.S. under-23 team in Olympic qualifying. But he was ordinary for the Union in 2012, playing well in only a handful of games as rumors swirled of surly behavior off the pitch. When the opportunity of a swap deal with Bahia emerged with another former Next Big Thing, Kleberson, going the other way, Union jumped at the chance.

In many ways it might be a perfect fit, for there is no footballing region in the world that fails to fulfill its potential like the Brazilian northeast. Bahia is a huge club, supported by millions in Salvador and beyond, but like most teams in the often terribly poor nordeste of Brazil, struggles to compete financially with its richer cousins down in Rio de Janeiro and Sao Paulo. The club won the Brazilian title in 1988, the last team from the Northeast to do so, but has struggled mightily in recent years, spending 2006 and 2007 in the slough of despond that is Serie C of the Brasileirão.

Despite all this, there are no more passionate fans in Brazil than those of the Tricolor Do Aco -- the club's average crowd in that second year in the third division was 40,000.

The future is perhaps looking brighter for Bahia now. The club did well enough last year, hanging on to its Serie A status, and Brazil's (now slowing) economic growth, together with improved welfare policies, have benefited the region as a whole. The 2014 World Cup will boost the footballing visibility of the city -- six games will be held in Salvador -- and Bahia will soon move into the new 60,000-seat Arena Fonte Nova, which should increase revenue streams.

Even though Adu has signed only until the end of the year, Bahia president Marcelo Guimarães Filho sees the player as an important part of that future and a way to increase the club's profile abroad.

"We've already had The New York Times wanting to talk to us ... the international media is a vital way of publicizing our brand," he said. "We've got a lot of marketing initiatives planned."

Another director, André Araujo, compared the signing to Corinthians' move last year for the Chinese player Zizao, in terms of raising the club's international reputation.

At least Adu will get that much-needed playing time in Salvador, as Bahia lost perhaps its best player in the offseason when young playmaker Gabriel moved to Flamengo. And the club has made a stuttering start to the year, eliminated in the group stages of the regional Copa do Nordeste tournament. Plus, with the deeper defensive lines and slower pace of Brazilian football, Adu will find himself with a little more time and space on the ball -- useful for a creative player lacking confidence.

Culturally, it might also be a nice fit. It is not known how much Adu remembers of his Ghanaian heritage (he moved to the U.S. when he was just 8), but Salvador is Brazil's most African city, an intoxicating, culturally rich urban heap of almost 4 million people. It is a place of profound passions that breathes and moves to its own mysterious rhythms, both musical and otherwise, and often feels apart from the rest of the country.

As one of Bahia's most famous sons, writer Jorge Amado put it, "to be Baiano is a state of mind."

If Adu applies himself, something he has not always done in the past, there can be no better place for him to finally fulfill some of that almost forgotten potential.

James Young has lived in Brazil for eight years. He writes a column on Brazilian football for The Independent website and has also written for The Blizzard, World Soccer and IBWM. He is currently working on a novel about love, death and football in the nordeste of Brazil. Twitter: @seeadarkness.