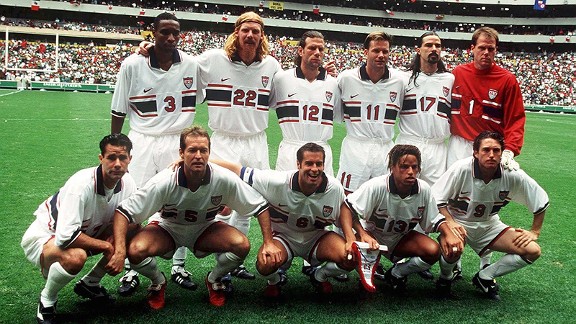 Alexander Hassenstein/Getty ImagesAn extended training stint in California and favorable weather conditions had the U.S. feeling more confident than ever heading into its November 1997 World Cup qualifier at the Azteca.
When the United States men's national team defeated Mexico 1-0 in a friendly in August, it marked the first time that the U.S. had recorded a victory at the famed Estadio Azteca. The win amounted to a significant breakthrough, given that on 19 previous occasions, the U.S. had walked out of the historic venue pondering another defeat to its bitter rival to the south.

- Ramos: Mexico needs win badly
- Both sides of the border: Lalas, Borgetti

But along with that historic win came an almost rueful wish that the triumph had come in a World Cup qualifier, bringing back memories of the only other time the U.S. had managed to secure a result in the Azteca. That would be the famed 0-0 tie on Nov. 2, 1997, when the U.S. played a man down for nearly an hour yet garnered a precious point on the way to qualifying for the 1998 World Cup. The match remains one of the more revered in U.S. soccer history, especially given the considerable odds that were overcome.

The buildup

Suffice it to say, tension was building in the U.S. camp. The Americans' qualification bid, their first in eight years after hosting the 1994 World Cup, had hit a rough patch after a disappointing 1-1 home draw against Jamaica. The U.S. had three games remaining -- consecutive road games against Mexico and Canada followed by the Hexagonal finale at home versus El Salvador. With a game in hand, the U.S. found itself in third place with 10 points, trailing Mexico and Jamaica by five and two points, respectively. However, the chasing pack of El Salvador and Costa Rica was still within touching distance, with the Cuscatlecos just a point back and the Ticos trailing by two.

The U.S. still controlled its destiny, but as defender Marcelo Balboa put it, "That destiny got smaller and smaller with some of the results, especially with the Jamaica game. That win would have put us in the driver's seat a little more. Instead, we were driving without a seat belt, and at any time we could get thrown from the car."

Then-manager Steve Sampson recalls there being few doubts among the players that the team would qualify, but he admitted he was feeling the pressure.

"The players didn't have any concern, but [U.S. Soccer Federation President] Alan Rothenberg, [General Secretary] Hank Steinbrecher and Sunil Gulati had some concerns," Sampson said. "I know for a fact that Carlos Queiroz was in town working with the federation and ready to replace me. It was under the guise that he was there to prepare a technical plan, but I was very well aware that he was in place to take over my job if things didn't go well."

The U.S. had some recent success against Mexico, including a 4-0 win at the 1995 U.S. Cup, but the most recent match at the Azteca had seen Mexico pound its northern neighbor by the same score in the 1993 Gold Cup final.

With that result in mind, Sampson came up with a plan for the team to train for 16 days at altitude in Big Bear Lake, Calif., which sits at 6,700 feet above sea level, just 500 feet lower than Mexico City. With the MLS season ending in October in those days, Sampson would have nearly his entire team at his disposal, giving the players ample time to acclimate.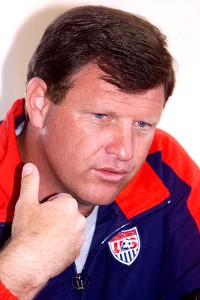 PASCAL GUYOT/AFP/Getty Images Steve Sampson was starting to feel the heat from USSF officials heading into the Mexico match.
Opinions vary as to how much the team benefited physically, but there was near unanimity that psychologically the impact was profound, as the team believed for the first time that it could get a result in the Azteca.

"We got away. We had a blast," said former U.S. international and current ESPN television analyst Alexi Lalas. "We trained, we biked, and we enjoyed ourselves getting ready for what we knew was going to be a very difficult environment. And I remember that time up there just being fun. It wasn't that we didn't work, but it was just fun. So I think it helped us more psychologically than it did physically, because many of the same difficulties and challenges came up in that game."

The mindset would prove to be important given the short-handed nature of the squad that Sampson took to Mexico City. Goalkeeper Kasey Keller missed the match with a dislocated thumb, midfielder Earnie Stewart was out with a calf injury, and Tab Ramos tore his ACL just days before the match. On top of that, midfielder Claudio Reyna was suspended.

But as the team arrived in Mexico City for the match, the soccer gods started to smile on the U.S. team. It rained for three days before the match, diminishing the city's legendary levels of smog. The rain ended the day of the match, but overcast skies kept the temperatures at a reasonable level, despite the afternoon kickoff.

"At my previous games at the Azteca, you just could not catch your breath," said former U.S. forward Eric Wynalda, now an analyst for Fox Soccer Channel. "It just felt different. The air wasn't as thick as it usually is."

First half

With the team at its peak physically and mentally, Sampson set his team out in a 4-4-2 that was more of a 4-5-1, with Joe-Max Moore in support of forward Roy Wegerle. It was done with the intention of attacking.

"We felt we wanted to make a statement in the Azteca for the first time," said Sampson. "Historically we had never even gotten a point there. And the players, to their credit, played with an attacking mindset from the first whistle."

That they did. Wynalda had two good looks, clipping the bar with one attempt. But in the 32nd minute, the game changed completely when Argentine referee Javier Castrilli sent off Jeff Agoos for elbowing Pavel Pardo.

"I look back on it, and I can understand the red card," said Agoos. "I looked behind me as the ball was coming, and I saw a player coming in with a lot of pace, a lot of speed. You could sense he was coming in hard, so I put my arms up to brace for the impact [so] I swung my arms back. I don't recall the level of contact, but it was minimal. It was around his face or his shoulder and he goes down and grabs his face, and the referee fell for the play and gave me a red card. At that point, all you can do is walk off and accept it."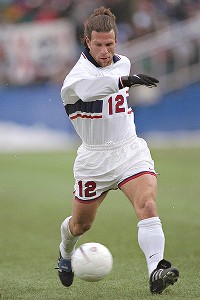 Shaun Botterill/Getty ImagesA first-half elbow from Jeff Agoos reduced the U.S. to 10 men with an hour to play.
Given how the team was playing, Sampson opted not to make any personnel changes at that point, sliding John Harkes back to left back with Wynalda providing additional defensive support.

"I looked over at the bench, and they made that face like, 'Tough s---,'" said Wynalda. "It was that closed mouth, head to the side, suck it up. ... That was the look I got. That was basically what I did."

Soon thereafter, the U.S. created its best chance of the match. A long ball was hoisted in to the box and cleared only as far as Thomas Dooley. After playing a quick one-two, he unleashed a shot that caromed off the inside of the post and bounced tantalizingly across the face of goal. Wegerle's rebound attempt was blocked, and Wynalda's was hit wide.

That it was Dooley venturing forward came as little surprise to Lalas.

"It didn't matter if we were playing with 10 men," said Lalas. "Dooley would go on walkabout basically, and we knew it was going to happen, and he was very, very good at it. But it was basically, 'See you guys. I'm gone.' They were very difficult to predict, not only for the opposition but for his teammates. We got very good at reacting to his forays."

Although Mexico's Benjamin Galindo threatened soon after, shooting narrowly wide, the U.S. got to halftime with a 7-2 shot advantage that was unthinkable heading into the match.

Second half

The U.S. team knew that margin would change in the second half. Sampson's 4-5-1 became essentially a 4-5-0. In addition, with Agoos out, Mexico made a point of attacking the left side of the U.S. defense. Wynalda recalls having to defend "50 overlaps" to that side.

But the U.S. largely kept its defensive shape, and on the occasions when Mexico did break through, the attempts on goal either missed the target or were straight at young goalkeeper Brad Friedel.

"They were very predictable on the day, which isn't normal for a Mexico side, especially back then," said Friedel. "They got some crosses in, but when they did -- Alexi and Dooley and Balboa, that's three players who are better in the air then any of their players -- so when they did get the crosses in, they were able to defend them."

Sampson's substitutions were well-timed. He brought on Chris Henderson for Cobi Jones in the 56th minute, Mike Burns for Wynalda in the 73rd and current U.S. assistant Martin Vasquez for Wegerle with 11 minutes remaining. The fresh legs helped the U.S. keep enough possession so that the team could rest.

That's not to say there weren't some anxious moments. A bullet header from substitute Luis Garcia went just over the bar. Ramon Ramirez fired narrowly wide from just inside the box with minutes remaining.

But this was not a case of a keeper standing on his head to gain a precious result. All told, Friedel was called upon to make just two saves from 12 Mexico shots.

"That was one of the games where I had the least amount to do as a goalkeeper playing against Mexico," said Friedel.

But the most memorable point of the second half occurred when the home crowd took out its frustrations on its own team, shouting "Ole!" with each pass the U.S. connected, this when they weren't shouting "Bora, out!" at El Tri coach -- and former U.S. manager -- Bora Milutinovic.


T. Quinn/WireImageMartin Vasquez, left, celebrates the historic point with Joe-Max Moore after the final whistle.
"It's the ultimate form of respect," said Lalas. "Your bitter archenemy is recognizing that something special is happening and has the perspective and the respect to offer the ultimate compliment in the ultimate arena. I'll never forget it. As much as it was a comment on their disapproval of the way their team was playing, it was also an incredible approval about what they were witnessing from the U.S. team -- not easy to do given our histories."

When the whistle blew, the exhausted U.S. players were left to savor a historic result, while Mexico quickly made its way to the tunnel.

The aftermath

The brutal irony was that the point was enough for Mexico to clinch qualification to the World Cup while the U.S. still had work to do. But one would have never guessed given the reaction, especially on the U.S. side.

"The locker room after was something phenomenal because there was this incredible exhaustion," said Lalas. "But within the coughing and the wheezing and stuff that comes from pollution, altitude and playing against a very good team in an incredible environment, there was a sense of accomplishment and something that, regardless of how important it was in qualifying, it was something that would last. And it has because I'm sitting here in 2013 talking about it."

Later that evening, Milutinovic invited the U.S. staff and players to an area steakhouse for dinner, one that was to include Mexico's players and members of their federation.

Sampson recalled that while all of the U.S. invitees were there, no one from the Mexico team, aside from Milutinovic, made an appearance.

"We were happy to have that moment with [Milutinovic] out of respect for him," said Sampson. "But at the same time, it was sad because no one from the Mexican Federation or the team showed up."

Dooley indicated that he wasn't surprised at what transpired at the dinner.

"They almost lost, and you want to hang out with your friends and your family," he said. "You don't want to hang out with the enemy."

Dooley even found time to joke with his old coach, telling him he hit the post with his shot instead of scoring because "I didn't want you to get fired."

But as so often happens with such results, Milutinovic was dismissed three weeks later after the team's last Hexagonal match, replaced by longtime critic Manuel Lapuente.

As for the U.S., the result instilled a ton of confidence, and the team went on to clinch qualification in its next match with a 3-0 win over Canada.

Lalas recalls that period as a time when the connection between Sampson and the squad was strong.

"It was an us-against-the-world mentality," said Lalas. "Sampson instilled a confidence that 'We decided to do this, we went out, and we did it.' Whether it was Big Bear is up for debate, but in total, it resulted in something historic, and kudos should go to him."

But the U.S. couldn't sustain the feeling. The personnel changes instituted later by Sampson ultimately caused that positive vibe to evaporate, with the team imploding at the 1998 World Cup.

Yet even with that disappointment, it doesn't make what happened on Nov. 2, 1997, any less historic or impressive.

"When you get a result like that, you feel like you're on top of the world," said Friedel. "That's in any sport. When you go into a cauldron like that, you come away feeling really good about yourself."

For all of the U.S. players and coaches involved, it's a happy memory that they'll never forget.