Does the Azteca still hold its mystique?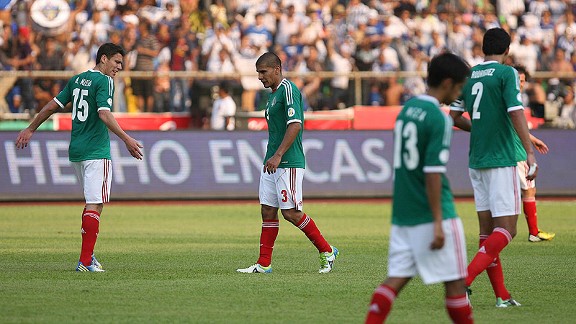 LatinContent/Getty ImagesEl Tri's difficult start to the WCQ continued vs. Honduras, making the U.S.'s Azteca trip even more important. But will the stadium work its mojo?
With tier after tier of steeply banked seats, the Estadio Azteca looks imposing even when empty. When filled to its capacity of 105,000 spectators and when combined with the double whammy of lung-clogging smog plus an altitude of 7,200 feet above sea level, the venue that has hosted two World Cup finals gives Mexico one of the most daunting home-field advantages in all of international soccer. This is borne out by El Tri's almost absurd record of 37-1-3 in World Cup qualifiers that have been held in its now venerable home.

But lately some figurative cracks have started to appear in the Azteca granite. This past August, the U.S. men's national team won at the historic stadium for the first time in its history, prevailing 1-0 in a friendly. More worryingly for El Tri, just last month, Jamaica managed to wrangle a 0-0 draw to open the final round of World Cup qualifying. For most teams, such results would be regarded as mere blips and nothing more. But, given Mexico's level of dominance at home, it has to be a concern.

So, is Mexico's Azteca edge beginning to wane? It seems an odd question even beyond El Tri's record there. Mexico boasts arguably the best generation of players in its history, given that the players who won championships at the 2005 and 2011 U-17 World Cups, as well as this past summer's Olympics, graduate into the ranks of the senior side.

However, the reality is that Mexico does seem to be showing some increased weakness at home, for reasons internal and external. When the suggestion of Mexico's weakening home-field advantage was put to national team manager Jose Manuel "Chepo" de la Torre, he admitted that this was the case.

"I think that every time now it is becoming harder to win both at home and on the road, mainly because the teams are now better prepared," said de la Torre during a roundtable with reporters last week in San Francisco. "All the teams in CONCACAF have shown growth; Jamaica, Panama, Honduras, they've all grown, as has the United States."

The temptation is to think that de la Torre is simply engaging in coachspeak, but there is some validity to what he's saying. Jamaica recently augmented its roster with a passel of players with experience in England, a group that includes the Reading duo of Jobi McAnuff and Garath McCleary as well as Bristol City's Marvin Elliott. Honduras has seen more and more of its players gain overseas experience, as well, with former Sporting Kansas City standout Roger Espinoza (now at Wigan) just the latest to make the move. These kinds of experiences make it less likely that teams would be intimidated by Azteca's atmosphere.

But it would appear that Mexico has taken some steps of its own that have dampened the Azteca's power. Marcelo Balboa was a member of the U.S. team that recorded a memorable 0-0 draw in World Cup qualifying back in 1997, which to date remains the only competitive result the U.S. has gotten at the Azteca. He feels the decision of the Mexico Football Federation to play at night has negatively affected El Tri's home form.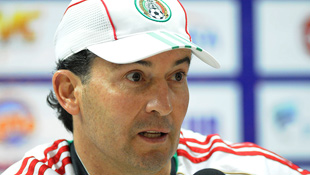 Orlando Sierra/AFP/Getty ImagesEl Tri coach Jose Manuel "Chepo" de la Torre admitted that the Azteca curse is less powerful these days given the global spread of CONCACAF players.

"The [difficulty] of playing at the Azteca is that it's hot, the factories have been on all week and the smog just sits on top of you," he said. "They're used it, you're not. Now you're taking a lot of that out of the equation. You're playing at night, you're eliminating the heat, you're eliminating a lot of the smog. It's still going to be there, but you're [reducing] a lot of the factors that make Mexico, Mexico."

The aforementioned poor results against the U.S. and Jamaica came in games that were held at night, and the same will be true for Tuesday's match against El Tri's bitter rivals. The fact the U.S. team will have already spent a week at altitude gives the players a level of acclimatization that will further reduce Mexico's advantage.

Then there is the demanding home crowd. Back in that 1997 match against the U.S., the home fans famously turned on their own team, chanting "Ole!" every time their rivals completed a pass. Not much has changed in the ensuing years.

"It just goes to show how fickle the fans are in the Azteca," said ESPN Deportes commentator Roberto Abramowitz. "I don't think that would have happened in Los Angeles or in Houston or in Dallas. There's a lot of pressure on Mexico when they play in Mexico City to not only win but to play well and get ahead early. If not, the natives get restless. We saw this against Jamaica, as well."

Of course, it's worth noting that, in the recent matches against the U.S. and Jamaica, some sharper finishing by Mexico might have made all the difference. Back in August, U.S. goalkeeper Tim Howard made some stellar saves and Mexico forward Javier "Chicharito" Hernandez missed some golden opportunities. Against Jamaica, the same script was largely played out, with Donovan Ricketts the one to frustrate the home side.

"I think that what is clear is that you can prepare for the game, you can train, but during the game, you have to be precise," de la Torre said. "Specifically those two games, we weren't so precise, and that prevented the results from being favorable."

With just two points from their first two matches, de la Torre and his charges will be hoping to see more accuracy against the U.S. on Tuesday and to help reassert El Tri's home dominance.