Michael Bradley is fired up with Costa Rica in his sights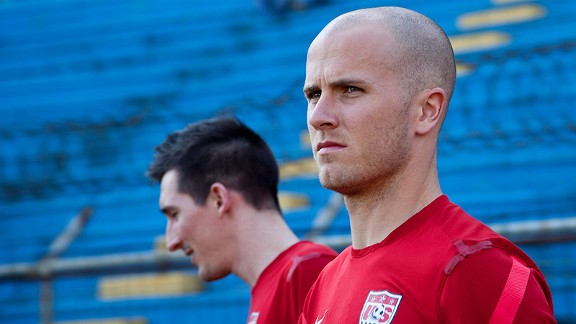 AP Photo/Moises CastilloWhen asked about the Sporting News story, Michael Bradley was clear: "Something like this … where a group of guys speak in an anonymous way … that is not business as usual anywhere."
DENVER -- Michael Bradley is locked and loaded. On a typical day, the U.S. international midfielder appears to have the simmering intensity of Jean-Luc Picard, Yul Brynner, and Jason Statham compressed into a single human being. The 25-year-old is a man around whom you choose your words with care.

Yet this is no typical day. After February's false start to the Hex against Honduras, the U.S. men's national team is poised to square up to Costa Rica on Friday (watch on ESPN, 10 p.m. ET and on WatchESPN here) and Mexico on Tuesday with an inexperienced squad, weakened by a glut of injuries to seven regulars. If that challenge seemed insufficient, preparations have been rocked by an incendiary investigation by The Sporting News' Brian Straus that depicted a divided national team undermined by problems of communication and chemistry. The story has dominated the narrative in the run-up to the game, and the night before I interview Bradley, he had lambasted the anonymous locker room whistleblowers, suggesting they were "shameful" and "embarrassing."

- Report from Denver
- Video: Bennett and Bob Ley on media storm
- Video: Darke and Twellman on the match
- Clint Dempsey, the U.S. captain
- Bennett: Klinsmann's volatile chemistry set
- Players should worry about winning

We meet in a hotel coffee shop packed with boisterous guests watching Bucknell tussle with Butler in the NCAA men's basketball tournament. Despite the bonhomie of our surroundings, Bradley's demeanor suggests he is still smoldering. It takes a courageous player to step up and talk at such a turbulent time when most would shy away. Yet Bradley does not hide behind soundbites or platitudes. Though quietly spoken, his words carry a slow ferocity, as if each was forged in an incandescent foundry burning deep inside of him.

I begin by asking Bradley to describe his state of mind. If I were a betting man, I would have predicted "angry" or "irritated," yet Bradley leans forward, pauses to make eye contact and surprises me. "Excited," he says, in the most serious tone I have ever heard anyone employ to express that word. "After the result and performance in Honduras, we are excited to get everyone together and train and know that we have a chance to play a big game before a big crowd. A chance to put this right."

Thinking Bradley is attempting to sidestep the allegations in Straus' article, I begin to ask whether the increased scrutiny was now business as usual for the USMNT, but before I could finish the question, Bradley silenced me with an outstretched arm. "I have to stop you there," he says in a way that is less combative, more a hint at the sense of moral obligation he feels around the issue. "Pressure from the outside -- from the media –- that is business as usual in other countries and it is good to have that here as football's profile rises."

He puffs out both cheeks, then proceeds to enunciate each word slowly to underline the exacting care with which he has chosen them. "Something like this ... where a group of guys speak in an anonymous way ... that is not business as usual anywhere."

I ask what damage the allegations have done to the squad, but Bradley dismisses the question. "The time for talking is over," he says. "It is time to step up -- not through talking and interviews -- but through our play and by giving a performance everyone can be proud of."

What about the 2009 Confederations Cup, when swirling doubt was descending upon the U.S. team? Bradley remembers it well. Upon reaching the semifinal, the pugnacious midfielder had been sufficiently stung to emote in an infamous interview: "All the [expletive] experts in America, everybody who thinks they know everything about soccer, they can all look at the score tonight, and let's see what they have to say now."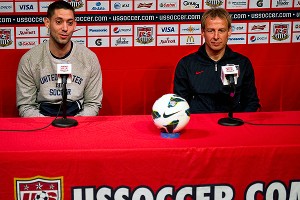 Daniel Petty/The Denver Post/Getty ImagesJurgen Klinsmann and Clint Dempsey addressed the media before the match against Costa Rica.
In the present-day setting of the hotel coffee shop, Bradley takes a minute to consider the parallel between then and now before rejecting it. "No two situations are the same," he says. "As a football player you learn to deal with things that come from outside the squad that try and disrupt the things you do but ... " With his sentence tailing off, he grimaces sharply, then drifts off for a second, before snapping back with a stream of action-oriented, staccato sentences. "We will handle this man-to-man now. That is what is important. What's done is done," he says. "We have no time to dwell on what has gone on. We have a game to play … a big game to play."

I read out a list of challenges the U.S. squad will face in the next five days -- Costa Rica, Mexico, the Azteca, continued fallout from "the article," the inexperience of the squad, the makeshift backline, the injury list -- and ask Bradley to rank them.

The U.S. international smiles for the first time. A smile that possibly suggests I am stupid for having asked the question.

"Our No. 1 challenge is Costa Rica," he says. "History shows they have been a very dangerous opponent for us and it is very hard to say how they will play."

Referring to the threat of Real Salt Lake star Alvaro Saborio and Fulham's Bryan Ruiz, he says, "Their strengths are playing forward, so it is not clear to us how they will set up on the road, but this game is all about us. Our chance to show that we can get our mentality right and play with aggression, mobility and athleticism from the first whistle.

Bradley evidences little concern about the number of absent U.S. starters. "Every national team deals with injuries," he says. "The challenge of international football is to find the right mindset to overcome them, which has been one of the strengths of our team. When guys are missing, others step through to make the most of the opportunity."

He spreads his arms slightly to make sure I understand his point. "To win big games we simply need as many guys as possible to have big games. Injuries, articles, who's here, who's not … at 8 o'clock tomorrow none of that counts," he says, veins bulging.

The confidence of those comments reminds me of similar ones the player made at the news conference ahead of the lackluster 2-1 defeat in Honduras. I ask him to describe how an international loss like the one against Honduras feels to him. Bradley puffs his cheeks out as if the question itself has winded him. "Nobody likes to lose, but having been up 1-0 and still losing when you want to start the qualifying process well just makes me feel more frustrated ... angrier ... afterwards," he says, holding his room key card in his right hand as he slices it through the air repeatedly. "It really haunts me. At different times I find myself replaying moments of the match back in my head, which only makes the days until the next game go so much slower, but that frustration and anger does not go away."

As his knuckles whiten when he grips the key card, I read comments Kasey Keller recently made during an interview about the traditional power of the U.S. team lying in its collective spirit, and ask Bradley to sum up the state of the current team's chemistry. "Kasey refers to 'collective spirit,' I use mentality, commitment, determination ... and balls," Bradley says, with a stabbing finger punctuating every word. "That is what our team has to be about."