Instead of trashing Jurgen Klinsmann, U.S. players should concentrate on winning matches
Hey, America: the first Most Important Game of the Hexagonal is Friday. And the good news is that it's at home (Denver), at altitude (a mile high, more or less), and at night (8 p.m. local, 10 p.m. ET) -- three factors that should favor the home team against a foe (Costa Rica) that it should beat under most circumstances.

So how's everyone feeling? Wait -- not so good? Is it because of the absence of Tim Howard, the one guy you can always count on to fly around saving goals, even when everyone else is terrible? Or the injuries to Steve Cherundolo, Fabian Johnson, Tim Chandler, Edgar Castillo and seemingly everyone else good enough to play right or left back, requiring coach Jurgen Klinsmann to call in not only Matt Besler and Tony Beltran, veterans of exactly ONE national team game (a friendly against Canada, which, in friendliest friendly fashion, ended 0-0!), but also Justin Morrow, a player I'm ashamed to say I'd never heard of? Or the continued hiatus of Landon Donovan, who's dog-earing pages in his Lonely Planet guide to Southeast Asia? Or is it because of a certain article that dropped like a howitzer shell into Team USA camp, in which 11 -- 11! -- national team players chose to anonymously trash the manager who will be coaching them on Friday? Probably it's all of those things, but especially the last one.

- Bennett: U.S. history lesson, 1989
- Davis: Questions about Klinsmann's approach
- Carlisle: Six-point plan to turn team around
- OTL: Team USA unhappy with Klinsmann

No coach is above criticism, and there is plenty of reason to pick on Klinsmann, the cheerful German who looks tremendous in a tracksuit and occasionally flies himself to practice in a helicopter. He was practically ordained to underwhelm when you consider that his hire in 2011 was heralded as such a salvation that US Soccer President Sunil Gulati joked that, as an encore to his introductory news conference, he would walk across the East River.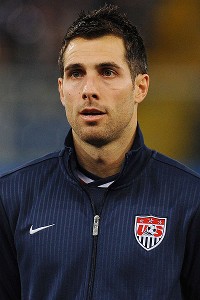 Valerio Pennicino/Getty Images"Not every player is going to be happy with all of the decisions and methods, but [Klinsmann] will tell you to your face where you stand," Carlos Bocanegra wrote.
But the honeymoon has ended. Over his 24 games in charge of the USMNT, Klinsy has tinkered relentlessly, starting 24 different lineups, a ridiculous statistic that isn't quite as ridiculous as it seems when you factor in injuries and club obligations. More than anything, though, Klinsmann promised change, in particular a more dynamic style of play, and when his teams looked basically like the ones that played for Bob Bradley -- good but not great, and bad at scoring goals, only with more Germanericans and an ever-changing array of formations -- the USMNT's extremely passionate and opinionated fans began to grow restless.

What surprised me -- and judging by the furious reaction to Brian Straus' story this week, most other fans -- was that so many of the U.S. players were feeling similarly uncomfortable.

There's a particular danger in anonymity; when there's no risk of retribution for your words, you tend not to think about the implications of what you're saying. Ergo, you say dumb things. Or at least not-terribly-thought-out things. (See: comments under basically anything on the Internet.) And while those players quoted in Straus' story are not wrong to have complaints about Klinsmann's coaching -- after all, what human wouldn't complain about his boss, given the opportunity? -- they are absolutely wrong to have said them to a reporter with a large platform, especially now. And that, more than anything specific in their complaints, is what's most troubling to me.

Whether or not these players like playing for Klinsmann, or believe in his ability to lead them over the long term, he is their coach for the game on Friday, and the one next week against Mexico, and -- barring some huge and very surprising change of heart by Gulati, who invested millions in Klinsy -- he'll be their coach for the rest of the Hex. It's possible some of these players hoped that a Chelsea-esque insurrection in the form of anonymous but on-the-record griping could foment changes that would make them more comfortable. Maybe, for instance, Klinsmann would announce his lineups the day before a game, or better integrate the German contingent, or, in the most extreme of possible moves, replace Martin Vasquez with a new assistant whose tactics better suit the pool of players he's got to work with. But none of these things is going to happen by Friday, and the only thing the anonymous players have accomplished by speaking out now is to create panic in the fan base while further heightening tensions in a locker room that allegedly contains professional athletes with a common goal.

It's worth noting that Straus' story opens, and to some degree hinges, on the case of Carlos Bocanegra, the 33-year-old defender who has been USMNT captain for seven years, but whose unexpected benching on the morning of the USMNT's match at Honduras shocked the team. The decision, according to a player, "broke Carlos' heart" and the fact that the U.S. defense looked not only bad, but kind of clueless, in the 2-1 loss only reinforced certain disgruntled players' view that Klinsmann's poor team management played a role in the loss.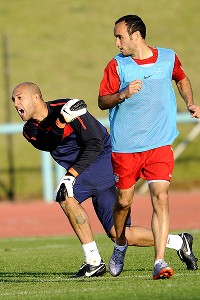 TIMOTHY A. CLARY/AFP/Getty ImagesTim Howard and Landon Donovan are conspicuous absences from this round of World Cup qualifying.
Klinsmann has made it very clear that a player must be a regular for his club in order to be called up for the national team. And Bocanegra is currently sitting the bench for Racing Santander, his second-division Spanish club team. Logic follows that he would be left off the roster for this round of qualifying. But considering all the injuries at the back, which would force Klinsmann to call up a defense even less experienced than the one he played in Honduras, many expected an exception to be made for Bocanegra. So when US Soccer released the roster on Monday, it was his absence that set the wires aflame, and considering the weight of his case in Straus' story, plenty of people suspected he might be one of the peas under Klinsy's mattress.

Until Bocanegra spoke up. First on Twitter, and then also on his Facebook page, Boca did as much as any player to defuse the tension over the course of Tuesday afternoon. "During the last 18 months, Jurgen has introduced a lot of new ideas to the team and has a vision of how he wants to grow the program," he wrote. "He has always been up front with players about where they stand and where he sees them going. Not every player is going to be happy with all of the decisions and methods, but he will tell you to your face where you stand. From a coach, that is the best thing you could ask for. One of the greatest strengths of this team has always been our unity and spirit" -- ahem -- "and we all remain committed to the cause of qualifying for the World Cup."

In other words, the player who had the most reason to be upset was the one guy to speak up in the coach's defense. (Howard, the team's de facto backup captain, later did the same.) Not necessarily because he believes in Klinsmann's methods or decisions -- again, what a particular player feels about these things is not important AT ALL right now -- but because he wants to win games and accumulate points in the Hex. Everyone in the U.S. soccer community -- coaches, players, fans -- has the same goal, and that goal is to make the World Cup.

Truth is, the U.S. could tie Costa Rica and lose to Mexico and still be in decent shape. Even the absolute worst-case scenario -- two losses and an 0-3 start to the Hex -- wouldn't be the end of the world. It would certainly suck, and the pressure created by the Klinsmann Kerfuffle would increase to levels never before seen by U.S. soccer players. But three teams qualify for Brazil, with the fourth-place team sent to a one-game playoff that presents a second chance to qualify for the World Cup. Team USA will have its two hardest matches -- at Honduras and at Mexico -- out of the way, with four of the final seven games at home. By the next round of qualifiers, in June, they'll get Howard, Cherundolo, Johnson, Chandler and -- quite possibly -- Donovan back. There will still be plenty of reason to feel good.

Just ask Klinsy. One undeniable attribute of the U.S. manager is his relentless optimism; he's the rare German whose hobbies include smiling and hopping around. So I guess it shouldn't be surprising that when Straus presented him with the issue of disgruntled players, he accepted it as part of the process. "These comments are just normal to me," he said. "This team is in a transition." Klinsmann seems certain that his system is working, and that his team, with many of the players we'll see on the field Friday, plus some others who are likely to surface over the coming year, will qualify for the World Cup.

And that, really, is the only thing that matters.

For now.

Josh Dean is a magazine journalist living in New York City. He is a correspondent for Outside, and a regular contributor on a variety of subjects, including sports, to Rolling Stone, GQ, and Men's Journal. He's written for ESPN The Magazine and is one of the founding editors of PLAY, the New York Times Sports Magazine. You can reach Josh on Twitter @joshdean66.