Klinsmann's approach and the business of qualification
Unlike the men who came before him in the position of USMNT head coach, Jurgen Klinsmann wasn't hired to win soccer games. Rather, he wasn't hired just to win soccer games. In light of recent revelations that dissent runs rampant through the national team, it's worth pointing out that Klinsmann's mandate, so different from those of Bradley and Arena, complicates his job and clouds his judgement when it comes to the practical business of winning soccer games.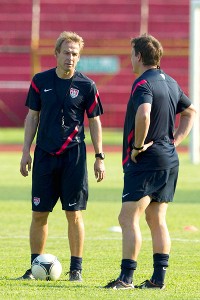 AP Photo/Moises CastilloJurgen Klisnmann was brought in to revolutionize American soccer, but his approach could end up costing the U.S. a World Cup bid.
One must wonder if the difference aspects of Klinsmann's job can coexist in the middle of a difficult CONCACAF World Cup qualifying campaign.

When Sunil Gulati finally got his man in September of 2011 after several years of on-again, off-again courtship, it was obvious that Klinsmann was being brought in to be something completely different at the head of the U.S. program. If the idea was just to win games, to qualify for tournaments, and to have a reasonable shot at getting out of the group in the World Cup, the Federation could have simply chosen to stick with the status quo. If not more Bob Bradley, than someone similar with similar ideas of how best to use those old standbys of American soccer, "effort" and "determination." Candidates fitting that description abound.

But Klinsmann was meant to foster evolution, to push American players beyond those standbys. Not just in areas as prosaic as playing style or formation, but in an overarching, macro, attitudinal ways more abstract in concept. The mandate goes beyond instituting the 4-3-3 across all levels to notions of vaporizing "comfort zones" and challenging players to think and respond in ways they'd never been asked to before. To hear Klinsmann tell it, nothing related to Brian Straus of the Sporting News by 22 players and staff members is all that surprising; in fact, Klinsmann talks as if he welcomes the grumbling, because it indicates his program is having an effect. People are uncomfortable.

"Some guys are out of their comfort zone, absolutely. It's not actually the coach that has to adjust to the players, to kind of think about it, 'How do I communicate it perfectly (and) correctly to the players?'

"It's actually the players' job to take the information from the coach, with whatever personality the coach has and let it kind of sink into his own system. ... Now, I have to implement it in my own way. It's a learning process, and that's fine.

"It's never going to happen if you don't start doing it."

But can Klinsmann push the players in new directions -- with no guarantees they'll actually adapt in the way he hopes -- and still qualify for a World Cup? What if fundamentally changing player attitudes via gameplans and lineup uncertainty is mutually exclusive with getting the results necessary to make to to Brazil in 2014? No matter how much trust Gulati and U.S. Soccer have put in Klinsmann, it would be ridiculous to think they'd be willing to miss out on a World Cup in deference to some abstract idea about transformative coaching and the future of the American game.

There's taking the long view, and there's taking the long view without the marketing boost of participating in the world's biggest sporting event. Klinsmann might have free reign to tinker with old thinking, but he also has to qualify.

For Klinsmann, this appears to be more about the journey than the destination. Along the way, he's attempting to teach lessons, he says, by doing things differently, by forcing the players to take more responsibility, and by removing the training wheels on their national team experience. For the time being, and because things didn't go well in Honduras to open the fourth round of World Cup qualifying, that approach has done little more than breed animosity. None of the supposed benefits of Klinsmann's program are evident, 20 months into his tenure. The players are restless, and they're willing, at least anonymously, to say so.

The problem with the "sink or swim" approach is that "sink" is one of the possibilities.

It's very possible that American soccer would be better off in the long run for having gone through the painful exercise of changing the basic mindset. The fact remains that American players do tend to be a bit too robotic, too dependent on systems, and too rigid in their play. Klinsmann has a point that any positive changes in those characteristics are "never going to happen if you don't start doing it." It's debatable if that's the "next level" to which the United States should aspire, or if an overhaul like this could even be successful, but the ability to adapt is never a bad thing.

So the USMNT sits at a crossroads, with so much dirty laundry on display for an already anxious fan base. The high-minded concept of revolutionizing American soccer thinking through what might generously be described as a "hands off" coaching approach and the typically down and dirty task of qualifying in rough-and-tumble CONCACAF make for terrible bedfellows. Maybe Klinsmann is willing to sacrifice the World Cup, or maybe he remains convinced that he can teach lessons and still get the results needed to make it to Brazil. If he can't find the proper balance, the immediate future looks rather bleak.

Certainly Klinsmann shows no signs of backing down, which puts the onus on the players to adapt. It's no longer an issue of what's fair or right, or what Klinsmann should do as a coach who -- broader mandate or not -- is supposed to shepherd the United States to its seventh straight World Cup. There won't be a lifeline, save for an unlikely reversal on the part of Gulati and U.S. Soccer in light of disastrous results, making it obvious that the players must take it upon themselves to put their gripes and grumbles behind them and figure out a way to collect points.

Of course, that's just what Klinsmann wants.

"On that level that we operate," Klinsmann told Sporting News on Sunday, "and maybe I'm a bit different from whoever was there before, you expect players to adjust right away to different tasks on the training field, to different formations, to different ways of solving problems. That goes back basically to leaving their comfort zone. We do that in training sessions, too. And, yeah, it makes them kind of worried."

"Now suddenly it's a higher level. Suddenly I have to adjust in training or suddenly I don't know if I'm in the starting 11. Or I have to switch (formations) and still I have to solve it on the field. I have to build chemistry with the guy I never see when I come into camp. When all those elements we throw at them now, because if we don't do it, it's too late in the World Cup."

One can't help but wonder if it's maybe already too late. Missing out on a World Cup? Now that's taking everyone outside of their comfort zone.