A history lesson ahead of USA vs Costa Rica


Here's a positive United States National Team versus Costa Rica story for a nation that really feels in need of one: A true tale about a U.S. squad that came up big in a crucial World Cup qualifier after an uninspired loss on the road. Before a frenzied home crowd, they faced Los Ticos in a "must win" game, surprising naysayers by delivering a hard-fought victory that laid the foundation for ultimate qualification.

There is just one snag: This game took place April 30, 1989.

It is still worth revisiting the story. After listening to some of its protagonists, the parallels between then and now become impossible to ignore. If the current U.S. team can summon some of the values that propelled their 1989 predecessors, they should take the field Friday confident that one game can change everything.

John Harkes, who led the midfield in 1989, was able to place the game in its historical context. "The 1990 World Cup qualification process was a critical time when US Soccer really reached the next level," Harkes said. "Everyone talks about the final match in which we clinched [qualification] against Trinidad and Tobago with the Paul Caligiuri goal, yet this win against Costa Rica has largely been forgotten. Looking back I see it as the one which started the process through which we proved to a small but growing soccer community and perhaps more importantly to ourselves, that it was possible to reach the World Cup in our generation."

PART 1: A NERVE-WRACKING PRE-GAME
"The United States earned its first points in its quest to qualify for the World Cup finals for the first time in 40 years with a 1-0 victory today over Costa Rica." -- New York Times, April 30th

"CONCACAF felt like the wild, wild west back then," Harkes recalled. "Our team were treated like like cast-offs. Everyone looked down on us and thought they only had to turn up to beat us." The U.S. had last qualified for the World Cup in 1950 and little had changed organizationally since then. "We were never sure exactly who would wash our kit or where our travel tickets would come from. Nowadays the team travel by charter flight. Back then we took a van and Sunil Gulati, who was the team's administrator, drove it."

Steve Trittschuh, the Granite City, Illinois-born defender who anchored the back line, said: "Our national squad felt more like a local team because most of us were fresh out of college and had no club teams to play for. We were 21 or 22 years old. Some were even younger and would train on their own at home then come and play whenever we had games." The team's learning curve was steep. "Traveling to places like El Salvador to play before raucous crowds, having bags of piss thrown at us then holing up in the locker room for an hour and a half after games to wait out angry mobs ... let's just say it was a real eyeopener." he said.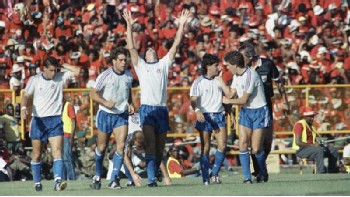 APJohn Harkes celebrates with goalscorer Paul Caligiuri as the USA team ensure World Cup qualification.
The creation of such a young, raw squad was the decision of coach Bob Gansler, a high school teacher turned national team manager who inherited the job in January 1989, aged 47. "Then, as now, we were at a point in the American game where the intangibles had to be in place if we were to excel," Gansler, now 71, told me, his accent still bearing a hint of his native Germany. "So I looked for players who would look at the national team shirt and understand this was not just another game, but one they would play with their feet and brain and heart."

Gansler's mantra was simple. "I told players I wanted to recruit talent who could 'give 90 minutes in the 1990's,'" he remembered with a giggle. "I wanted people who were ambitious and hungry to make their mark in this country. Most were second-generation Americans: Harkes, Peter Vermes, Tab Ramos. A real collective," he continued. "There were no kumquats on my team. We had a few fights after practice -- that is part of the manly art of football -- but we all knew we had each others back."

The U.S. had traveled to Costa Rica for the opening game of the qualifiers two weeks before and were over-awed during an uninspired performance they lost 1-0. Trittschuh recalled "a packed stadium feeling like a wall of noise" as their opponents were willed on by a fanatical support, many of whom had spent two days camped outside the U.S. hotel, ensuring that the Americans never had a good night's sleep.

"In the run up to the home game, there was a lot of negative hype," Harkes recalled. "The media called this a 'must-win,' giving the game the kind of coverage that could make you frieze up and panic as a player." Trittschuh remembered feeling a lot of individual pressure. "Back then there was no outdoor professional league in the United States. Rumors swirled about new initiatives and we were desperate for them to be true so we could carve out a real career without having to play indoors or go to Europe." Other, more negative rumors reinforced the pressure. "We knew we were hosting the 1994 World Cup and word got around that they would take the tournament away from us if we did not qualify for Italia '90," he said.

It was left to Gansler to conjure the seemingly impossible: To persuade an inexperienced gaggle of players, from a nation with no pro league, who had not qualified for the World Cup in four decades, that they had what it takes to win. "I told them that when people reminded them about 1950 it did not matter. We were not trying to make history. All we had to focus on was getting the best out of ourselves and each other so at the end of the day -- win or lose -- we would know we had tried our hardest."

With a touch of the humble determination that became his signature, the former coach added: "I was not bright enough to be afraid."

The game was played in St. Louis which Gansler refers to fondly as "an American town" in that it provided an "all-too-rare pro-American fanbase." Soccer Park was certainly an intimate atmosphere. "The game was an 8,500 sell-out," Trittschuh remembered. "The crowd was packed and loud, sitting right on top of the field." The coach did not take their partisan passion for granted. "None of them judged us for failing to play like Manchester United or AC Milan, which I really liked."

Part II: A SLOW START
"The Americans failed to connect on more than three consecutive passes outside Costa Rica's crowded penalty area in the first half." -- New York Times, April 30th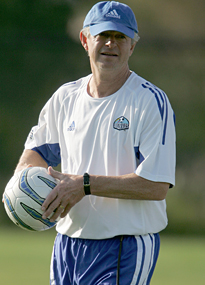 APBob Gansler was in charge of the US national team during WCQ
The game was an eyesore from the outset. The Costa Ricans were technical and aggressive, buzzing the ball around and using their high tempo to force the unsteady Americans to cede possession. "We weren't a sophisticated team," Gansler confessed. "We can talk about style and formation but I knew -- and this has not changed to the present day -- our team just had to go out and compete. We were never going to 'Barcelona' anyone to death."

"We played the 3-5-2 formation with a sweeper and two man-markers, which was standard back then," Trittschuh explained. "My job was to take their star striker and go everywhere with him. There was not much more of a game plan. Most of us were hard working. All we tried to do was to get the ball to Harkes and Tab Ramos who were our only technical players."

The flow of the game began to shift in the second half. Harkes relied on an old soccer adage to explain the switch. "They say you have to earn the right to play. Once we did, the Costa Ricans backed off and let us start linking off." The complexion of the game was about to change.

Part III: AMERICAN EXCEPTIONALISM
"Left it for Ramos... Shot... Score!... Ramos!" -- Commentary team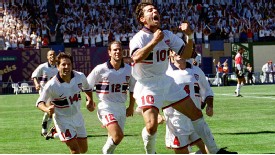 APUSA midfielder Tab Ramos celebrates his his game-winning goal against Costa Rica during World Cup qualifying in 1997.
The breakthrough came in the 72nd minute. "A high ball into the box dropped down to Tab at the edge of the area," Harkes remembered with the detail of someone who had seen the goal scored just yesterday. Ramos had made a late run and hungrily latched onto the dropping ball. "He did not strike it well," Trittschuh snickered. "I think he caught it with his shin but it deflected off a defender and ended up buried in the corner of the net." Ramos wheeled away towards the sideline with a look melding surprise and euphoria. As he was buried under a pile of joyous teammates, the television camera panned to the St. Louis crowd who appeared giddy, yet shocked, to have glimpsed a U.S. goal.

Harkes sums up the moment as one of "total jubilation." "Inside, I felt the emotions I imagine Ray Hudson enjoys when Lionel Messi scores a goal," he said. Trittschuh attempted to take the long view. "We knew there was still 20 minutes or so to go which felt like an age so we tried to tell each other to calm down and lock up the game. We knew we would not get many more chances."

The goal forced Costa Rica to step up their game. "Perhaps we relaxed a little too much," Trittschuh suggested. "They came at us with a fury." Little did the American defender know, but he was quite literally about to save the day.

Part IV: AMERICA'S "LUIS SUAREZ" MOMENT
"The penalty was committed by Steve Trittschuh, who made the right decision to handle the ball after Vanole had been beaten on the play." -- New York Times, April 30th

Oddly enough, the game's true turning point never made it onto the carefully edited highlights broadcast on American network TV. (They appear here at 6:00 in this recently released version crafted by U.S. Soccer.) In the 89th minute, 6-foot-5 American goalkeeper David Vanole came out to claim a long ball floated into the US box under pressure. Gansler remembered the moment well. "David was a beautiful man and a courageous warrior but he was always over-aggressive on crosses and occasionally underran them."

Trittschuh reacted as soon as he saw his goalkeeper floundering. "I did what we had been trained to do: Run towards the goal line and cover it."

Game footage captures the moment he and captain Mike Windischmann charge towards goal with their goalkeeper beaten. As the ball falls to Costa Rican marksman, Alvaro Solvano, both defenders guard the line, arms raised, prepared to defend their palace by all means necessary.

"I told myself, 'Oh Crap!' Here we go," Trittschuh revealed. "The ball was blasted towards me and I thought about getting my head on it but then I just palmed it away with both hands like a keeper. I did whatever I had to do to keep it out." As the shot caromed away, the American defender fell to the floor like a secret service agent who had just taken a bullet to protect the president. On the game film, the jubilant Costa Ricans strikers celebrate when a penalty is awarded as joyously as if they had already equalized.

Trittschuh slowly raised himself from the turf and took a knee. In today's game such a play would warrant an automatic red card, but the American discovered the footballing gods were with him. "The Costa Ricans went crazy," he remembered with a chuckle, "but because they had surrounded the referee at every opportunity throughout the game, he did not even give me a yellow." Twenty one years before Luis Suarez was widely condemned for a similar act in the World Cup quarterfinal, Trittschuh had predated him. "A lot of people claim you are cheating," he admitted. "I was just doing my job as a defender."

The game hung in the balance. Even the unflappable Gansler admits he felt the strain. "I had no grey hair at the time but at this moment I realized that would change soon," he admitted. Harkes attempted to channel a self-confidence derived from years of having to fight to prove soccer's worth in the United States. "I had been kicked off so many baseball diamonds and basketball courts for playing soccer that I had a certain swagger so I went up to Trittschuh, patted him on the back and assured him Vanole would save the penalty. This was not naivete," he claimed. "On our U.S. team the glass simply always had to be half full."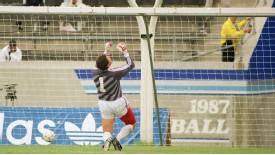 APUSA goalkeeper David Vanole saved a crucial penalty against Los Ticos
The 235-pound American goalkeeper was a man mountain who looked like he had pioneered the Prince Fielder Diet. Clad in a tight silver jersey with diagonal stripes that could never have been called slimming, he faced up to the Costa Rican penalty taker, Mauricio Montero, a brutal defender with a feared cannon for a foot that was known as "El tiro del zoncho" (the Vulture Shot).

Even in front of a boisterous knot of Costa Rican fans, Vanole remained fearless. "I tried to psyche the guy, but he wouldn't look at me, and maybe his not looking meant I had him," he was reported to have told the media after the game. "I felt I knew exactly what he'd do, and the ball came at me like a pumpkin. It was huge. It was probably coming at me at 100 miles an hour, but it was in slow motion to me."

Bob Gansler remains slightly less poetic. "Vanole was a hulk of a man. He knew the shooter was not going to finesse the ball," he revealed. "David might have described it in more flowery language but it came down the middle at 100 miles an hour and he simply got hit." The shot appeared to smack the American goalkeeper somewhere between his chest and throat. As it rebounded, Harkes scuffed a clearance, calling it "a crazy moment when it felt cats and dogs lay together." Vanole was forced to make a second diving save, ushering the ball out for a Costa Rican corner before hopping around his goalmouth with arms windmilling like a third base coach ushering a runner home. The television cameras pan the crowd, clasping their Budweiser signs, many looking on in confusion, unsure what they had just witnessed.

Trittschuh attributes the save to the fury Vanole had experienced when a Costa Rican trainer had purposefully snapped the miniature American flag he routinely planted by his goal. "David was pissed, but that anger turned to elation as soon as the final whistle went and we felt a sudden, surging confidence and belief. A sense that for the first time, we could achieve what we had set out to do. We became the ones who opened the doors for American soccer, even though most of us have been forgotten and left to fade away."

Harkes was also quick to derive crucial lessons from the game. "It felt like we had done the impossible in securing this win. I realized to get results we simply had to be disciplined, play together, get numbers behind the ball and outwork our opponents. Before this victory it felt like we had been in the shadows, but we did not lose another game" he declared. "In a way, this game set the foundation for everything that was to come in the 90s"

Gansler admits he is a man who attempts to keep an even keel. "As a coach you want to preach "High lows and low highs," he explained. "No wrist cutting when you lose, no cartwheels when you win." The old coach was quick to compare his experience to Jurgen Klinsmann's present challenge. "Woe is the media Doomsday brigade," he said with a heartfelt sense of venom still felt. "Everyone is going bonkers right now after the US lost in Honduras but as a coach you know there are still nine more games to come. Let's see what the United States team are made of this week. If they can find a sense of resilience and determination, there are still 27 more points to play for."

Part V: Back To The Future

Bob Gansler was the USMNT manager from 1989 to 1991, leading them into the 1990 World Cup, their first in 40 years. He still teaches coaching clinics around the country. "Gansler took a lot of risks by picking so many young players," Harkes claimed. "To this day he does not get enough credit. The 1989 team he put together became the core on which the '94 team, which overshadowed it, was based on."

Steve Trittschuh impressed in the 1990 World Cup, even as the U.S. lost 5-1 to Czechoslovakia. Sparta Prague signed him on the back of that performance and he became the first American to play in the Champions League (then known as the European Cup.) He currently coaches in Colorado.

John Harkes savored a hallowed Hall of Fame career, playing in the 1990 and 1994 World Cups and becoming the first American to play in the Premier League. He currently broadcasts on SiriusXM FC.

Goalkeeper David Vanole died tragically from a heart condition during a family ski trip to Utah in January 2007. He was just 43. Harkes remembers him as the life and soul of the party. "If you look at game film of the 1990 World Cup, Vanole was on the bench and he made a point of bringing along a new miniature American flag as a symbol to show the Costa Rican coach the Stars and Stripes was still with him on the field, blowing in the wind."