Six-step plan to turn around the U.S. national team's fortunes
On Monday, when U.S. national team manager Jurgen Klinsmann announced his roster for upcoming World Cup qualifiers against Costa Rica and Mexico, it seemed like things couldn't get worse. Nine players who were on the roster for last month's 2-1 loss to Honduras were rendered unavailable through injury or illness. Landon Donovan remains on sabbatical. All told, it's difficult to remember a more shorthanded squad being assembled for a World Cup qualifier.

Yet, incredibly, things are worse.

Brian Straus of the Sporting News, in talking to 11 players in the current national team pool as well as others connected to the program, reported that there are deep divisions within the squad, especially between the German-American players Klinsmann has brought in, and those with deeper domestic roots. More troubling, the faith in Klinsmann's methods and tactical acumen is rapidly eroding.

- Video: Must win for Team USA
- Video: U.S.' inexperienced back line
- Brad Guzan back in the fold

On the surface, it would be easy to dismiss such grievances. Players often live to complain about their coach. But the level of detail and broad spectrum of criticisms show that Klinsmann would do well to listen. With the World Cup qualification looking imperiled, here's how Klinsmann and the U.S. team can turn things around.

1. Don't ignore the elephant in the room
Given the way Klinsmann's leadership is being called into question, the criticisms being directed his way need to be addressed. This doesn't mean Klinsmann should engage in analysis by paralysis and burn the team's stores of emotional energy on an off-field matter. First and foremost, the U.S. needs to win on Friday, and preparing the team is where most of Klinsmann's energies should be focused. But this is also a wound that can't be allowed to fester.

Klinsmann's approach could be something as simple as a brief message to the entire team, followed by a more detailed discussion with the senior players in Denver. And given the number of veterans who aren't around, he'll need to make a point of following up later with those who aren't present. This is all part of man-management, and if Klinsmann is the progressive, available leader he portrays himself to be, at minimum he'll need to reach out and discern what the emotional state of his team is.

2. Play up the underdog role
Part of what has gotten Klinsmann into trouble is his grandiose statements that have led to unrealistic hopes of what could be achieved. The reality is that the U.S. usually delivered its best results when expectations were lowest, and given the absences and turmoil surrounding the team, not to mention its youthful makeup, that is definitely the case here. To be sure, this is a card that can only be played so often, but this is easily the biggest challenge of Klinsmann's tenure. His motivational skills are an aspect of his coaching that isn't in question, and he'll need to draw on that ability in order to get the U.S. playing close to its best.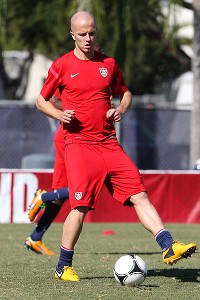 Hector Gabino/El Nuevo Herald/MCT/Getty ImagesGiving Michael Bradley the captain's armband would help raise the morale of the USMNT locker room.
3. Hand the captain's armband to Michael Bradley
Given the reported divisions within the squad, there's a temptation to make Jermaine Jones captain. Such a move might serve as a means of bridging the divide between the reported cliques and serve to bring the locker room closer together. There's only one problem. Jones' play has been far too erratic to warrant such an honor, and he has left many observers wondering why the precision that characterizes his play for club side Schalke isn't replicated at international level.

That's why Bradley should be named instead. The Roma midfielder has matured in recent years to the point that the petulance that crept into his game at times has disappeared. His position on the field makes him a better fit than, say, Clint Dempsey, and his consistency is there for all to see. It's a move that no doubt would get heads in the locker room nodding in agreement, something that appears to be happening with too little frequency.

4. Time for the senior players to step up
For all of the heat Klinsmann is getting, it's important to remember that the success -- or failure -- of the U.S. team falls on the players as well. Yes, it's up to Klinsmann to prepare his side, and it certainly seems like some aspects of his approach are suspect. But this is a moment where the team's veteran players need to step up and show leadership as well as their quality, especially in a young side like this one. Too often during this qualifying cycle, players have complained about aspects of the game that are outside of their control, like weather and field conditions. Playing at home against Costa Rica, there will be no such excuses.

5. Klinsmann needs to show more flexibility
From the beginning, Klinsmann has remarked how performance at club level matters and that has largely driven many of his player selection decisions. To wit, it was the primary justification for excluding long-time captain Carlos Bocanegra from this set of qualifiers, although the revelations about his benching in Honduras hint that there is more to his exclusion than club form. That said, insisting that club form counts is a laudable goal, as it helps to create more of a meritocracy within the team. But taking such a black-and-white approach can also serve to back a coach into a corner. Klinsmann's predecessor, Bob Bradley, remarked once that a player struggling with his club can oftentimes be re-energized by a national team call-up, and that each case needed to be looked at on an individual basis. A little bit less rigidity in this area would appear to be in the overall best interests of the team.

6. Klinsmann needs to find his Jogi Low
Not for the first time, the players on a Klinsmann-coached team have complained about a lack of tactical preparation, with several players in Straus' article indicating that the U.S. manager was taking a let-them-play approach. Many of the players at Bayern Munich, most notably Philipp Lahm, said much the same. This wasn't the case when Klinsmann was in charge of Germany's national team, where then-assistant Jogi Low was in charge of the team's tactics.

Just like at Bayern, this role is currently being filled by lead assistant Martin Vasquez. But if Klinsmann's message isn't getting through, then a change needs to be made. This isn't necessarily a call for Klinsmann to cut his long-time friend loose, but it seems evident that Vasquez's strengths as a coach don't provide enough cover for Klinsmann's weaknesses. Obviously this isn't going to change before Friday's game, but it ought to be examined going forward.