Brad Guzan stepping out of shadows
For the better part of four years, Brad Guzan lived out his life in largely anonymous fashion, at least for a pro soccer player. At English Premier League side Aston Villa, Guzan rode the bench behind the likes of Brad Friedel, and later Shay Given. At the international level, his prospects seemed just as limited, with Tim Howard looking immovable as the starter for the United States.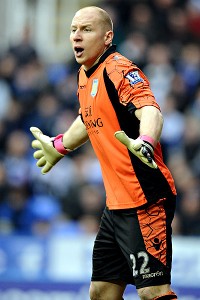 Tony Marshall/Getty ImagesBrad Guzan became crucial to both the U.S. national team and Aston Villan through injury and second chances.
But in the last eight months, Guzan has evolved from afterthought to a player who is critical for both club and country. Villa's bid to avoid relegation has been aided immeasurably by Guzan's steady and at times spectacular play. And with Howard now sidelined with two fractured ribs, U.S. manager Jurgen Klinsmann will be counting on Guzan to help get the Americans' World Cup qualification campaign back on track against Costa Rica this Friday and Mexico four days later.

"You never want to see one of your teammates get injured," said Guzan via telephone prior to last weekend's 3-2 win against Queens Park Rangers. "You hope for a fast and speedy recovery. Obviously Tim is a big player, not only as a goalkeeper, but someone who has been with the national team for quite some time now. It's disappointing, but in saying that, everyone has to step up, and if my name and number is called that's something I'll be ready for."

Guzan has certainly proved as much this season with Aston Villa, something that last summer seemed impossible. Aside from a loan spell at Hull City, Guzan made just 26 league and cup appearances over four seasons with Villa, and with his contract having expired, the U.S. international concluded that he was on his way out of the Birmingham-based club.

But the persuasive powers of new manager Paul Lambert -- which included a promise that the battle for the starting goalkeeper berth would be a true competition -- convinced Guzan to stay, and the Scot proved true to his word. Guzan wrestled the starting spot away from Given and has made 28 league appearances so far this season.

"I'm very proud of him because there have been plenty of American players where the going has gotten tough a little bit, and they ran back to MLS and chose the easy option," former U.S. international goalkeeper Kasey Keller said. "Brad stuck it out and is now benefitting from it."

Yet there have been moments -- lots of them in fact -- when Guzan must have wondered what he had gotten himself into. Injuries have often forced Lambert to field a youthful lineup, with last weekend's starting 11 against QPR containing eight players age 23 or under, and over the course of the season that inexperience has been exposed. At present, Villa is tied for the second-most goals allowed in the EPL with 56, and Guzan has been on the receiving end of some brutal defeats, including an 8-0 mauling at the hands of Chelsea on Dec. 23. The last time Guzan kept a clean sheet was in a 0-0 draw with Stoke on Dec. 8.

Such realities have forced Guzan to hone both the mental and physical aspects of his game.

"I think for me, one thing I've improved is my mentality in terms of preparing for games, and making sure that I'm ready," he said. "I'm one of the older players, and as a goalkeeper, you have to be a leader and a vocal presence because you see the whole field. And I think a big thing was my maturity, taking the good with the bad, and just getting on with it and trying to get better. Specifically, I try to be a dominant force in the back, and try to help the back four relieve pressure in terms of balls in the air, shot-stopping."

Keller is among those who aren't bothered in the slightest at some of the tough games Guzan has endured this season.

"In goal, there's a reason why some of us play our best when we're in our late 30s," he said. "It's all about experience. The more experience you have in all of those different circumstances, the better you're going to be. And Brad, having 30 more games under his belt, where in some of those games he's absolutely gotten his ass kicked, that's all part of that experience.

"A young goalkeeper will tell me, 'Well, I've never conceded six goals before.' I tell him, 'That's because you haven't played long enough yet. It's going to happen.' What Brad has had to deal with this year with interesting player changes and not a real successful team and having to be very busy, he'll only get better because of it."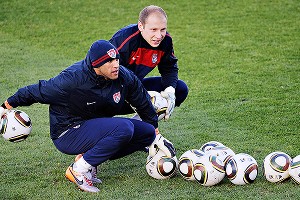 Kevork Djansezian/Getty ImagesBrad Guzan (right) can help fill part of the leadership void caused by the absence of injured U.S. goalkeeper Tim Howard.
The timing of Guzan's ascension couldn't be better for Klinsmann and has quieted the calls of those suggesting that Friedel, now with Tottenham, should be brought out of international retirement. Howard's longtime understudy may have only 20 caps, but that is far more than likely third choice keeper Nick Rimando, who has only five appearances for the U.S., none of which have been in a World Cup qualifier.

Guzan's résumé includes a smattering of World Cup qualifiers occupied largely by second-choice players, but he did play when Howard was suspended for an away qualifier against El Salvador during the 2010 cycle that ended in a 2-2 draw. He was also in goal for the 3-0 win over Egypt at the 2009 Confederations Cup. But perhaps most critically, Guzan is a player in form, as evidenced by the sparkling saves he delivered in Villa's last two games; the aforementioned win against QPR and a 2-1 victory against Reading the previous week.

Howard's leadership will no doubt be missed, but Guzan can still help the U.S. in this area. While no two situations are identical, parallels exist between what is happening with the American backline and what is transpiring with Villa. Clearly, the U.S. isn't leaking goals at the same rate as the Claret and Blue, but both sides have experienced upheaval along the backline, with some of the more youthful members of the American defense learning painful lessons. This is where Guzan can provide a steadying influence, although he emphasizes that trying to be Superman in goal isn't the solution.

"As a goalkeeper, you can't go and try to chase the game and try to do things that are out of your element," he said. "When you do that, that's when you start making mistakes and that's not good for anybody.

"I've seen firsthand from July until now the learning curve and the growth of some of the guys on (my club) team. And with every camp, every game, you see that with the national team as well. They're continually trying to learn on the job. Everyone is definitely committed to the cause and it's about pumping up the guy next to you when he makes a mistake. Everyone is going to make mistakes. It's the nature of the sport, the nature of the profession. It's how you respond to those mistakes and help the guy next to you and make sure you get through it together."

Given the quality of the opposition, errors are likely to occur. But at present, Guzan's gaze is fixed firmly on the Ticos.

"It's all about the game in Denver and getting three points," he said.

And if that goal is accomplished, Guzan will likely shed yet another layer of anonymity.