MLS Rivalry Week: Ranking the matchups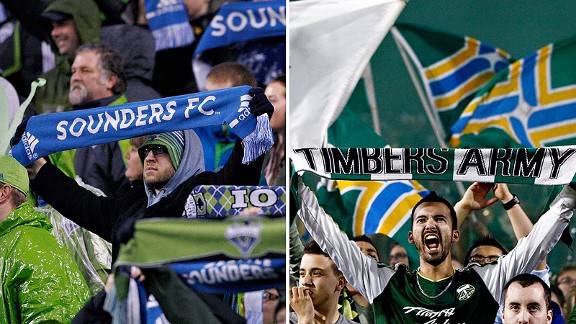 Getty ImagesThe most passionate MLS rivalry belongs to the Northwest, where Seattle and Portland (and their fans) have developed a good distaste for one another.
Major League Soccer's weekend schedule is a feast of hate, a veritable smorgasbord of bubbling contention and competitive angst. It's "Rivalry Week", a round of games pairing teams who should bring a little more to the field than just the tepid desire to collect points.

This is about pride. This about bragging rights. This is about putting on a show for the dedicated fans who care the most about beating that other team from that other place with their hideous other colors.

Concentrated into one weekend, these games represent much of what makes MLS great. From midday Saturday through Sunday afternoon, there's hardly a break from rivalry. Each brings a unique element based on geography or history, both soccer and non-soccer, MLS and pre-MLS. But not all rivalries are created equal. Some are more intense than others. Some have a counterfeit feel, as though they are rivalries of convenience, not of nature.

A rivalry shouldn't need an explanation as to "why." It just is.

Because not all rivalries are created equal, I've chosen to rank them. Included are every matchup from Rivalry Week, judged on the strength of the rivalry involved. There's a flimsy formula (geography x history + vitriol), but these are naturally subjective rankings.

1. Seattle Sounders v. Portland Timbers

Saturday, 5 p.m. ET -- Until proven otherwise, this is the league's best rivalry. These teams and their fans can't stand each other, and it's a hatred that predates either team joining MLS. Back when the Sounders and Timbers were USL foes, they hated each other, too. The crowds were smaller and they weren't getting national television exposure, but it was the same mutual disgust. Sounders-Timbers checks all of the important rivalry boxes -- geography, history, big support and respective fan passion -- and checks them in ink.

2. New York Red Bulls v. D.C. United

Saturday, 12:30 p.m. ET -- As far as MLS-only rivalries go, New York-D.C. tops the list. United has the trophies over which New York obsesses. New York has the new stadium about which United dreams. All the way back into the embryonic days of the mid-1990s, these teams have rarely failed to produce high drama. Part of what makes a rivalry great is a consistent adding to the lore, and New York-D.C. added a new chapter just last year in the Eastern Conference final with Thierry Henry's encroachment and the snow-out in Harrison.

3. Montreal Impact v. Toronto FC

Saturday, 4 p.m. ET -- The Canadian clash brings the added element of cultural disconnect to the already-potent mix of a history built on the back of other sports. TFC is taking the largest traveling support in league history Saturday, a testament to just how badly Ontario fans want to stick it to the club from Quebec. One doesn't need to be Canadian to understand how sticky relations between French-speaking Canada and English-speaking Canada can get, and these teams have recent history and decades of animosity to build on.

4. Real Salt Lake v. Colorado Rapids

Saturday, 6 p.m. ET -- The Rocky Mountain Cup rivalry is relatively young and doesn't really involve any pre-existing animosity between the people of Utah and Colorado. But over the past few years this game has possessed a nasty edge about it that puts the rivalry in the top five. If the people of Utah and Colorado had no real beef before, they certainly have one now when it comes to soccer.

5. LA Galaxy v. Chivas USA

Sunday, 5 p.m. ET -- LA and Chivas sneak into the top five because they share the Home Depot Center in Carson, Calif., and have shown a propensity to dislike one another in the recent past. The league attempted to grow this into a "clasico", but it's hard not to feel as if that effort mostly fell flat. Chivas hasn't been good enough to challenge LA for city dominance, ever, which would go a long way towards making the league's closest geographical rivalry one of its most intense.

6. FC Dallas v. Houston Dynamo

Sunday, 1 p.m. ET (ESPN3/Watch ESPN) -- These teams share the state of Texas, and everything is bigger in Texas. Except for rivalry, because when FC Dallas and Houston face off, there doesn't seem to be the same sort of intensity we see among the top five. It doesn't help that FC Dallas has struggled with attendance in recent years, or that Houston always seems to have bigger things in sight that securing El Capitan, the cannon that is the rivalry's trophy.

7. Philadelphia Union v. New England

Saturday, 5 p.m. ET -- There's no real rivalry here, at least not beyond a semi-geographical one based on the cities being connected by I-95. With New York busy hosting D.C. United, the most natural rival for both Philadelphia and New England is otherwise occupied. Maybe something will spark between the Union and the Revs this time around, giving the matchup a chance to blossom into something more exciting.

8. Sporting Kansas City v. Chicago Fire

Saturday, 3 p.m. ET -- From Major League Soccer's point of view, it probably makes sense to match Midwest teams for Rivalry Week, but no one seems to be sure if these clubs are actually rivals. That probably means they aren't, which is why this game comes in No. 8.

9. San Jose Earthquakes v. Columbus Crew

Saturday, 5:30 p.m. ET -- These teams are not rivals. San Jose's rival is the Galaxy, while Columbus is most aptly paired with Chicago, geographically speaking. Unfortunately, those dance partners are taken.

10. Vancouver Whitecaps v. The Couch

Poor Vancouver. The odd man out in the Cascadia trio.