MLS Notebook: Jahn gives San Jose a boost
The news that San Jose forward Mike Fucito needed stitches to close a cut in his foot after Sunday's game with the New York Red Bulls seems like the last thing that the Earthquakes needed. The reigning Supporters Shield holders are already without Steven Lenhart, Alan Gordon, Marvin Chavez, and Steven Beitashour, and now Fucito is questionable for Saturday's game at Columbus.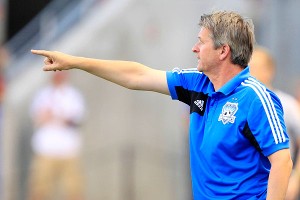 George Frey/Getty ImagesSan Jose coach Frank Yallop has found the emergence of Adam Jahn a great help in the absence of several key players.
But this is one instance where manager Frank Yallop's life has actually been made a bit easier. The San Jose manager admitted after Sunday's comeback victory against the Red Bulls that his side operates much better with a target man, and 6-foot-3 Adam Jahn, who scored the equalizer and then drew the game-winning penalty, is the closest approximation at present.

"We feed off crosses and different things like that," he said. "I think we've kind of gotten away from that, not having our big boys, but I think [Jahn] now will have the confidence to be able to do that."

But Yallop, perhaps mindful of maintaining Fucito's confidence, was also insistent on praising the diminutive forward's contribution. Now that Fucito is ailing, Yallop can move Jahn into the starting lineup without reservations, that is if the forward survives some grueling treatment from the likes of Gordon and Lenhart.

"[Lenhart] and I said we were going to take him to the gym tomorrow, maybe throw him around, punch him a couple of times, maybe a couple of head-butts, see what he's made of," joked Gordon.

Given that Jahn's nickname of "Pillow", one wouldn't expect him to have the kind of qualities to mix it up with the league's toughest defenders. But not only is Jahn providing an imposing physical presence, he's shown some deft skill on the ball as well.
"They [named] me this because I have soft feet for a big man, and a pretty good touch," said Jahn after Sunday's match. "They weren't expecting that."

His teammates do now, especially with more minutes on the horizon.

Don't think, it can only hurt the ballclub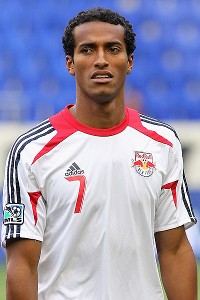 Andy Marlin/Getty ImagesNew York's Roy Miller may find a red flag on his file in MLS offices after his penalty-kick ploy against San Jose.
Among the more stunning developments to come out of New York Red Bulls practice this week was this whopper of a confession by defender Roy Miller. Miller, you may recall, was whistled for a late penalty against San Jose after his hand made contact with Jahn's header, and then he compounded matters by encroaching on Chris Wondolowski's first penalty kick, one saved by goalkeeper Luis Robles. His explanation? It was all part of his master plan to throw off the San Jose forward.

"I did it on purpose with the thought that Wondolowski would miss [on the retake]," Miller told Soccer By Ives. "Simply, I wasn't in agreement with the situation that was going on and the penalty kick being given, because for me the handball didn't have to be called but some refs call it and some don't.

"I did it so that if [Wondolowski] made it, he would have to do it again and then he missed. I had the unfortunate luck that Luis saved the initial attempt."

Evidently, Miller wasn't aware that if Wondolowski had scored on his first attempt, no retake would have been given. Manager Mike Petke might want to acquaint Miller with a copy of the Laws of the Game. Or a muzzle.

Arena: In coaching, no pro playing experience necessary

One sign of MLS's longevity touted recently is the number of former MLS players who become head coaches. Eleven of the league's 19 managers once donned an MLS uniform. However, that leaves a sizable chunk who can't say the same, which leads to the age-old question: How much does playing experience really matter in terms of coaching ability?

Certainly, a grounding in the game as a player can help provide a significant base of knowledge for a career in management, and within MLS, coaches such as Yallop and Dominic Kinnear can draw on long playing careers spent in multiple countries. But Vancouver's Martin Rennie appears to be doing just fine, despite his rather modest playing pedigree.

Then there are multiple MLS Cup winners such as Seattle's Sigi Schmid and the LA Galaxy's Bruce Arena who also had nondescript playing resumes. Perhaps that explains why Arena feels that playing experience is a poor predictor of a successful head coach.

"I would say one thing that is glaring these days is that playing experience is not the formula for success in coaching," he said before the season. "We often see a lot of players with excellent backgrounds as players who don't quite get it in the coaching business. It's a completely different job. That's why it's a completely foolish theory to hire a person as a coach because he was a very good player. It makes no sense. There's really no correlation; different jobs, completely different jobs."