A small step forward for Heaps, Revs
New England's 1-0 win at Chicago last Saturday wasn't the prettiest of performances. But it was also the kind of gritty, tight MLS game the team too often lost last year. That the Revs held on could be traced to the increased level of steel in the New England lineup.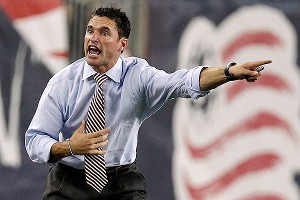 Winslow Townson/Getty ImagesJay Heaps has worked to make his New England team tougher, but is trying to remain a little more composed on the sidelines.
Central defender Jose Goncalves and holding midfielder Kalifa Cisse each helped keep the Fire attack at bay. As for right back and No. 1 pick Andrew Farrell, he showed some quality as well, although he will need to clean up his tendency to dribble into trouble.

All of this was part of manager Jay Heaps' plan to rebuild his side. The New England manager said he wanted to add the experience of players such as Andy Dorman and Chad Barrett as well the toughness of Cisse and Goncalves. The latter need was driven home by the fact that in 2012, New England was the second-most fouled team in the league, while committing the third-fewest infractions.

"Last year, we realized that we were a very good technical team, dominated a lot of games, but got beat up pretty good," said Heaps. "When I took over, I wanted to change the culture to that of a team that plays. This year we wanted to have a little more bite. I don't want to take away from our technical work because I think we're really good. But if the game calls for a fight, we have to step in there and fight."

While Heaps recognized in the offseason what attributes he needed to add, he also made a point of examining what he had learned in his first year as a head coach, and what things he needed to change. At the top of the list was a bit more composure on the sidelines.

"There were areas last year where we were really good, especially in our game preparation," he said. "But in terms of game management, I was an emotional player, and I think I coach with a lot of emotion. I think that's good. But at times, I don't want that to flow over to the players in a negative way."

Heaps recalled that when his mother, Jane, passed away last May, he didn't want to miss any league games and was on hand for the Revs' match that weekend against D.C. United, only to realize that the players were so emotionally invested in what he was going through that it adversely affected their play.

"Emotion is good, but too much is too much," he said.

Heaps added that he is also making an effort to be less combative with referees. Last season, the New England manager felt he almost had to fight his players' battles for them in terms of contesting calls.

"I think that hurt us," he said. "I think it hurt me, and I think it our team. It didn't help, that's for sure."

It's early, of course, and the season will eventually reveal how successful Heaps' changes will be. But suffice it to say, New England -- and its manager -- have made a good first impression for 2013.