Sounders, Galaxy reach daunting Champions League hurdle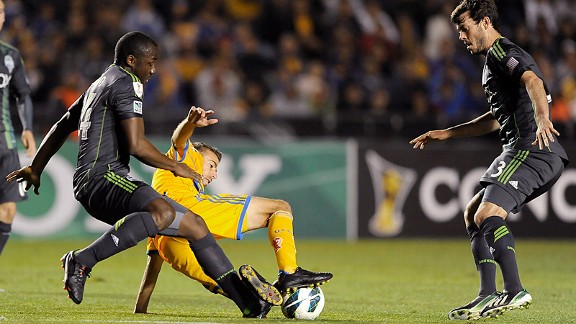 Jorge Perez/Getty ImagesAfter knocking out Luis Garcia (middle) and Tigres on Tuesday, Seattle advanced to a CONCACAF Champions League rematch with Santos, which eliminated the Sounders last year.
The circumstances may have been different -- even historic to a degree -- but with the quarterfinals of the CONCACAF Champions League now complete, the challenge facing MLS clubs remains very familiar. If an MLS team hopes to claim continental supremacy and give the league its first champion since the Los Angeles Galaxy in 2000, it will need to go through one and perhaps two Mexican clubs to do so.

No doubt, Seattle's epic victory over Tigres on Tuesday, in which the Sounders came back from two goals down to claim a 3-2 aggregate triumph, was a milestone of sorts. It was just the second time an MLS club triumphed against Mexican opposition over two legs.

True, the win came with an armful of caveats. For whatever reason, Tigres manager Tuca Ferreti opted to bring a B side to CenturyLink Field. It might have worked had midfielder Manuel Viniegra not been sent off for a second caution in the first half when he foolishly kicked the ball away. But these are all factors the Sounders had zero control over. Like any good team, Sigi Schmid's side took maximum advantage of the breaks it was handed. The fact Seattle made Ferreti pay for his faulty calculus shows that MLS is making progress.

Yet it's important to note that Seattle's win was another step -- OK, perhaps two -- for MLS, but not a quantum leap. With the Galaxy putting away Costa Rican side Herediano 4-1 in Wednesday's second leg, MLS has two entrants in the semifinals of the continent's premier club competition, and not for the first time.

Back in 2007, the Houston Dynamo and D.C. United reached the semis of what was then known as the CONCACAF Champions Cup, and both lost to Mexican teams. The Dynamo and United reached the same point a year later only to fall once again, with Houston losing to Costa Rican side Saprissa while United fell to Pachuca.

More recently, Real Salt Lake lost the 2011 final to Monterrey, and last year Toronto FC reached the semis before being obliterated by Santos Laguna. If both Seattle and Los Angeles fail to reach the final, it will be difficult to argue that much progress has been made.

Can 2013 be different? It certainly helps that both of the MLS teams still in contention are among the league's deepest and most complete sides, something not the case with Toronto last year.

The league schedule before the semifinals is a tad less favorable for Sounders and Galaxy than for the quarterfinals. Both Seattle and LA had last weekend off, which won't be the case in April, but at least both teams will be at home for the weekend that is bracketed by the first and second legs. The upcoming three weeks should also allow both MLS sides to gain more fitness, and close the gap on their Mexican counterparts.

But the opposition will be daunting. You can bet that neither Santos, who will face Seattle in the knockout stages for the second year running, nor Galaxy opponents Monterrey will be doling out Ferreti-like helpings of generosity.

Both Mexican sides have a history of taking this competition seriously and have broken MLS hearts along the way. Monterrey's league form has been patchy during the Torneo Clausura, but any side with forwards like Humberto Suazo and Aldo de Nigris will be imposing, making for a an interesting matchup against LA's impressive back line featuring Omar Gonzalez and Leonardo.

Santos' Liga MX form has been more consistent, and showed that it is more than capable of handling MLS opposition when it dispatched the Houston Dynamo in the quarterfinals 3-1 on aggregate, with Herculez Gomez continuing to make it his personal mission to put MLS clubs to the sword in the CCL.

Seattle no doubt has a score to settle with Santos after being routed in last year's CCL quarterfinals. Schmid & Co. will no doubt be hoping that new recruits Djimi Traore -- he of the golazo against Tigres -- and forward Obafemi Martins (assuming his reported signing finally goes through) will make the difference this time around.

Of course, there is a chance both MLS sides will reach the final. If that's the case, then that will qualify as a quantum leap indeed.