Into the mind of Mexico's head man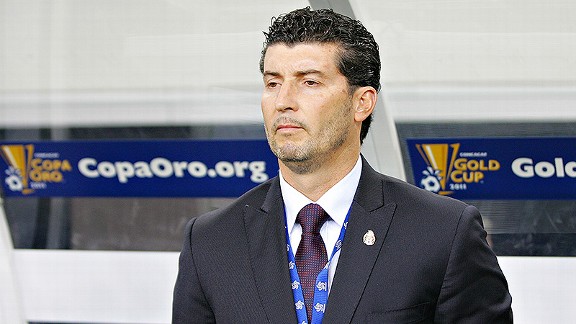 Rick Yeatts/Getty ImagesMexico manager Jose Manuel "Chepo" de la Torre is squarely focused on taking El Tri to the next level in international competition.
SAN FRANCISCO, CA -- The top floor of the Mark Hopkins Hotel provides as picturesque a view of San Francisco as one could hope for. And on this day, the weather has cooperated with clear, sunny skies so that all of the city's landmarks, as well as San Francisco Bay are easily picked out.

As Mexico national team manager Jose Manuel "Chepo" de la Torre enters the room, it's clear that his mood matches the surroundings. The head coach of El Tri is in town ostensibly to promote an April friendly against Peru, and earlier he was photographed heading a ball on the roof of the hotel with Mexico Director of National Teams Hector Gonzalez Inarritu. But what's on everyone's mind are the critical World Cup qualifiers against Honduras and the United States that are set to take place in the next two weeks, and how the Mexico team is shaping up. Is Giovani Dos Santos returning to form? Does Carlos Vela, who has been playing well in Spain for Real Sociedad, have any hope of getting back into the side? And what does de la Torre make of the United States' recent struggles?

At a recent roundtable with reporters, the Mexico manager was kind enough to indulge any and all questions with the help of a translator. And through it all conveyed the reserved, yet confident demeanor of a man leading the best team in the CONCACAF region. Here is an edited transcript.

Q: To be the national coach of Mexico is a huge responsibility. How do you deal with the pressure of that?

De la Torre: I come from a soccer family. My father played soccer, my uncle, Javier, was a trainer and player. I grew up in a soccer environment. I was a professional player and played on Mexico's national team. I completely understand the pressure and I've been preparing myself, as a soccer person, for the pressure. The circumstances surrounding how I got to this point prepared me, along with people who have helped me along the way to get to this position. The pressure is always there, but the goal is always much better than the pressure, which in this case is to get to a World Cup.

Q: You were never able to play in a World Cup as a player. How much does that drive you as a coach?

De la Torre: Yes, it's very motivational to aspire to be in a World Cup. But always, I think that things happen for a reason. You want to be prepared so that when the opportunity comes, you can take advantage of it.

Q: How important is it that Mexican players experience soccer in other leagues around the world?

De la Torre: I think that it is part of the growth of the Mexican player, to experiment playing in other leagues. Right now we only have six players playing in other leagues. There's more but only six really have starting roles, and they do it adequately. But I think Mexican players can do better. They have the talent to play in any league. We don't have the market maybe that other countries have, but the Mexican player easily adapts to any circumstance.

Q: Who were some of your coaching influences?

De la Torre: I had many coaches in my career, with great capacity and experience; from my own family, Cesar Luis Menotti, Leo Beenhakker, Manuel Lapuente, Miguel Mejia Baron, Nacho Trelles, Hans Westerhof, and Vicente Miera when I was in Spain. And in some way each one of them has left something there. I've been very open in getting the best out of every one of them, and I've also learned what not to do [laughs]. I like to ask a lot of questions. I always look to ask something from every one.

Q: You seem very calm on the sidelines. Are you as calm on the inside as you appear to be outwardly?

De la Torre: [laughs], I'm not always that calm. I'm very temperamental, but I always try to remain calm. Even though on the inside I might be very angry, on the outside I try to show a calm demeanor because the players are reading my expressions. The players are reading how I'm feeling, so I try to stay on an even keel.

Q: Looking back at some of your predecessors -- Ricardo La Volpe, Javier Aguirre, Hugo Sanchez -- these are coaches with big personalities. Do you think what you've brought to this team is more of a quiet confidence?

De la Torre: Yes, it's important that the group is calm, the team is calm and to fully understand the circumstances in which we live. We don't have any pretexts. We are always responsible for what happens, for what's in our hands. What's out of our hands is not our issue. The focus is on what you can have an impact on. It's not on referees, circumstances, weather. All of those things are out of our control. Analyzing the team, our preparation; when it's time to put into practice all of those things we have control of, it's important that we don't get surprised. That's our responsibility. In order to win, we need everyone to contribute. But to lose, you need only one person [to not produce]. We need everybody to think and concentrate on the same thing.

Q: I know you were asked this at the press conference, but does that explain why a player like Carlos Vela is not currently in the squad?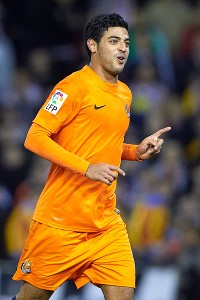 Manuel Queimadelos Alonso/Getty ImagesDe la Torre has not ruled out a return of Carlos Vela to the Mexican national team.
De la Torre: Carlos Vela, he's thinking about other things. His priority is to be a professional in Spain. He doesn't want to be distracted with trips or other commitments. This is what he has expressed to us. [ED: Earlier that day, de la Torre insisted that he had not shut the door on Vela returning to the squad at some point.]

Q: The rivalry with the U.S. has become more intense. How has that affected Mexico's perspective of the United States?

De la Torre: The rivalry always existed, and we have many people living here and working here in the United States. It's a very special feeling for the Mexican-American who lives here. Traditionally, the U.S. has not been a soccer country, but it doesn't mean that the rivalry isn't growing more every time. Always, the games are a great sense of pride for the Mexican people. It's more of identifying with the national team when we play a good game, beating the U.S., it's a special game. It will always be a special game. Even though from a sporting perspective, it's three points, but for the Mexican people, especially those that live in the U.S., it's very special.

Q: Within the U.S., there's a lot of concern right now about the U.S. team. There are several players who are injured, and the team is not playing particularly well at the moment. What is the view from Mexico about the way the U.S. team is playing at present?

De la Torre: The view is that it's a strong team in every sense. It has a lot of players playing in England, Italy, and Germany. The players play at a highly competitive level, we know that the kind of players the U.S. produces that the U.S. has always played to their strengths; patience; a team that does well valuing its strengths of speed, aerial game and characteristics of individual players that make a difference, like Clint Dempsey.

Q: When you coach a club team, it's a daily event. But when you coach a national team, there are longer periods of time between games. What are some of the challenges for keeping a cohesive unit together?

De la Torre: It's complicated. You have three, four days to work with the players. We need to be as close to them as possible. We need to be aware of what is happening when they are with their clubs. It's difficult, when a player feels that he's being watched, that he's being scouted, he raises his level. My team of coaches and scouts, we go out to the games, we watch the players. Sometimes we come to say 'Hello. How are you feeling?' Just to know how they're doing. It helps us get better information and then be able to make better decisions about each player.

Q: What were your impressions of the U.S. team that played in the CONCACAF U-20 championships?

De la Torre: I know Tab Ramos. He was my teammate at Tigres in Mexico. He's a great person. He's built his team with Latino players. I think that he has a good team, a strong team. The last time the U.S. didn't qualify. That was a tough blow for them, and they reconsidered how to build a team, a now they have a strong team that plays soccer well and is very competitive.

Tab is Uruguayan, and he's Americanized. He's played in Spain and Mexico. He's a person that has lived soccer, who knows what soccer is. Besides being a very good person, I had a great personal relationship with him. He had a great set of skills to be a very good player.

Q: It seems like the U.S. and Mexico, there are more and more players with roots in both countries, who are dual nationals. What is Mexico's approach to getting more of those players to play internationally for them?

De la Torre: That has been a difficult task because Mexican-Americans sometimes get advantages to play in [U.S.] leagues or in their national team. In Mexico [clubs] only have so many international spots, and it can become difficult to give those to Mexican-Americans. For many young players (Mexican-Americans) who want the opportunity of participation in certain clubs or the national team, we look to capture those young players for youth systems and for youth national teams. But many times that opportunity is cut off and that means that they opt to also play for the United States.

[ED: At this point, Inarritu chimes in with his thoughts]

Inarritu: For example, Richard Sanchez, the goalkeeper with F.C. Dallas, plays for our U-20s. Like him, there are many Mexican-American players. When I was vice president of Tigres, for example, there is Juan Pablo Ocegueda... Right now, many [U.S.] high schools and colleges offer scholarships. The problem in the U.S. is that when you finish high school and you are a good player, your career is over, because if you go to college and they don't have soccer, you can't play. Right now, many colleges are starting soccer programs, but that's a problem in the United States.

Q: So you feel that's where Mexico has an advantage, because at that age you have more to offer?

Inarritu: Yes... but one problem is that many Mexican-American players ask us about scholarships. For example, at Tigres, we offered the players housing, scholarships. The parents arrive to Monterrey to see where my guy is going to live, where my guy is going to train. But there are four or five teams that work very nicely with that. Pachuca is the best right now, because they have residency, meals, and scholarships. It's important what you can offer the player.

Q: What did the Gold Cup win do for the confidence of Mexico?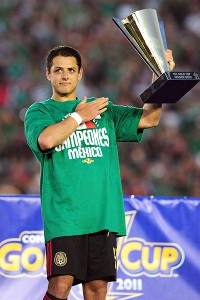 Robyn Beck/Getty ImagesEl Chepo's 2011 Gold Cup team led by Chicharito Hernandez powered its way to a Gold Cup final win over the U.S.
De la Torre: First of all, it's just knowing that we can set a goal and that we can go out and achieve the goal as long as we follow the plan that we have set for ourselves. The last Gold Cup we had very difficult circumstances [with players being suspended for PEDs], but it was clear that everything that was happening was outside of our control. [The suspensions], that was totally something for the [Federation] to deal with and we just focused on the sporting part of it. It was tough circumstances also because in the final we were playing well and we were down 2-0 to the U.S., it's a little contradictory. But we knew what we had to do and we were able to turn around the circumstances. I think that each player needs confidence and security so that what he's doing, he's doing well. But alone he can't win, so to win we need everybody. To lose, it just takes one guy [to undermine things].

Q: How do you rate the form of Giovani Dos Santos at the moment?

De la Torre: Now it's much better than two months ago. He's returned to good form. He's improving a lot. He's recaptured his form. The continuity in his team [at Mallorca] has allowed him to be in good shape soccer-wise.

Q: Mexico has reached the second round of the World Cup consistently over the last several tournaments, what will it take to make a breakthrough? Is participating in the Confederations Cup going to provide that little something that can tip the scales and propel the team forward?

De la Torre: We know that [these disappointments] are part of our soccer history. That's why we've always been very reserved. We go step by step. First, we have to qualify. How can we talk about the World Cup when we haven't qualified? But again, this is a part of our soccer history. And it's not just about getting past the second round, it's reaching the final. Games are very circumstantial, and people have to understand those circumstances in order to aspire to win. You have to get to the moment.