Schallibaum keeps it simple with Montreal
PORTLAND, Ore. -- It was the type of scene that Impact owner Joey Saputo no doubt envisioned when he moved his team into MLS: A star-studded locker room basking in the rewards of a second straight road victory and showing no signs that the Montreal Impact's hard-earned 2-0-0 start was actually highly unexpected. As the likes of Alessandro Nesta and Marco Di Vaio casually talked to random people around the visitor's locker room, there was no hint that their team had just pulled off a surprising sweep of Seattle and Portland. Instead, the Italian icons had a business-as-usual look to them. After all, what's so big about winning two games in a row?

Perhaps nothing. After all, Montreal has only finished six percent of its schedule and it is surely too early to pile on too many plaudits, even if these were two particularly challenging games. Nearly 3,000 miles from Saputo Stadium, the Impact's Cascadian sojourn concluded with nearly a month away from home (28 out of 32 days) and wins in two of Major League Soccer's toughest venues. After Saturday's 2-1 victory at Jeld-Wen Field, Montreal sits alone on top of the Eastern Conference.

Power Rankings: Northern exposure
News: Montreal tops Portland
Chivas USA rallies to stomp FC Dallas
Philly beats Colorado late
Video: MLS Final Kick, Week 2

This is a team that spent its first MLS season struggling to meet their owner's lofty ambitions. Despite luring Nesta and Di Vaio, bringing Patrice Bernier back from Europe, signing former Italian international Matteo Ferrari and importing Brazilian midfielder Felipe, the Impact finished 11 points out of a playoff spot. The seventh-place finish may have been a success by MLS expansion standards, but it wasn't enough to keep Saputo from parting ways with head coach Jesse Marsch at the end of the season.

The move seemed hasty, but it paved the way for Montreal's most important off-season import: new head coach Marco Schallibaum. The hire was greeted with some skepticism; after all, the 50-year-old's extensive coaching resume in Switzerland showed little experience beyond his home country, making him seem like just another coaching import destined to fail amid the U.S. league's many idiosyncrasies.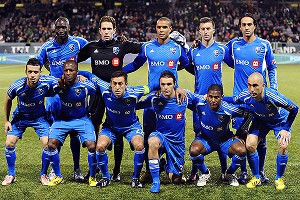 Steve Dykes/Getty ImagesIt's still early, but the Montreal Impact's experienced core and simple approach could help the newest MLS franchise make a more concerted playoff push.

Whether you're talking Carlos Alberto Parreira, Ruud Gullit or Aron Winter, MLS history is littered with the carcasses of imported bosses who failed to adjust to the league's unique environment. There are exceptions like Gary Smith, the Englishman who led Colorado to the 2010 title; still, MLS's most successful coaches are Bruce Arena, Dom Kinnear and Sigi Schmid, all well-seasoned in North American soccer. Marsch seemed to be of that ilk while Schallibaum appeared at first to be another Hans Backe.

But two weeks into his MLS career, Schallibaum has flipped the script. His methods haven't been those of a man intent of imposing new ideas on a league assumed to be ripe for the sophistication of a European mind. Instead his approach has paralleled that of Arena, Kinnear and even Frank Yallop: He's kept it simple.

"I come from Europe," Schallibaum explained, "[but] they never played fancy football."

With an uncomplicated philosophy, Schallibaum has eschewed complexity for sturdiness. His tactics are conservative, his team seeking to exploit the mistakes of others rather than risk errors of its own. Sitting back in a 4-1-4-1 formation, Montreal relies on its opportunism, an ethos that has yielded early results.

"The basis of who we are, we want to be good defensively," captain Davy Arnaud explained after the Portland win. "We want to be tough to break down and we have two guys in the middle with a ton of experience who keep guys organized ... it's obviously worked so far."

"Maybe we could keep more possession of the ball to (give ourselves) a breather," Bernier conceded, "but when we do go forward, we create several chances."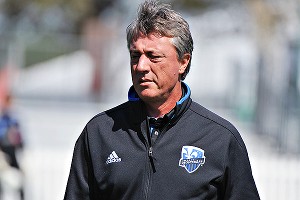 Al Messerschmidt/Getty ImagesThough he seemed like just another foolish European import, Marco Schallibaum's streamlined approach is more like that of Bruce Arena and Dom Kinnear.

It's the same conservative game plan that has underpinned Arena's four MLS Cup titles, made Kinnear a two-time champion and one of the most respected coaches in Major League Soccer and allowed Montreal to become the first MLS team to pull off a Seattle-Portland sweep.

Seattle's error in the season-opener allowed Di Vaio to create a goal for Arnaud, the only tally in a 1-0 win at CenturyLink Field. This past weekend, it was a set piece conversion and a perfectly executed counter-attack led Montreal to a 2-1 win in Portland. Three goals, six points and never a moment that forced Montreal to venture out of its shell.

"You can talk about being flashy and scoring a ton of goals, but in our league the best teams are the ones that keep it simple," Arnaud explained. "They are tough to break down, have guys that can make plays and score goals."

Superficially, Schallibaum's system isn't so different from the one Marsch used at the end of 2012. Then, Montreal played mostly in a 4-2-3-1 that would collapse into a 4-4-1-1, leaving Felipe in support of Di Vaio up top.

Schallibaum's 4-1-4-1, however, is different in a few key areas. The setup keeps its wide midfielders from dropping too deep, thus allowing the Impact to contest the ball higher across the width of the field. Central midfielders Arnaud and Felipe (who have combined for two goals already) have license to surge forward and play off Di Vaio, whose hold-up play might be the best in MLS. Bernier's experience at the base of midfield gives Montreal an organizer, someone who can collect the ball and play intelligent passes as well as shield the defense. His measured presence also allows Nesta and Ferrari to keep the back line organized and in sync.

Consider how the set up has neutralized two of the league's more creative players in Mauro Rosales and Diego Valeri. Seattle's Rosales was a non-factor in Week 1, the natural right winger thought to have been uncomfortable playing in an unfamiliar No. 10 role. But after Montreal neutralized Valeri, who had impressed the week before against Dax McCarty and New York, the more likely explanation is the Impact's defense. Aside from creating a good first-half chance for Ryan Johnson, Valeri was kept silent.

"The key to the game was Patrice Bernier," Schallibaum said after Saturday's win. "[Diego Valeri] is a very good player, (but) today wasn't like last Sunday (vs. New York). He couldn't get his passes to the forwards. That was the key."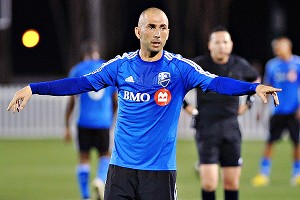 Al Messerschmidt/Getty ImagesMarco Di Vaio's one of the best center forwards in MLS, giving Montreal some peerless hold-up play and greater control further upfield.

In short, Montreal's commitment to a tight, conservative defense that controls the center of the field was crucial. The triangle of Bernier, Nesta and Ferrari gives the Impact an unmatched blend of leadership, experience and talent -- a combination that can play near-mistake-free soccer for 90 minutes.

Their experience, in particular, can't be undersold and for Arnaud, its effect is obvious: "When you have a group of guys who have played in big games and big moments... when the times are hectic on the field in different parts of the games, there's never a sense of panic."

Not many teams can rest on such a base. Further upfield, Arnaud and Felipe have the work rate to force opponents into mistakes while Di Vaio's hold-up play, playmaking ability and off-the-ball runs allow Montreal to make the most of the limited possession it enjoys.

As the season wears on, things may only get worse for Impact opponents. At home, Montreal should see more of the ball. Not every game will be played 3,000 miles from home, on turf and against possession-oriented sides. And as the players continue to grow into Schallibaum's refined approach, they'll be quicker to recognize opportunities to pounce on their opponents.

Though it's still early, Montreal's hot start feels like more than the sum of its parts. It has the potential to be a winning formula, the kind that justifies Marsch's hasty departure and validates the import of Schallibaum.

His resume may fit the foreign coach meme, but through two weeks, the Swiss manager is out-MLS-ing the competition.

Richard Farley is a freelance writer based in the Northwest covering MLS and European soccer. You can reach him on Twitter at @richardfarley or via email at richardfarley@gmail.com.