Garber Q&A: Growth, life minus Beckham, Chivas' identity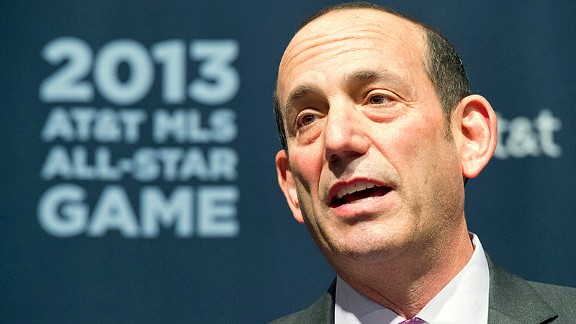 David Eulitt/Kansas City Star/Getty ImagesDon Garber has made it a goal to make MLS one of the top leagues in the world by 2022.
As MLS embarked on its 18th season last weekend, the league was entering a brave new world of sorts. David Beckham's free kicks and marketing muscle have departed. For the first time since 2006, there is no expansion team entering the league to further galvanize attendance.

- Altidore sets American mark in Europe
- Five takeaways from MLS's opening weekend

Yet the league's foundations are as strong as they've ever been. Average attendance has reached almost 19,000 and ground has been broken on another soccer-centric stadium, this time in San Jose. But MLS commissioner Don Garber has never been one to sit idly by. Last summer, he vowed to make MLS one of the top leagues in the world by 2022, and he reiterated that claim during his preseason address last week. During that event, he spoke on a variety of topics, but there are always more details to be gleaned, and the commissioner was kind enough to speak to ESPN.com about the year ahead, as well as the broader plans to continue the league's growth.

ESPN: On Wednesday, you spoke of MLS's goal to be one of the top leagues in 2022. Is it fair to say that any expansion of the salary cap has to be preceded by a comparable growth in revenues?

DG: Yes. Clearly, in order to be one of the top leagues in the world we just need to grow the overall scale of our business. That means even more energy with Soccer United Marketing to grow our commercial business, both on the sponsorship and merchandising side, but also to continue expanding on our experience and activity in the digital space and our broadcast partners. We're confident that if we're able to exponentially grow our revenue base, then we'll be able to, as we have in the past, invest more into our product.

ESPN: In what areas do you see the biggest potential for revenue acceleration? Is it television, sponsorships, or are ticket sales still going to be the primary driver?

DG: Ticket sales are still our primary driver. We certainly hope to be able to grow our audience digitally. We're having great success with MLSSoccer.com, Kick TV, with our various apps and other digital businesses. And we'll continue to invest in technology and hopefully grow our revenues in that area. We are deeply appreciative of the support we have from our current broadcast partners: ESPN, NBC, and Univision. We hope to be able to continue expanding on those relationships over the next couple of years, and at some point soon talk about the renewal of our agreements, which expire at the end of 2014.

ESPN: I know you've said in the past that you don't care where the revenues come from as long as they happen, but how big a concern are the TV ratings for you?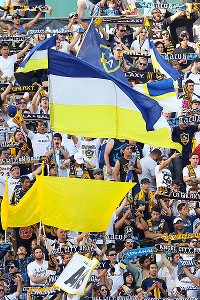 Victor Decolongon/Getty ImagesTicket sales remain MLS' biggest source of revenue, but Garber said MLS will continue to invest in digital businesses and expand relationships with current broadcast partners.
DG: We are still a young business, and are still building local connections in the communities where our teams play, and clearly in many cases the in-stadium environment and local fan base is growing. That's something we feel good about and even optimistic for the future. It takes a while to build a national fan base that can deliver large audiences for broadcast partners. But I don't know that will be the most important thing going forward as media continues to evolve, and the singular audience for one particular game being your biggest priority. I think there are a lot of different ways to grow revenues with media and we're going to focus on those areas.

Clearly we want to grow our television audience, and I think like all leagues it's a measure that is looked at, and we've got to continue to market our players and our clubs, and we've got to continue to get more marketing and promotional support from our broadcast partners, continue to find the right schedule both in terms of [time of day] and time of year. I think if we're able to focus on those things, then we should be able to drive our ratings.

ESPN: The league has done a really good job of getting fans in the local market to care about their team. I know that was a huge push by you guys. But how do you get fans to engage on more of a nationwide basis?

DG: It starts with our first really organized marketing effort almost since the beginning of the league. The whole March to Soccer campaign is a big investment. It's not just advertising, but a whole brand execution across broadcast media, across digital media, with our corporate sponsors, and our licensees. You're going to see lots more activity in our digital space with even more programming and investment in MLSSoccer.com, through MLS Live and our other applications. The best way to grow a national audience is to activate on a broad basis to hopefully increase scale to our audience.

ESPN: You spoke last week about not wanting to spend hundreds of millions of euros like they do in Europe, and you also spoke highly of Liga MX. Is that league the blueprint for the kind of league you would like MLS to be?

DG: Liga MX has done a terrific job. [FMF president] Justino Compean and [FMF general secretary] Decio de Maria are real pros. They understand the sports marketing business, and they have great relationships with their owners. They've been able to get their team owners to invest in new stadiums like at Santos and Guadalajara. Now they're looking at one in Monterrey. The majority of Mexican players are playing in Mexico. They are deeply connected with the local and national media, and the local communities. They are certainly doing a good job on the field. They are the dominant league in CONCACAF. That's something we should have as a real goal. We've got to be as good as we can be in our own area before we can start thinking about being one of the leaders around the world.

ESPN: You've talked about the designated player rule being expanded. How is the league actually going to go about that? Does that mean adding more DP slots or just being more aggressive in getting teams to sign DPs?

DG: It's the latter. The clubs are realizing that a DP doesn't have to be of the ilk of David Beckham, Thierry Henry and Robbie Keane. There are players that are really accomplished that perhaps can make an impact on and off the field at lower salaries, but still be an investment outside the salary budget. Most of the guys who have been signed are South American players who have great skill, are accomplished in international leagues, and are perhaps more affordable, albeit outside the cap, and are quite a bit younger than the other DPs we've had.

ESPN: Is there any thought to penalizing teams that don't invest in designated players?

DG: Absolutely not, quite the opposite. Every team needs to decide what is best for them based on their market, what their fan base is, based on what their philosophy is to be successful on the field. We've had the rule since 2007 and it's only been twice that a team with designated players has won our championship. So there is no reason to think that you can't be successful both on and off the field unless you invest in designated players. But if you are going to make that investment, there are a number of ways to go about it. You can invest at the highest end with guys like Henry, or go with more affordable guys like Federico Higuain, who is accomplished, a great player, our Newcomer of the Year, and can provide great value in Columbus, and really work hard to be successful in that market.

ESPN: Much has been made about the league intervening in transfers like with Brek Shea. But I recall that there was an incident in Toronto last year where it was reported that they wanted to buy a player, Olof Mellberg, and the league stepped in and prevented it. Do you think it's appropriate for the league to intervene in cases like that?

DG: At this level of our development, I think the league should continue to have enormous influence as to what kinds of decisions should be made so that teams don't make decisions that can either compromise them, or have a negative effect on what it is we're trying to achieve. Our view on Mellberg was that it was just not a decision that would be smart for TFC, or smart for the league as a whole. We are hesitant to ever say no but are really strong in assuring that we work with our clubs to have them make good decisions. It is that process that has put us in the position to be far more successful, and have accomplished far more than most people thought we would be able to achieve. That model works and will continue to work for the near future.

ESPN: Getting back to players leaving MLS, when an MLS player leaves for an overseas club, be it via a transfer or a free transfer, do you look at that as a negative, or is it a feather in the league's cap?

DG: I know there are those who look at it as a negative, and those who look at it as a feather. It depends on what your perspective is. There were people sending us "Free Brek Shea" emails, as if we were holding him back. Then when he was sold, the media was critical that Brek Shea left. There are always two sides to every coin in almost anything that you deal with. There are no absolutes. I do believe that there are some benefits to when a young player leaves and can perform well on the international stage. I think that speaks to the credibility of the league and the success we have had in developing players. That's a positive. But clearly, if you're thinking about how you're going to market the league, it would be good to have all of those players who you think can help move the needle performing on national television and to build the local fan base. That is a dynamic that exists throughout the world. I accept that. We're in the soccer business, not the baseball or basketball business or the NFL football business.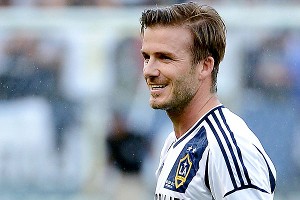 Harry How/Getty ImagesExpansion and credibility were products of the David Beckham era in MLS, but commissioner Don Garber insists the league didn't make him the sole centerpiece of its marketing efforts.
ESPN: Has the selling and marketing of the league had to change much in the post-Beckham era? In what ways have you had to tweak things now that David is no longer here?

DG: There was not a lot of league-specific David Beckham marketing. Broadcast partners got behind David. Certainly his sponsors did and the Galaxy for sure did in their local marketing. But the league never really made David a centerpiece or focal point of its marketing efforts. I don't think any league would market one particular player, as opposed to groups of players, and your clubs, and the overall league brand. The real transformation of late has been, we have become focused on positioning the league as having a very unique and special fan base. It certainly is a point of differentiation amongst the other leagues, certainly in the U.S. and Canada, where there are these unbelievably passionate supporters who believe in their clubs and celebrate with a pageantry and passion that is really special. Most of the marketing that you're going to see coming out of the league office from Howard Handler on the national basis, will be focused on the incredible images and enormous passion that exists in our stadiums.

ESPN: As you look back on the whole Beckham experience, do you think he got too much credit for all of the smart decisions that the league made?

DG: People will look back on this era for MLS, and think about David Beckham's presence in the league, the global exposure it gave us, and really the credibility it gave us. What also happened in that five- or six-year period was an incredible era of expansion, and also five or six stadiums. In addition to that, it was a time where we signed a new agreement with NBC, which gave us great credibility, and a whole new identity with a new partner to team up with ESPN and Univision. It was a time that I think saw the emergence of a supporters' culture. That had nothing to do with David, but with Toronto coming in and then Seattle and Portland coming in. That raised the water level so high, by basically saying, "We can look like a game in the Premier League, or in Rio, Milan, or Rome." That raised our credibility exponentially. I certainly wouldn't say that David drove that, but he was part of that. He was one of the legs on the stool.

ESPN: Much has been made of Landon Donovan's sabbatical. Do you think he'll be able to come back with the same level of passion and commitment as before? Is there any concern at league level that he might walk away?

DG: I'm not concerned about anything yet until I know how it will play out. I'm not concerned today. This guy has been literally one of the few players who has had the responsibility of driving the sport in this country on his shoulders. I don't know if others agree with that statement, but I believe it to be true. MLS would not be where it is today if Landon Donovan had not decided to make this his league of choice. The fact that he performed at the highest level, during the World Cup, when it really counted, scoring goals that resonated throughout the world and gave us both success and credibility. That added to his legacy. Not everybody thrives with that kind of pressure. I think Landon has handled it admirably and quietly for years and years. I am sympathetic. I like Landon a lot. I'm appreciative of everything he's done. I hope he plays in the league for years and years to come and I hope he continues to perform at the level he has in the past. If he's able to do that, the league will be that much better for it, as will our national team. If he doesn't, we'll all have to manage that and thank him for his service to the game.

ESPN: With regard to the second team in New York City and the stadium you're trying to build there, is convincing the local community in Queens the biggest stumbling block to getting this done?

DG: No. There aren't necessarily stumbling blocks so much as there are things that we need to achieve before we are able to finalize a deal. We need to reach an agreement with the city. We haven't been able to do that. I'm confident we will be able to do so in due time. We need to continue to address the concerns of the community, as they are about other projects that are going on in the park. We will continue to work with the community, and find ways we can reach a mutual agreement. And we need to continue to develop the actual stadium project so that we can assure that it's financially feasible. We are deeply engaged in that process, and still have some work to do. Lastly we need to close a deal with a potential owner. While we are making progress with a number of discussions, satisfying the three things I mentioned before, need to happen before we can close a deal. I remain cautiously optimistic. It remains a big priority for the league. It's very complicated, but we're hopeful.

ESPN: Robbie Rogers recently announced that he was gay and then decided to retire. Do you think MLS is the kind of league where a player could come out and still feel supported enough and comfortable enough to continue playing?

DG: Marc Burch made the comment the other day that he thought MLS would be the first pro league to have an openly gay player, and I can understand how he could make a comment like that. This is a league that is very much engaged in this new America of diverse fans and a real commitment to ensuring that our players and clubs are attuned to this new country we all live in. I look forward to the time where it no longer is news. I think that time will come. I personally look forward to that time. I would be very supportive of Robbie coming back to the league, not because Robbie is gay, but because he's a good player. When he left Columbus, I felt no different than when Brek Shea left Dallas. He was not as successful as he hoped he could be in Europe, just like Chris Rolfe wasn't and came back. I certainly hope Robbie comes back because he's a good player and MLS is always looking to have great players, particularly those who want to come back from experiences that they've had overseas.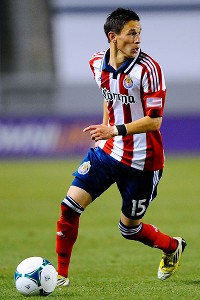 Christopher Hanewinckel/USA TODAY SportsGarber is supportive of Chivas USA's plan to build a Latino identity on the pitch but is concerned that the team hasn't been able to land an English-language broadcaster.
ESPN: What do you make of the player acquisition policy at Chivas? They've overhauled the roster by bringing Latino players in and shipping non-Latino players out for very little. As commissioner, are you troubled by that?

DG: Let's talk about where we started. We had an expansion team owned by a Mexican club, one of the top Mexican clubs in history. When they launched the team, although they had players like Paco Palencia and Claudio Suarez, ultimately it became just another MLS team in terms of its brand and really did not have that Latino identity that was part of the original plan. For Angelica Fuentes and Jorge Vergara and Dennis te Kloese to come in and say, "Let's have some Mexican players on our team," that's not something that we're opposed to. Whether they make good or bad decisions from a roster or trade perspective, that's more a question of their competitive decision-making as opposed to being a question on something else. We are supportive of them having the identity that they set out to have and hope that they are successful. We're supportive of all our clubs having a unique identity, and hope that they are successful with that. Some of these questions surprise me. This is a team called Chivas, and for them to have Mexican players on their club, which was getting back to their roots, isn't something that concerns me. It was something that was part of their original plan. I hope that they can be successful with it, and I'm looking forward to seeing how it all turns out.

ESPN: But the fact that they have no English-language broadcast rights going on, does that trouble you?

DG: It troubles me because it means they haven't been able to find an English-language rights broadcaster. But I can assure you that there was not a decision made that they were not going to air games in English because of some brand positioning. They were not able to finalize a deal yet, and I believe they are continuing to work on one that is a deal that they believe in.

ESPN: What was the impetus for the relationship with the French Football Federation? I know that there are quite a few coaches at Clairefontaine. Were you getting feedback that the academy and assistant coaches needed more expertise?

DG: It wasn't something that came from anywhere that said, "We need to do this because something is not happening." It was really very simple. We, as a league, are very focused on player development and youth development, and we wanted to assist our teams in helping them financially and strategically get deeper in this area. Gerard Houllier is close to the league now because he's the technical director for Red Bull globally. He has had great success with the French Football Federation with developing players like Henry and Zinedine Zidane, and we had been thinking about could we bring in a technical director at the league level to help us with curriculum and youth coach development. It turned out that Todd Durbin, in a meeting with Gerard and the French Federation, were able to convince them to work with us, and in essence allow us to tap into what I believe is the best youth development league in the world. It was just a great example of innovation and collaboration.