Jozy Altidore sets an American record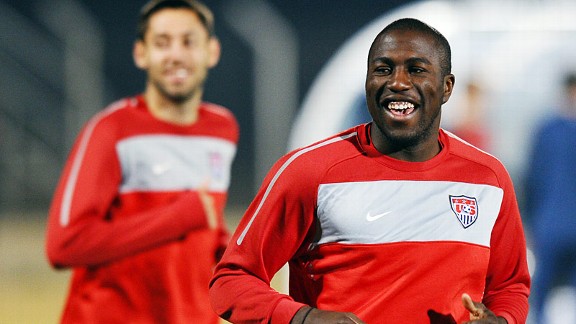 Paul Ellis/AFP/Getty ImagesJozy Altidore moved ahead of Clint Dempsey over the weekend, setting a new mark for goals scored in a season by an American in Europe.
With a clever chip over the opposing keeper in AZ Alkmaar's 2-1 loss to RKC Waalwijk on Sunday, Jozy Altidore set a new mark for goals scored by an American in Europe. The goal was Altidore's 24th of the season -- 17 in the league, seven in the KNVB Cup -- and eclipsed Clint Dempsey's previous high-water mark for an American set just last year.

Altidore's scored those 24 goals in just 29 appearances.

Whether the "record" (as arbitrary as it may be) is significant is a matter of personal taste. It's difficult to compare Dempsey's and Altidore's goal total and draw any real comparisons between the two, or declare one season performance absolutely better than the other. Dempsey scored the bulk of his goals in the English Premier League, one of the top leagues in the world; Altidore is making hay in a respected competition, but one not known for the strength of its defensive play. Dempsey was 29, Altidore still just 23.

All that's certain is that Altidore is having a truly fantastic, breakout season in Holland and probably won't be long for the Eredivisie. With 10 matches left on AZ Alkmaar's schedule, he'll no doubt put more distance between himself and Dempsey. On an individual level, Altidore is now, unquestionably, the player American soccer thought he could be when he burst onto the MLS scene with the New York Red Bulls as a teenager. It took some time after stops in Spain, England and Turkey, but Altidore, at 23 years old, is one of the best goalscorers the United States has ever produced.

Everything is grand, save for struggles on the USMNT front.

While we can't separate Altidore's league form from his lack of scoring at the international level, no one should be minimizing his accomplishments for AZ Alkmaar simply because they haven't transferred directly to the USMNT. Altidore is not the first player to tear it up for his club and find it difficult to do the same for his country, nor is he the only American to have that problem. Whatever Jurgen Klinsmann's issues with Altidore are, the question demands asking as to whether it's up to the U.S. head coach to do a better job of leveraging Altidore's considerable talents, particularly while his confidence is at an all-time high.

Instead of all that, it's worth pondering what the future holds for Jozy Altidore in Europe. Despite his scoring (Altidore is currently fourth in the Eredivisie in goals), AZ Alkmaar remains in 15th place and perilously close to the relegation zone. If the club does slip into the bottom three and goes down at the end of the season, Altidore will certainly leave. Even if AZ Alkmaar pulls themselves up into mid-table and survives for another top-flight season, Jozy's stock might be too high to resist the urge to sell him. Altidore has (smartly) made no noise about his aspirations come the summer, but it may be that he's ready to challenge himself at a bigger club in a bigger league.

Earnie Stewart, AZ Alkmaar's director of football and former USMNT great, discussed the possibility of selling Altidore in January. At the time, he put off the notion for the winter window and only discussed a summer sale using platitudes about the right fit for the club and player. Rumors of interest in Altidore abound, including from big clubs in the best leagues, but it's hard to know exactly where demand stands for Altidore. A return to England could be in the cards, or a perhaps a move to Germany.

Regardless, with his talent growing and a (possibly significant) record-setting performance to his name, Altidore will be ready to try and break his own American-in-Europe goal-scoring record (whatever the final total might be) somewhere with a much brighter spotlight.