Five takeaways from MLS' opening weekend
1. A fitting draw

It was perhaps fitting that a match featuring two rookie MLS coaches ended in a draw. But what a draw it was, as the Portland Timbers fought back from two goals down to pull out a pulsating 3-3 draw with the New York Red Bulls.

But while the two coaches each took a point out of the match, there were widely varying levels of satisfaction with the result.

Portland's Caleb Porter's demeanor was borderline ebullient and the only detail reining him in was the fact that his team didn't win the match. His side had survived a nightmare 19-minute stretch of the first half that saw the Timbers concede three sloppy goals on their way to a 3-1 deficit. But an inspired second half saw Portland pull level through Darlington Nagbe and a Jamison Olave own goal. The Timbers then very nearly won the match on a sensational bicycle kick by Ryan Johnson that flashed narrowly wide.

-- Video: Boot Room Extra
-- Highlights: Timbers-Red Bulls highlights

"I was disappointed not to in the end get the win," Porter said at his postgame news conference. "But it's hard to be greedy. We were two goals down. I'm very proud of this group. Looking in their eyes down 3-1 at halftime, getting them turned around mentally to believe they could win that game, making a few adjustments tactically, and they did it."

Porter added that his revamped side continues to impress him with their mentality and their determination. Good thing, because they sure didn't impress with their defending in the first half. New signing Mikael Silvestre, who had flown in from Paris just two days earlier, gifted two goals to Fabian Espindola. Olave added a third, and despite Diego Valeri – who was brilliant throughout – opening his MLS account with a goal, New York looked poised to make the game a runaway.

That they didn't owed itself to some minor tweaks Porter made tactically. He encouraged his side to be more patient and less direct. He modified his team's spacing in midfield so as to better possess the ball. He also lit a fire under Nagbe, telling him to play with an attitude more befitting a striker than a midfielder, and go at New York right back Kosuke Kimura.

"The light bulb went on," said Porter. "Sometimes with Darlington, you've got to give him a kick in the a--, in a positive way, pump him up. I had a few words with him and he was a handful in that second half."

Indeed. Nagbe bagged Portland's second, slotting home a rebound of a Valeri shot, and by the time Olave deflected in Jose Adolfo Valencia's cross, it was one-way traffic for the hosts.

That New York managed to hang on was pure relief for manager Mike Petke. What had started out as a dream match quickly gave way to tactical indiscipline on the part of his players. In the second half, rarely did New York try to do anything that resembled managing tempo. Instead what transpired was an insatiable impulse to go for the killer goal, and it played right into Portland's hands. New York's possessed the ball for just 34.7 percent of the second half.

Afterward, Petke bravely took the hit for his team's tactics.
"I'll take the blame as far as maybe not being so clear about what we were trying to accomplish in the second half," he said. "I felt like we sat back way too much, from the opening whistle of the second half. We tried to play too many final passes from the back instead of going back to the possession game of the first half. We never worked the ball through. It was final pass after final pass."

As admirable as Petke's sentiments were, the reality is that he was badly let down by some of his most experienced players. Tim Cahill, Thierry Henry, and Juninho are experienced enough to know that they didn't need a fourth goal and that by keeping the ball they could take the Timbers and their vociferous support out of the game.

Henry, who offered little in the match, tried to pin the blame for New York's lackluster second half on the team's chaotic journey to Portland, one that saw their attempt to fly Friday ultimately scrapped after sitting on the ground for more than three hours because of mechanical trouble. The team then flew by charter Saturday. It might not have been ideal, but that can hardly be blamed for such poor on-field decision-making. New York simply needs better on-field leadership.

But much like Porter, Petke was left to take the positives where he could find them, in particular the three goals and the team's overall play in the first half. When asked what he had learned as a coach from the match, Petke laughed and said, "I need to learn to calm down a little bit. I was very calm the whole preseason, didn't say a word, and then lost my voice 10 minutes into the game. But that's who I am. I need to learn how to talk to the referees a little bit better, so we can work together. But I'll never change."

After an impressive debut game, neither should Porter.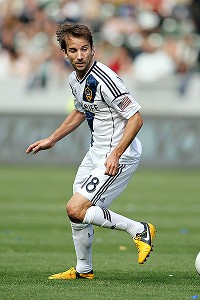 Victor Decolongon/Getty ImagesMike Magee helped Galaxy supporters forget about Landon Donovan -- at least for a day.
2. Magee does his best Donovan impersonation
For one game at least, defending champion Los Angeles could forget all about Landon Donovan. That was because Mike Magee obliterated the Chicago Fire with a hat trick on the way to a 4-0 win for the two-time defending champions.

-- Highlights: Galaxy vs. Fire

The performance comes on the heels of comments by teammate Robbie Keane asking why Magee had never been considered for the U.S. national team. Given how cleanly the way Magee struck the ball on each of his tallies, not to mention his involvement in the buildup to many of L.A.'s best attacking moves, it would behoove Jurgen Klinsmann to at least give 28-year-old a look. He did much the same with Alan Gordon last year. Why not now?

But even if that doesn't come to pass, Magee and his teammates will be full of confidence heading into the first leg of its CONCACAF Champions League showdown with Costa Rican side Herediano.

3. Zusi, Sporting burnish their credentials
For the first 30 minutes of Saturday's match against the Philadelphia Union, Sporting Kansas City looked nothing like the MLS Cup contenders many had tapped them to be in preseason. The SKC midfield looked to be crumbling under the pressure applied by the Union, and had Sebastien Le Toux not squandered a glorious chance to add to his 17th-minute opener, things would have been bleak for Kansas City.

-- Highlights: Philly vs. Sporting Kansas City

But Graham Zusi and the rest of his teammates stepped up their collective game. The U.S. international scored a critical goal just before halftime and then assisted on both of SKC's second-half tallies.

All told, it was an impressive result. Some might scoff at the fact that Philadelphia isn't considered a playoff contender, but considering that Kansas City rallied on the road, and is still finding its way after losing Roger Espinoza and Kei Kamara this offseason, it's an impressive performance.

4. Montreal states its case
The most surprising result of the weekend belonged to the Montreal Impact, who picked up a 1-0 win in noisy Seattle of all places to start 2013 in perfect fashion. The Impact recorded only two road wins in all of 2012, and it was a primary reason why the expansion side failed to make the playoffs.

-- Highlights: Montreal vs. Seattle

Montreal's 51 goals conceded last year was the fourth-worst in the league. But significant progress appears to have been made on both fronts. The Impact played an intelligent brand of counterattacking soccer, which led to Davy Arnaud's deft chip in the 35th minute. And while Seattle went close, hitting the bar twice through Brad Evans and Eddie Johnson, Montreal's defense looked more resolute, with Alessandro Nesta looking every bit like the legend he is.

5. Chivas USA looks headed for a dubious double
It's always wise to temper reactions from the first weekend. One game is not a trend, after all. But things are looking decidedly grim in the land of Chivas USA, with L.A.'s other club setting itself up for a season of epic failure. On the field, the team is looking even worse than expected, dropping a 3-0 decision to Columbus at home. This was not totally unexpected, given Chivas' huge roster makeover, but disappointing nonetheless.

-- Highlights: Chivas USA vs. Columbus Crew

Yet perhaps the bigger shock took place in the stands, where officially only 7,121 fans were on hand to witness the loss. So Chivas is already on the clock to avoid two dubious achievements. The all-time lowest points total took place in 2001, when the now defunct Tampa Bay Mutiny managed only 14 points in 27 matches. In term of points per game, the 1999 New York MetroStars take the honor, having managed only 15 points in 32 games. As far as attendance is concerned, the Miami Fusion -- another team no longer in existence -- drew only 7,460 fans per game over the course of the 2000 season. Yes, Chivas is already playing some serious catch-up on both fronts.