Julian de Guzman a DP bust? Not anymore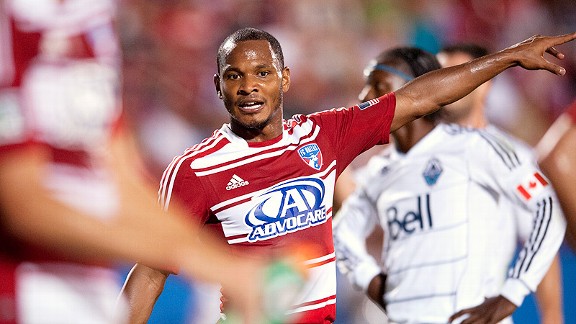 GettyImages / Cooper Neill/Getty ImagesJulian de Guzman has helped revive Dallas' campaign.
The tag of Designated Player bust usually sticks to a player like superglue. Once the early poor performances are turned in, it doesn't matter whether it's Denilson, Lothar Matthaus or Nery Castillo, there is little to stop the ensuing downward spiral. That is, unless the player in question is FC Dallas midfielder Julian de Guzman.

When de Guzman was shipped from Toronto to FC Dallas in July in a straight swap for Andrew Wiedeman, it looked like a clear case of addition by subtraction for TFC. The Canadian international was signed amid much fanfare in 2009 yet never lived up to the hype that accompanied his annual guaranteed compensation of $1,910,746 per year. The former Deportivo La Coruna midfielder was rarely impactful in attack and, as evidenced by San Jose's third goal in an early-season defeat to the Earthquakes, suspect in his ability to track runners. As for his move to Dallas, de Guzman seemed akin to a luxury insurance policy given manager Schellas Hyndman's options in midfield, a group that at the time included Andrew Jacobson, Ricardo Villar and captain Daniel Hernandez.

Two months on, that policy has paid off handsomely. While Toronto limps to another last-place finish in the Eastern Conference, de Guzman's arrival has helped revive Dallas' campaign, and his contributions go well beyond his stoppage-time winner last weekend against Vancouver. Overall, de Guzman's play has been sharp, and this is borne out by statistics provided by Opta, a sports data company. De Guzman's pass completion percentage has been 83.4 percent since joining FCD compared to just 70.5 percent while with Toronto.

How to explain such a difference then? Is it a case of being surrounded by better players? Is it a matter of style? Or is de Guzman simply in a better place mentally now that his Toronto nightmare is over? It's likely a combination of all three. The arrival of de Guzman in Dallas coincided roughly with the return of several injured players, including 2010 MVP David Ferreira. Just as important, de Guzman feels FCD's playing style suits him better.

"Dallas has got a great mixture of players, especially in terms of the Latin players as well," he said via telephone. "That adds some flair to the style of play, and I've had some experience in La Liga where you play the type of football that the Latins bring. At the same time playing in MLS there's a physical side to the game which is also a good balance. That's something that Dallas brings to the table, and for myself to be in the mix of that, it definitely helps my game a lot more."

Without question, de Guzman is also benefiting from reduced expectations in Dallas. In Toronto, his big contract put him under the microscope, making him the point man when things didn't go well, which considering the team's revolving door of managers and players, was often.

"I think it's very easy to finger-point, whether it's the coach or a DP player, when the team is not going well," de Guzman said. "It's something I've accepted, with the pressures that come with it. At the same time, the reasons behind TFC not getting the success that the players and fans would want has a lot more to do with what's on the field. That was probably the most frustrating part of the pressure and the experience for myself as a DP player in Toronto. I'm glad I had that opportunity to get the hands-on experience with that feeling. But it's good to now have that change."

Hyndman would agree, especially because, according to the FCD manager, Toronto is still on the hook for de Guzman's salary. He also admits that TFC was only too happy to get rid of the midfielder.

"[TFC], they're not going to say, 'Hey, de Guzman is a fantastic player, he's a great guy. We're getting everything out of him,'" Hyndman said. "There's always going to be the negative side. But for us, it was just too good of a deal.

"He's been nothing but a gentleman in Dallas. He's got a good work ethic, he's been positive, coachable. Yeah, he scored in my opinion the goal of the year against Vancouver because of the importance of it and the lateness of the game and everything that was going on."

That goal pulled Dallas to within a point of Vancouver for the last playoff spot, and afterward de Guzman couldn't resist directing some pointed comments at his former club and current TFC manager Paul Mariner in particular. Included in his remarks was a statement to MLSSoccer.com that Mariner told him he wanted to "make sure he'll send me to a last-place team and let me burn in the heat." (Mariner, through a team spokesman, declined ESPN.com's request for an interview.)

Four days on, de Guzman admitted that he got "emotionally caught up in the moment." But he also didn't back down from his criticism of his former club. While de Guzman credited former manager Aron Winter for being upfront about his intentions to move him, he indicated that he never got the same level of communication from Mariner, and the constant rumors of his being dealt within MLS or to a team in Europe left him feeling unsettled.

"All in all, they tried to find every reason for me not to be happy there," de Guzman said of his former club. "They tried to find every reason for me to leave. I always made it clear to them that I was there as a TFC player and I was [there] to stay. Their direction of the exit wasn't the most honest or ideal way for myself. In the end they found a way with Dallas. For me it worked out, and I think it worked out for both parties, even though they're still paying my contract with me being here."

Whether de Guzman remains in Dallas after this season is to be determined. Hyndman made it clear he wants de Guzman back, but the midfielder indicated he has ambitions to get back to Europe especially because his two children -- 7-year-old daughter Liya Sade and 4-year-old son Julian Bobby -- live in Germany with their mother. His return overseas would allow him to see his children more often. But for the moment, de Guzman is content to have his career back on track again.

"I feel good, I feel that just stepping onto the field, whether it's training, practice or going to the game," de Guzman said. "It's a different feeling every time I wake up in the morning now since I've been here in Dallas. I feel free, I feel like I can do what I do best, a lot more happy. That's a bonus to my [mental] state, as a professional soccer player. Then it's up to me to do what I can do on the field, and knowing the guys on the field with me are going to help you in that direction as well."

For that direction to result in a playoff spot will require some luck down the stretch, as Vancouver has not only a game in hand but also a much more favorable schedule. But with de Guzman recapturing his best form, Dallas may get there yet.