Cornell to Carson: Arena and assistant Sarachan's shared journey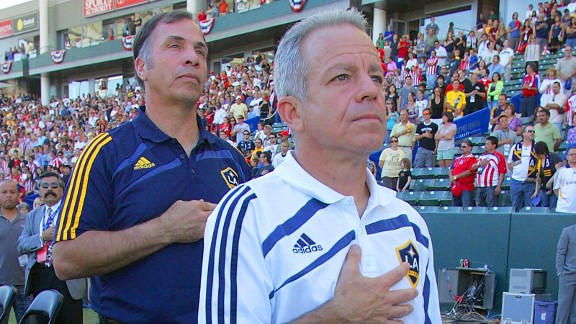 Victor Decolongon/Getty ImagesGalaxy assistant Dave Sarachan, right, is more comfortable staying in the background behind manager Bruce Arena. The two are continuing a long coaching partnership that's lasted almost three decades.
CARSON, Calif. -- On the surface, Bruce Arena doesn't seem like the kind of person to give in to sentiment. His job as manager of the Los Angeles Galaxy would seem to dictate that only cold, hard realities enter into his thinking. But back in 1984, a ripple of emotion helped forge one of the most enduring partnerships in U.S. soccer history.

Back then, Arena was looking to hire an assistant coach to join his staff at the University of Virginia. His previous lead assistant, one Bob Bradley, had just departed to take over as head coach at Princeton. He happened upon the resume of Dave Sarachan, and noticed he was a fellow Cornell University graduate. The two never crossed paths there, with Arena graduating two years before Sarachan arrived. But in a pile of applications, the link helped Sarachan's credentials stand out.

-- Galaxy season preview
-- MLS season kicks off Saturday

"Sometimes you have some sentimental feelings about places," Arena says as he sits at his desk in the Home Depot Center. "At that time, I was still a person that was very close to Cornell and had lived there after graduation, worked there, and coached at Cornell and all that stuff. When I saw Dave's application, and there was that connection with Cornell, that was something that for me made a difference."

A few minutes later, as the story is related to Sarachan, Arena's recollections draw a chuckle out of his longtime assistant.

"My mother always told me that degree would come in handy," Sarachan said with broad smile. "She was right."

So began their long partnership. And more often than not, Arena's biggest successes came with Sarachan at his side. Yet perhaps what's most remarkable about their relationship is the way their careers have diverged and then reconnected over the years.

"Bruce is a loyal guy," explains Sarachan. "Once you're in, you're in a good place with Bruce."

Make that places. Sarachan, 58, spent five seasons at Virginia before heading back to his alma mater, where he was the men's coach for nine years. The two met up again when Sarachan rejoined Arena at D.C. United in 1997. When Arena, 61, left DCU to head up the U.S. men's national team in 1999, Sarachan remained for what turned out to be a championship-winning season, but then rejoined Arena later that year. Together, the two led the U.S. to its most impressive showing in the modern era, with the Americans reaching the quarterfinals of the 2002 World Cup.

After that tournament, the two went their separate ways again. Sarachan landed his only professional head coaching job, managing the Chicago Fire for parts of five seasons, winning two U.S. Open Cups and a Supporters Shield there. Arena meanwhile, had a less successful World Cup cycle heading into the 2006 tournament. After his contract was not renewed, he endured an unsatisfying spell with the New York Red Bulls.

When Arena was brought in to resurrect the Galaxy in 2008, he made sure his old friend was with him, giving him the title of Associate Head Coach. And together the two have won just about everything in sight, including two Supporters Shields and two more MLS Cups.

So why exactly have Arena and Sarachan enjoyed so much success together? Arena says he has always emphasized surrounding himself with good coaches, whether it was Bradley, the late Glenn Myernick, U.S. U-17 coach Richie Williams, or Sarachan. And given his track record, he feels it's more important to find kindred spirits than someone who is going to challenge what he thinks.

"I hire people to complement me, because I don't need people to come in and tell me how to run a team," Arena said. "They need to complement and support what I do. Everyone is quite aware of who I am, and sometimes I am a person with a rough edge, so to have someone around who is a little smoother is good, too.

"Dave's a very personable guy and that continues to be his strength. He's personable with the players and that's a good quality to have."

Sarachan's personality complements Arena in other ways as well. He's content to sit in the background and support Arena while picking his spots carefully as to when to get his points across.

"Arena sees black and white, and I see color," Sarachan said. "Where there might be color and gray, that's where I can fill in the cracks; give him more information, maybe open a door that he thought wasn't there and just pick up certain things. And it's all based on my knowing him so well. I know how he thinks, and obviously over the years, you learn that; what his moods are like, what his thinking is soccer-wise. It's just a matter of working with him so we cover all our bases."

That helps lead to a consistent message to the players -- well, at least most of the time.

"Sometimes they have their differences like everybody does," Galaxy defender A.J. DeLaGarza said. "We could be watching video, and one will say something and the other will say the opposite. It's pretty funny, but for the most part, they're on the same page. They've been together for a while and they've succeeded on every level."

So much so that it's something of a head-scratcher as to why Sarachan hasn't gotten another MLS head coaching opportunity. He admits his time in Chicago had its ups and downs, but he also won three trophies. Other coaches with far less success have gotten second chances in MLS.

Sarachan said that Chivas USA, after cutting ties with Preki back in 2009, showed mild interest, but he was keen to see out his contract with the Galaxy. Now he suspects that his situation is so good he's seen as immovable.

"I have a job where I'm living in L.A., I make a good living, we win every year," he said. " 'Why would Dave want to leave?' . . . .Maybe that's what the external forces think. Internally, I think I still have head coaching moments left."

In the meantime, both coaches will be focused on working together to win an MLS record third consecutive title for the Galaxy, who host That would amount to a special bit of history for the league's most successful coaching duo.