Don Garber right to say MLS can be among top leagues in 10 years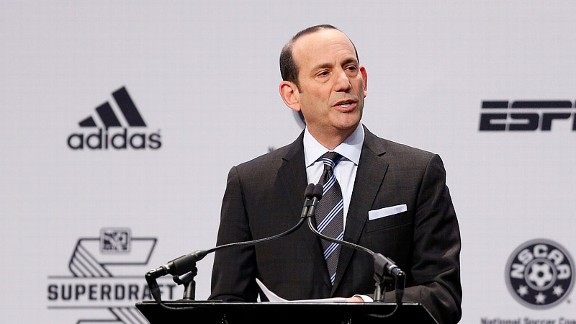 Joe Robbins/Getty ImagesThis week, commissioner Don Garber said MLS could be among the top leagues in the world in 10 years. Crazy? Hardly.
Ten years is a long time in any endeavor. One only has to examine where MLS was a decade ago to realize how much things can change.

Back at the start of the 2003 season, MLS was barely a year removed from contracting two teams, leaving the league with 10 franchises. Perhaps more telling, there were just three owners, with AEG owning a staggering six teams. As that season began there was just one soccer-specific venue in operation, Columbus' Crew Stadium, although the Home Depot Center would make its debut later that year. The league's average attendance stubbornly hovered around 15,000.

A decade on, the shift has been staggering. There are 14 soccer-specific venues in place, with another in San Jose set to be completed next year. Average attendance has grown to almost 19,000, and the ownership group has become much more diversified. In the process, the level of play has continued to rise even in the face of an expansion boom that has seen the league grow to 19 teams.

-- Video: Zusi firing on all cylinders
-- Video: Timbers set for season
-- Cahill: "I want to do something special"

Yet when commissioner Don Garber stated last year -- and reiterated in his preseason address on Wednesday -- that the goal is for MLS to be among the top leagues in the world by 2022, the impulse is to think that he's Mario Balotelli crazy.

It's a statement that has a very Project 2010 feel to it. For the uninitiated, Project 2010 was an initiative authored in 1998 by the U.S. Soccer Federation; the stated goal was to contend for a World Cup by 2010. Of course, in Garber's case, it helps that his goal is fuzzier. What exactly does it mean to be one of the top leagues in the world? That said, to think that MLS will be on par with the best leagues in the world seems a massive stretch.

But oftentimes, such statements are more about accelerating progress than reaching the end goal, and to Garber's credit, he did lay out some specifics for how MLS will get there, at least in the short term. The commissioner spoke of: enhancing the quality of play through expanded use of the designated-player rule; the new relationship with the PRO Division of the USL – the third tier of the U.S. soccer pyramid – that will give young players more playing opportunities; and more investment in youth, referee and coaching development.

All these initiatives are to be applauded. But where Garber's goal morphs into fantasy is in the area of player salaries. At some point, the league will need to open up its coffers considerably in order for the level of play to rival that of the world's top leagues. That way, not only would more players from abroad be enticed to come to MLS while still in their prime, but more American players would be inclined to stay home instead of heading to, say, Scandinavia in order to make more money.

On Wednesday, Garber said, "I don't think you have to spend the hundreds of millions of euros that are spent at the top level of many of the clubs over in Europe to be a great league." The commissioner pointed to Mexico as an example to follow, while admitting that salary budgets in Liga MX "are very different than ours."

Indeed. In an interview with ESPNFC.com last April, Seattle manager Sigi Schmid estimated that his team's salary budget was 25-30 percent of Santos Laguna's, the Sounders' opponent last year in the quarterfinals of the CONCACAF Champions League. According to data from the MLS Players Union, Seattle spent in the neighborhood of $4.2 million last year. Extrapolating that to Liga MX levels, for MLS to be on a level playing field would require a salary budget of about $14 million per team. That number seems a bit low in terms of Mexican teams, but for the sake of argument, if every MLS team increased its salary budget by $10 million, the additional outlay leaguewide would be $190 million.

Ten years may be a long time, but that kind of salary increase just isn't happening. MLS didn't get to this point by being reckless, but even getting halfway to that level would require a significant acceleration of revenues.

So where might that kind of revenue growth come from? The source that seems to have the most upside would be television. According to the Sports Business Daily, the annual revenue MLS gets from American broadcasters is $27 million. By point of comparison, the NHL, another league that Garber lauded, has a television deal that brings in $200 million per year. Granted, television needn't be the only area of revenue growth. Garber has long stated that he doesn't care where the money comes from, just so long as it arrives. Sponsors, tickets and merchandise all have their part to play. But it illustrates just how far MLS has to go. The league's TV contracts expire after the 2014 season, and the size of any new deal will have a significant impact on how closely Garber's vow will match reality.

So was Garber foolish to make such a claim? Hardly. It's his job to generate buzz and create a vision. The goal is certainly vague enough that there are any number of ways to declare victory. It's also worth noting that as a league, MLS has executed remarkably well over the last decade. If MLS gets only partway toward rivaling Liga MX, who's to say that it failed?

Given how far the league has come in such a short time, very few indeed.