MLS 2013 Team Preview: LA Galaxy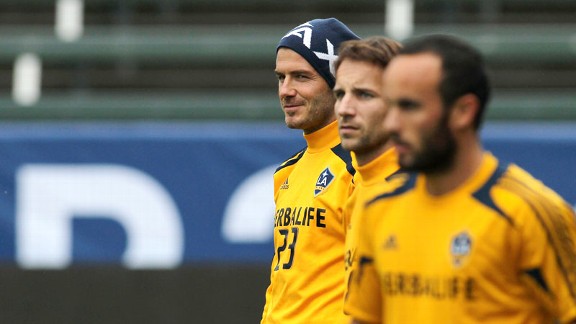 Victor Decolongon/Getty ImagesWith David Beckham gone and Landon Donovan on sabbatical, Mike Magee (center) will need to take charge without his usual covers.
2012 record and finish: 16-12-6 (4th place in Western Conference; MLS Cup champions)

Additions: G Carlo Cudicini, M Colin Clark, F Gyasi Zardes, D Oscar Sorto, D Greg Cochrane, M Rafael Garcia, D Kofi Opare, F Charlie Rugg

Losses: M David Beckham, F Edson Buddle, M Christian Wilhelmsson, G Josh Saunders, F Chad Barrett, F Pat Noonan, M Kyle Nakazawa, D Bryan Jordan, D Andrew Boyens, M Dan Keat, D David Junior Lopes

Key questions facing this team

1. How much will the team miss David Beckham?

No doubt, Beckham's leadership and long-range passing will be missed, but the Galaxy went 5-3-2 in games win which the Englishman was absent last year, so it's not like the team will suddenly be adrift without him. It's expected that Juninho -- now contracted to L.A. after spending the last three seasons on loan -- and Marcelo Sarvas will team up together in the center of midfield. The duo should make the Galaxy even stronger defensively and more mobile overall.

- Sounders' Zakuani ready to move forward
- Martins set to bolster Seattle attack

2. Will Landon Donovan's sabbatical have the desired effect?

After being granted an extended break by management, Donovan won't report to the Galaxy until the end of March, meaning he probably won't be ready to play until mid-April. The expectation is that he'll come back refreshed, and that will no doubt be the case in the beginning. But once the grind of the season takes hold, it's unknown whether the issues that left Donovan feeling unmotivated will rear their collective head again. It wasn't as if Donovan underperformed last year, especially after being paired up top with Robbie Keane. But if the Galaxy is to three-peat, it will need Donovan at his best.

3. Can L.A. avoid another rough start?

The fact that the Galaxy still claimed the MLS Cup after a horrendous 3-8-2 start has increased criticism that the regular season means little. But this is a club that wants to win everything, and the CONCACAF Champions League remains a significant aim. The loss of Beckham and the temporary absence of Donovan hint at more early hiccups, but other signs are pointing to a better beginning. There was no postseason tour to further sap the energy of players, and the team spent all of preseason in Southern California. That has led to increased practice time and better fitness levels, and it should see the Galaxy start the season with more focus.

Biggest X-factor: Mike Magee

One could place Donovan in this category as well, but we'll go with Magee, who has tended to thrive when the eyes of opponents were fixed elsewhere, especially in the playoffs. With Beckham gone and Donovan temporarily absent, more will be needed from Magee at precisely the time that his cloaking device has been removed. The former U.S. U-20 international will start the season alongside Keane and will probably revert to his customary wide midfield role when Donovan returns. Either way, replicating some of his playoff magic in the regular season will help L.A. ride out some of the rough spots that a campaign inevitably brings.

Breakout player to watch: Marcelo Sarvas

Like it or not, Sarvas will forever be known as "The Man Who Replaced David Beckham." And while he was a consistent presence over the course of 2012, making 22 starts and 27 appearances overall, this season should see him have a more prominent role. While he lacks Beckham's range, he is a sharp enough passer to keep L.A.'s attack ticking over and strong defensively. No player will ever make the Galaxy fans forget Beckham, but Sarvas is in prime position to have the home fans singing his praises.

Outlook
So can the Galaxy deliver a three-peat? Both D.C. United and the Houston Dynamo were unable to pull it off, but even with the aforementioned personnel changes, L.A. is more than capable of winning it all again, especially with manager Bruce Arena at the helm.

Foremost among the reasons is the team's defense. Not only does the entire back four return from last year, but the acquisition of goalkeeper Carlo Cudicini amounts to an upgrade over the departed Josh Saunders.

Up top, Keane is poised to have a devastating campaign. He was absolutely on fire during the back half of the regular season, recording 13 goals in 19 games, and continued that fine form in the playoffs.

The key will be getting him the ball in good positions, and this is where the form of Donovan will be crucial. The likes of Sarvas and Juninho are excellent two-way players, but Donovan's vision is among the best in the league, and that could spell the difference between simply qualifying for the postseason, and making history.