Steve Zakuani: ready to put both feet toward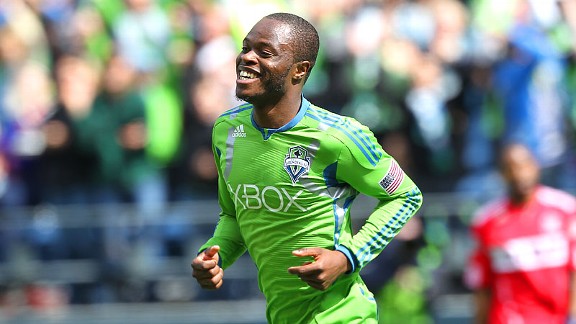 Otto Greule Jr/Getty ImagesThough every MLS player is ready for the new season, Steve Zakuani might well be more keyed up than the masses -- and with good reason.
TUKWILA, Wash. -- Barely visible clouds of frozen air drift from the Sounders players' mouths as they reach the practice field, poly/nylon compression gear covering the legs and arms of a team that has just returned from Arizona. In four days, Seattle opens its season against Montreal but just before 10 a.m. on Tuesday, players look more concerned with the cold Northwest morning than the challenges of a new season.

Steve Zakuani is the exception. The Seattle winger breaks into a skip when his boots touch the field, his arms swinging horizontally across his chest as he catches up to teammates. It's going to take more than a Washington state chill to dampen his spirits.

"I'm buzzing," Zakuani said after the 90-minute session. "I woke up this morning and it hit me. In a few days we're going to be out there starting our season."

2013 Preview: Seattle Sounders
Davis: Martins should bolster Sounders' attack
Blog: 10 storylines to watch this MLS season

But with Zakuani, it's more than just media speak. He's legitimately excited, engaged and tuned into the whole process, an encouraging sign from someone expected to be a key piece of Seattle's offense in 2013. Having let their all-time leading scorer, Fredy Montero, go in January, the Sounders need somebody to step up.

"We're not going to replace Fredy," Zakuani confesses. "Nobody can do what he does."

That the 25-year-old can even comment on replacing the Colombian forward's prodigious production is huge considering where he was a year ago.

"I probably was walking around this pitch, two miles per hour with a trainer, trying to get my legs to feel okay," he says when asked to recall how he spent the 2012 preseason. "I was going home and going rehab with a [personal trainer]. I wasn't thinking about the game, that's for sure."

That was just 10 months after one of the most shocking injuries in Major League Soccer history. On April 22, 2011, Colorado Rapids midfielder Brian Mullan crashed through Zakuani's legs. The Seattle attacker was upended and his right leg sent dangling over his head while he tumbled. The collision left the then-23-year-old with a broken fibula, broken tibia and 15 months of grueling rehab.

"My mind state last year was night and day compared to this year," he says, an almost ironic understatement considering the severity of the injuries. Zakuani spent days hospitalized in Colorado after having surgery on his right leg, a three inch mark running horizontally across his shin just one of the relics of that night 22 months ago.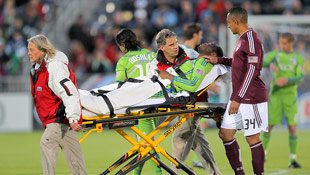 Doug Pensinger/Getty ImagesZakuani's injury back in April 2011 was one that could have ended many careers; yet here stands the Seattle winger, all too eager to return.

Only now that it's apparent Zakuani will come back can we rationally consider what he's lost. Coming off a 10-goal season in 2010, the former number one draft pick had become the most dangerous wide man in the league. Few players in MLS could match his world-class pace but unlike other burners, Zakuani possessed the prowess to convert once beating the defense. Only two years out of college, the Kinshasa-born winger was on the cusp of stardom.

What followed was a taxing process that detached Zakuani from his team, a loss of identity that compounded his physical challenges.

"Frustrated, in a lot of ways," is how Zakuani describes that emotional state, a pause and a shake of his head hinting at the still surreal nature of the experience. "I wasn't part of the group. I wasn't being included in the tactics, what was going to happen in the game... I wasn't ready. But I knew my time would come."

It looked like that time had come on July 7, 2012 when the Rapids visited CenturyLink Field, a fitting return considering that Mullan was in attendance. Zakuani got his first five minutes since the injury and when the two exchanged jerseys, the Seattle star was able to put one part of the saga behind him.

But just because Zakuani was back didn't mean that he would go straight into the team. Over the course of the next four months, the former first-choice left winger would only get five starts, playing 419 minutes and scoring once as the 2012 season wound down.

"I knew what I was doing in training, [but] I wasn't getting opportunities in games," Zakuani explained. "I wasn't playing by the time the team was already set."

"When you come back in August, September, October, it's hard to break into the team. So that was tough to take."

It also left unresolved questions as Zakuani's injury engendered doubts beyond whether he would merely come back. It also forced us to consider if he'd return to the same level. With a player for whom speed was such a valuable weapon, it was unclear whether such a traumatic injury would derail his career. Zakuani still needed to prove he could be his 2010 self, a player capable of scoring double-digit goals from a wide position.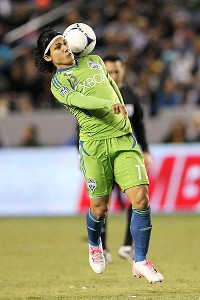 Victor Decolongon/Getty ImagesSince losing Fredy Montero in the offseason, even more onus falls on the returning Zakuani to shoulder some of the scoring burden.

That proof came on Nov. 11. With Seattle returning home after a 3-0 loss in Los Angeles that opened the Western Conference semifinals, Zakuani got a surprise start -- his first of the playoffs. What followed was a man of the match-caliber performance that drew raves from his opposing defender, comments that could have easily been made about Zakuani before his injury.

"I was joking around with him after the game," Galaxy right back Sean Franklin said, his team having just survived the second leg in Seattle. "Hey, man, you couldn't just stop running at me one time?"

Emotionally, the July 7 return might prove the more valuable date but as it showed that Zakuani could hold his own among the MLS elite, Nov. 11 was the turning point.

How does Zakuani remember that night? "Massive, massive. When I came back, I think people maybe forgot what I could do. They were kind of 'He's had the injuries. Will he be the same? Can he still do it?'"

"It gave me a lot confidence I could do this at this level... When I [start the season], it's to build off that LA performance and keep going, picking up where I was before I was injured."

That's why, even though Zakuani's already had his breakthrough moment, March 2 is so important. After all, it's the day that his career gets back on track.

"Every time I was doing my offseason runs and fitness and work in the gym, I had this date in my mind: March 2, circled on my calendar. It's what I was working toward. It's going to be the stepping-stone to my season."

And no ordinary season, either; it's one in which Zakuani's performance may prove vital to his team's chances. With Montero gone, the team needs goal scoring to complement Eddie Johnson. That may come from David Estrada, next in line on Sigi Schmid's forward depth chart. Levante striker Obafemi Martins has also been brought in, while players like Mauro Rosales are equally capable of chipping in more goals.

But Zakuani is the one guy who has been there and done it before. If he can recapture the momentum he built going into the 2011 season -- if he can threaten double-digit goals -- Seattle's main problem is solved.

Not that Zakuani will be measuring his production in numbers. "My goal is always I want to come off the pitch like I did the LA game, having given everything. Because when you do that, you get goals, you get assists, the team wins."

"My hope is really to stay healthy through the year, be a contributing factor to the team -- a difference maker -- and that includes goals and assists... However many it ends up, it's fine by me as long as I've played well and put myself in a position to score those goals and assists."

On Saturday, Zakuani can start judging himself by how he played, not if he played at all.

"All that stuff is behind me. I'm just ready to play the game."

Richard Farley is a freelance writer based in the Northwest covering MLS and European soccer. You can reach him on Twitter at @richardfarley or via email at richardfarley@gmail.com.