MLS 2013 Team Preview: Sporting Kansas City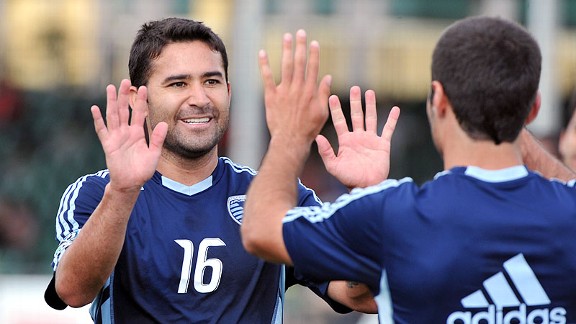 Al Messerschmidt/Getty ImagesCaludio Bieler's first goal this season will go a long way in easing the pressure of being Sporting KC's only designated player.


2012 MLS Record: 18-7-9 (1st in Eastern Conference)

Additions: D Josh Gardner, M Benny Feilhaber, D Ike Opara, D Yann Songo'o, F Claudio Bieler, M Mikey Lopez.

Losses: M Julio Cesar, D Cyprian Hedrick, D Neven Markovic, D/M Konrad Warzycha, D Michael Harrington, D Korede Aiyegbuse, M Luke Sassano, M Roger Espinoza.


Key questions facing this team

- 2013 Season Preview: New York Red Bulls
- 2013 Season Preview: Chicago Fire

1. Can Caludio Bieler earn that designated player status?

The pressure on Claudio Bieler is quite instant. He enters the fray at Sporting knowing that he is expected to be the club's main goal-getter in 2013. Peter Vermes had previously stated he was building his squad with goals in mind and already sounds confident on Bieler's potential. "He's going to be very good for us in the build up," he said. "He's got a very good sense for the game."

Just as with any new striker, his first goal will be the most important in terms of relieving the early pressure of being the club's only DP. Theoretically entering the peak of his career at 28, the early signs from Bieler in preseason have been positive, suggesting he will be able to provide the kind of quality expected from a man with his previous record.

2. Will KC lose any more players after Roger Espinoza and Kei Kamara?

The offseason saw notable departures for the club. Roger Espinoza was expected, and Kamara may still return despite netting his first Norwich goal at the weekend. However, the question remains whether any more of KC's stars will leave. Current defender of the year Matt Besler was reportedly offered trials by a trio of European sides, which he admirably declined in order to stay.

However, if a team decides to be more concrete in their approach for Besler in the summer, he may just be tempted. Having watched Tim Ream at Bolton, I think he was wise to spurn QPR, but I could see him going in the summer. As a club, Sporting's ability to respond to loss will be a key factor this season.

3. Will the CCL be a blessing or a burden?

Testing yourself against sides in the CONCACAF Champions League can be an amazing experience for any team. It opens you up to new ideas, new styles, and sees you challenge yourself against the region's best. However, it can also have its drawbacks. Just ask FC Dallas -- who became marooned in El Salvador less than 48 hours before they took on Chivas USA in 2011.

Fixture congestion and long-haul travel can tire even the fittest of athletes, testing the squad's depth to its limit. The games will probably provide an early test for some of the younger members of the squad, and I expect Mikey Lopez to shine in these moments. If there's one definite positive; the players will grow from the experience.

Biggest X Factor: Graham Zusi

The ambiguity over his stint at West Ham made it a confusing offseason for Zusi. Last year he was brilliant and rightly earned a call-up to the USMNT.

He more than doubled his assists from 2011 (seven) to 2012 (15), providing five goals in both seasons too. As touched on previously, the goal shortfall caused by Kamara's departure will need to be picked up, and I really think Zusi should be pushing for double figures in that column this year. It'll be important that he provides good early chances for Bieler too, with the striker no doubt desperate to get his first goal in a Sporting jersey.

Breakout player to watch: Mikey Lopez
Vermes admitted he was quite surprised to see Mikey Lopez go unselected when he chose him as the 14th pick of the first round: "We consider ourselves very fortunate that he fell that far, because we just never thought it would happen," Vermes said.

Perhaps it was the youngster's naive admission that he wanted to join Chivas USA which put potential suitors off. Either way their loss is Sporting's gain, with his flexibility as a box-to-box or defensive midfielder a big benefit for the club in 2013.

Having made a big impact for the USMNT U20's against Costa Rica, I think Lopez could equally flourish at club level. Vermes has been a great nurturer of young talent during his time in Kansas, and I expect Lopez to be another one of his success stories. An assured young man, he moved to boarding school aged 13, meaning he should cope well with the new surroundings that can be daunting for some rookies.

Outlook

It's going to be tough for Sporting this year. I think given their extra commitments, it would be hard for them to match their achievements of topping the Eastern conference and winning the USOC final. As well as the player's they've lost there's also the debate on whether Benny Feilhaber can reinvigorate himself after a somewhat meek two years in New England.

Some have questioned the midfielder's attitude, which he vehemently contests: "I wear my emotions on my sleeve. People see that. Maybe some people don't like it. I'm extremely competitive and I want the best out of myself and my teammates."

Tactically, I like the way Vermes has looked to change the midfield dynamic from industry with Espinoza and Julio Cesar to technical craft with players such Feilhaber and Oriol Rossell. I think that change will benefit them moving into 2013, and see them play really nice soccer this campaign.

From a squad perspective, this season will see an early test for the younger guys on the roster. Players like Yann Songo'o and Lopez will need to step up and make a positive contribution when called upon.

Rotation will also be key for Vermes this year. I expect the club to easily qualify for the playoffs. However, if they still have a multitude of commitments by the time the post-season rolls around I think they'll struggle to make real headway.