Obafemi Martins set to bolster Seattle's attack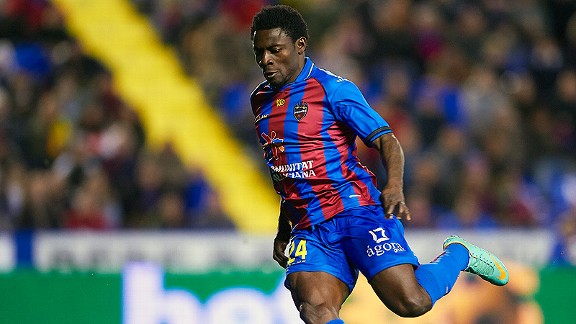 Manuel Queimadelos Alonso/Getty ImagesObafemi Martins and the Seattle Sounders are on the verge of teaming up.

Obafemi Martins is set to join the Seattle Sounders after a brief courtship that will pry the Nigerian striker from Spanish side Levante. By his own words, Martins says the two sides are "on the verge of finalizing everything." The former Inter and Newcastle player wasn't enjoying his time in Spain, the Sounders needed a striker and were willing to spend the necessary money to bring him over to MLS. Everybody, it seems, is happy.

- 2013 Season Preview: Seattle Sounders

In Martins, the Sounders get a proven forward with impressive credentials to fill the void created by Fredy Montero's departure on loan this winter. Martin's is a quick, crafty player who can operate off of the center forward play of Eddie Johnson. He'll take some of the goalscoring pressure of Seattle's midfield, allowing Mauro Rosales to handle the important business of setting up the Sounders attack.

Added to a mix of Rosales, Johnson, the fully recovered and still-dangerous Steve Zakuani, Martins shifts the talented Sounders from something of a potentially potent, but make-do offensive unit into a extremely dangerous attacking team with everyone in their proper places. Sigi Schmid will now have Brad Evans available as a do-it-all man of the bench, or could decide to push Honduran Mario Martinez into a late game-changing substitute role. Martins's joining the Sounders also takes the focus off of Eddie Johnson, who while coming off a great 2012 campaign, may do better as the complement striker rather than the lead.

The situation surrounding Martins's recent club relationships and his ducking out of Levante after just five months should give Sounders fans some pause. Martins doesn't bring with him a reputation for always being a team-player. But signing such a talented player, while still ostensibly in the prime part of his career, is a strong indication that the Sounders are going for it all in 2013.

LA is dealing with the loss of David Beckham and Landon Donovan's absence, Real Salt Lake was forced to revamp their team due to salary cap issues, San Jose will need to catch lightning in a bottle for a second time to repeat their amazing record, none of the other teams in the West have the type of talent to leap to the head of the line—the Western Conference is there for the taking.

In half a season with Levante, Martins scored seven times. There shouldn't be much question about his ability to put the ball in the net. With Rosales and Zakuani playing behind him, there shouldn't be much question that he'll get the service he needs to put the ball in the net in MLS. Even if Martins struggles to score, his abilities off the ball will create problems for MLS defenders and provide chances for other Sounders. The Sounders undoubtedly want a tangible return on their massive investment, but probably wouldn't mind fewer goals for Martins if it means more game-winning goals for Zakauni, Martinez, Johnson, et al.

Bringing in Obafemi Martins as a Designated Player on a contract that would put him in the top five of salaries for all MLS players is all about seizing the moment for the Sounders. Both in terms of Martins and the timing of his desire to leave Levante for America, and the opportunity present to grab hold of a weakened Western Conference.