MLS 2013 Team Preview: New York Red Bulls
strong>2012 record and finish: 16-9-9 (3rd place in Eastern Conference)

Additions: M Juninho Pernambucano, D Jamison Olave, F Fabian Espindola, F Josue Martinez, G Santiago Castano, F Amando Moreno, M Eric Alexander, M Ruben Izquierdo, D Kosuke Kimura, M Jonny Steele, M Michael Bustamante, M Ian Christianson

Losses: F Kenny Cooper, D Wilman Conde, M Joel Lindpere, M Victor Palsson, D Rafael Marquez, M/F Sebastian Le Toux, M Teemu Tainio, D/M Jan Gunnar Solli, F Jose Angulo, F Jhonny Arteaga, F Corey Hertzog, D Jonathan Borrajo, D Stephen Keel, D Tyler Ruthven, G Bill Gaudette, G Jeremy Vuolo

Key questions facing this team

- 2013 Season Preview: Chicago Fire
- 2013 Season Preview: Columbus Crew

1. Is new manager Mike Petke up to the job?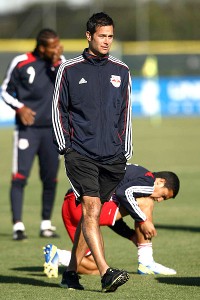 Douglas Jones/USA TODAY SportsMike Petke, a Red Bulls assistant the last two years, takes the helm of an aging team.
After failing to land a proven European head coach, the job of leading the Red Bulls was ultimately given to Petke, a New York assistant for the last two years. So is the former New York defender ready to deal with the responsibilities of handling the tactical decisions as well as managing the considerable ego of Thierry Henry? The early indications are yes, but it's also early days. The fact that Petke will have former Chivas USA manager Robin Fraser by his side will no doubt help, but how he navigates the team through a season's inevitable rough patches will ultimately determine how he fares.

2. Will New York's reliance on aging stars pay off?

Incredibly, a team that was already a bit long in the tooth got older during the offseason. Juninho Pernambucano, 38, arrived from Vasco da Gama while 31-year-old Jamison Olave was brought in from Real Salt Lake. To be fair, younger performers such as Eric Alexander, 24, were also acquired, but the fact remains that New York will be heavily reliant on Henry, Tim Cahill, Olave, and Juninho for success. Given how the first three listed in that group struggled with injuries to varying degrees last season, this approach carries with it considerable risk.

3. Will New York's new pieces jell quickly?

The Red Bulls' roster overhaul has been considerable, not only during the offseason but in the last half of 2012 as well. Seven of the 11 projected starters were not with the club a year ago, meaning on-field chemistry could be an issue. The considerable veteran presence at the club could mitigate this somewhat, and they'll need to help get their teammates up to speed as soon as possible.

Biggest X-factor: Jamison Olave

New York ranked just 12th in goals allowed last season, and with Rafa Marquez gone, the responsibility for tightening up the Red Bulls' defense will fall largely to Olave, a two-time Best XI selection who was acquired in an offseason trade with Real Salt Lake. On the field, the Colombian is an absolute beast, with the size, speed, and instincts to handle the league's best forwards. The problem is that injuries have struck with increasing frequency. Olave missed over a third of the season last year with a variety of ailments, and given the inconsistency that plagued New York's defense last year, the Red Bulls have to have the defender on the field.

Breakout player to watch: Luis Robles

On a team as veteran-laden as New York, there just aren't that many breakout opportunities to be had. But with Ryan Meara slow to recover from hip surgery he underwent last August, Robles has the chance to claim the starting goalkeeper spot for himself. It's worth noting that as maddening as New York's playoff defeat to D.C. United was last season, Robles acquitted himself well in the series, making several big stops. If he can carry that form into the regular season, this campaign could be special for Robles.

Outlook

The Red Bulls are a team that is vulnerable in so many areas, and it's difficult to see them improving on last year's third-place finish in the Eastern Conference. There's a new head coach and loads of new personnel, many of them injury-prone. On the plus side, even with the departure of Kenny Cooper, goals don't figure to be an issue. Henry is back for another season and still looks plenty capable of scoring goals or setting them up. Cahill looks eager to provide a more consistent presence this season, and his leadership will be critical, especially given how moody Henry can be. Juninho's ability on set pieces should further augment the Red Bulls attack, as will the work rate of Fabian Espindola.

But defensively, there still appear to be holes, especially at outside back. With Juninho stationed centrally, one is left to wonder if Dax McCarty will be left with too much defensive work to do. The arrival of Olave will help, but it won't be enough for New York to break its title drought, and the Red Bulls will probably find themselves in a battle to secure one of the final playoff spots.