U.S. ends slump to qualify for U-20 World Cup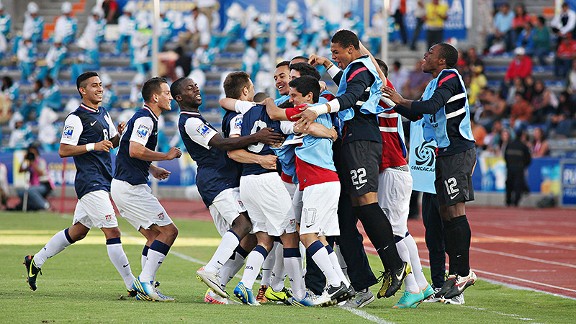 Jose Castañares/AFP/Getty ImagesThe U-20 national team beat Canada 4-2 in the quarterfinals of the CONCACAF U-20 Championships, clinching a spot at this summer's World Cup in Turkey.
The United States' qualifying rut at the youth level is over, as the men's U-20 national team defeated Canada 4-2 in the quarterfinals of the CONCACAF U-20 Championships and clinched a spot at this summer's World Cup in Turkey.

The U.S. had looked unconvincing in defeating Haiti and Costa Rica during the group stage, but picked the perfect time to play its best game. After falling behind to a Dylan Carreiro goal in the 23rd minute, the U.S. responded with four goals over a 25-minute span. Luis Gil, Jose Villarreal and Wil Trapp scored in the first half as the U.S. seized control. Villarreal then added a second after halftime, with Canada's Samuel Piette pulling a goal back.

The result, and the World Cup qualification that accompanied it, amounts to a massive triumph for U.S. manager Tab Ramos. The former U.S. international had to deal with players not being released as well as several injuries, but managed to cobble together a squad that put together three consecutive wins and got better with every game. With no restrictions on player availability at the World Cup, the U.S. now has the opportunity to do some real damage this summer. The victory also put the failed efforts of the 2011 U-20 squad, as well as last year's Olympic team, further into the background.

It was a match where the U.S. put everything together in terms of its attack, combining solid possession with more incisiveness around goal. Luis Gil, who looked short of his best in the first two U.S. matches, scored a critical goal, and looked sharp with his combination play. Mario Rodriguez had also failed to impress in the first two games, but looked miles better in this match, setting up Villarreal's first goal.

Of course, this quarterfinal tilt was a case of more of the same from Daniel Cuevas and Villarreal. Cuevas was a constant menace down the left wing and helped set up Gil's tally, while Villarreal was consistently dangerous around goal.

Defensively, the U.S. alternated periods of solid play with some shaky moments, and it was one of the latter that led to Canada's opener. A giveaway by defender Caleb Stanko gave Canada possession in its attacking half. The ball eventually was passed to Carreiro, and when no one closed him down, he unleashed a long-distance effort that beat Cody Cropper in the U.S. net, who it must be said looked about two to three yards out of position.

Fortunately for the U.S., its response was near immediate. Cuevas had begun making inroads down the left wing, and his good work in the 29th minute allowed him to center for Gil, who took a touch and fired a low shot past Maxime Crepeau in the Canada goal.

The change in mentality by the U.S. was evident thereafter, as the team looked more confident and aggressive in front of goal. The loss for Canada of defender and captain Doneil Henry in the 32nd minute was significant, as well, as the Canucks badly missed his leadership and experience.

Sensing that Canada was vulnerable, the U.S. struck for two goals just before halftime. In the 40th minute, Villarreal hammered home Rodriguez's cross with a first-time finish. Five minutes later, Crepeau's punch of a Gil corner only went as far as the top of the box, where Trapp lashed home a shot from distance that was deflected past the Canadian goalkeeper.

Ramos would no doubt have preferred a boring second half, but instead was treated to one that had its share of incidents. Canada was right to feel aggrieved when Piette appeared to be felled in the box by Stanko in the 53rd minute, but saw his penalty appeal denied. Making matters worse for the Canucks, the U.S. added its fourth goal on the very next attack. Gil, Villarreal and Benji Joya all exchanged passes before Villarreal rifled home his second.

The U.S. was cruising, but then proceeded to make life more difficult for itself. Piette's long-range blast, following a poor clearance from Trapp, cut the deficit to two in the 64th minute, and Canada then squandered several chances to add a third. Substitute Keven Aleman had a glorious look at goal in the 66th minute, only for a poor first touch to let him down. Caleb Clarke, who was kept quiet for most of the night, then shot wide from inside the box in the 84th minute.

Frustration began to get the better of Canada, with the result that substitute Manjrekar James was red carded in stoppage time for head-butting Joya.

All that was left was for the U.S. to celebrate a memorable victory. Now Ramos & Co. can start making travel plans for this summer.

Man of the Match: The impulse is to go with Villarreal, given that his three goals now lead the team in qualifying. But Cuevas has been the team's best player in the tournament, and it was his runs down the left wing that helped turn the game around.

Talking points:

* Chances are that the center back pairing of Stanko and Shane O'Neill won't be used come summer. Not only is it hoped that players like John Anthony Brooks (not released) and Walker Zimmerman (injured) will be available, but it's also worth remembering that both Stanko and O'Neill were playing out of position. Stanko is normally a midfielder, while O'Neill has seen time in midfield and up top during his time with the Colorado Rapids Academy team. For that reason, both players deserve credit for persevering through difficult circumstances.

* One of the turning points of the team's qualifying journey was Ramos' decision to go with a 4-2-3-1 formation midway through the Haiti game. The added defensive solidity proved vital and gave the likes of Cuevas, Villarreal and Gil more confidence to get forward. On this night, even with Mikey Lopez suspended, the balance between attack and defense was the best it has been in this tournament.

* It's odd to think that the match was only a quarterfinal, but despite qualifying, the U.S. now has two more games to play. Ramos' side will now play Cuba on March 1, with either a final or a third-place match two days later.

* With qualification now assured, the U.S. will be shorthanded for the rest of the tournament, as Gil, Jerome Kiesewetter, Cropper and Stanko will return to their clubs. Eric Miller is also injured, leaving the U.S. with just 15 players total to contest the semifinal.