MLS 2013 Preview: Top 10 storylines to watch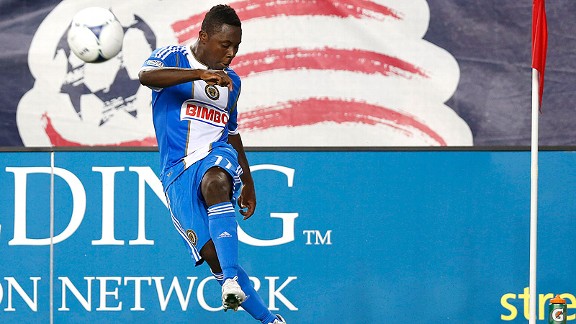 Freddy Adu and the Philadelphia Union are both stuck in a no-win situation.
The MLS offseason may have been shorter than ever before, but it didn't fail to produce a long list of storylines worth watching as the 18th season kicks off. Standoffs, sabbaticals, coaching changes, new faces in new places and old faces no longer there ensure that 2013 won't be lacking in intrigue.

Here are 10 storylines worth following, in no particular order.

1. The Freddy Adu situation

Cast an eye the Union's way and you'll notice that nothing is happening on the Freddy Adu front. It seems the former phenom is stuck in an MLS salary cap limbo -- given that it would cost too much for the Union to buy out Adu's contract, stashing him on the inactive list and paying his $500k salary is the better option.

It's weird and uncomfortable, and it will be interesting to see if either side blinks. The Union, with a dead roster spot and a the ignominy of paying a player to stay away. Freddy, wasting his season, contracted by a team that doesn't want him while his young career slips further and further into the abyss.

They're not exactly staying together for the kids.

2. Chelis and Chivas USA

It's the Chelis Show, starring Jose Luis Sanchez Sola, a.k.a. Chelis. Chivas USA have refocused, re-energized and re-something'd, though no one quite knows what it means or if it will work. What we know is that Chelis is different, the club has off-loaded several quality MLS players over the course of winter (possibly related to a policy of promoting Latin/Mexican-American players) and that they head into the new campaign with more unknowns for one season than most clubs have had in a decade. This is the league's most fascinating storyline of 2013 and by a wide margin. It will either end up in disaster, or less likely, represent a new dawn for a long-stagnant MLS franchise.

3. Landon Donovan isn't here

Here's what we know about the absence of Landon Donovan from the American soccer scene: He'll be back, though not until the end of March and probably not playing until the middle of April. The time between now (while he sojourns to Cambodia) and his return to the field won't be all that interesting, save for the gnashing of teeth if the Galaxy starts the season slowly.

What will be intriguing is how Donovan plays when he comes back, whether he's welcomed with open arms by his Galaxy teammates and how all of this drama impacts the two-time defending champs over the course of a full season. Bruce Arena sure doesn't sound too happy -- I shouldn't need to explain how entertaining an unhappy Bruce can be.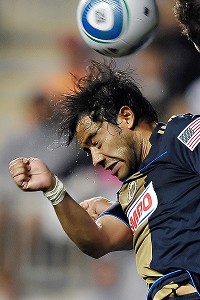 Drew Hallowell/Getty ImagesCarlos Ruiz is back after a two-year absence from MLS, where he touched a nerve across the league.
4. Ruiz lands in D.C.

While Rafa Marquez might have been the perfect MLS villain because of his Mexican heritage and petulant attitude, no player stirs passions across a wider spectrum of MLS fan bases than Carlos Ruiz.

"El Pescadito" scored his way into the hearts of fans in LA and Dallas but managed to alienate nearly everyone else with his constant diving and not-slight tendency toward simulation. After a two-year absence Ruiz is back in MLS with D.C. United, an uncomfortable marriage that bears watching. United needs a goal-scoring forward, yet his signing has spawned a crisis of conscience in the fans. If things go sour -- with Ruiz it's almost a given -- United's season might hang in the balance.

5. The Crew's dynamic duo

The second half of 2012 in Columbus brought with it some pretty sexy soccer. The arrival of Frederico Higuain who, alongside April acquisition Jairo Arrieta, turned the Crew into a swashbuckling team with a penchant for pretty goals.

As 2013 dawns with the pair fully ensconced with their MLS teammates, the Crew have the potential to be one of the league's more exciting teams. That hasn't been true at the start of a league campaign since the days of Guillermo Barros Schelotto. And if the Higuain era is anything like the Barros Schelotto era, the rest of Major League Soccer should be on notice.

6. Seattle without Fredy

Fredy Montero was Seattle's first star player, a young, talented Colombian who took as much a chance on a new team in an unfamiliar country as the Sounders took in return on his vast potential. Now, Fredy has gone back to Colombia and Sigi Schmid has to replace the club's all-time leading MLS goalscorer to keep the Sounders at the top of the Western Conference. It can't all fall to Eddie Johnson, who shouldn't be expected to improve on a stellar 14-goal campaign, while the current roster is lacking for anyone else of Montero's ability. Is Honduran Mario Martinez the answer? Does Seattle plan to splash its cash and bring in a big name forward? If so, can this imagined signing reach Fredy Montero's level of production?

7. The Caleb Porter experiment

Portland reboots its program in 2013 with the architect of the best college program of the past decade finally taking the helm after an "in-waiting" period last season. Caleb Porter brings with him a reputation as a tactical mastermind whose teams play attractive, possession soccer. In simple terms, he advocates a Barcelona-like style through an American soccer lens. The reality in Portland should be more pragmatic than if only by necessity, but Porter has collected a slew of former Akron Zips to complement a group of MLS vets and bright young talent. That suggests a change -- and a fairly drastic one. Porter has a mandate not only to win, but to win pretty. Expectations are high and we'll be watching to see if he meets them.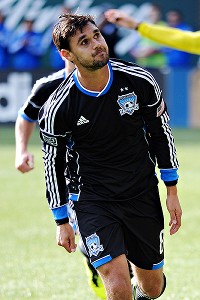 Steve Dykes/Getty ImagesChris Wondolowski's quest for an encore will be a tall task after tying the MLS season goal-scoring mark in 2012.
8. Wondo's big-money encore

San Jose's Chris Wondolowski scored more goals in a three-year span than any man in MLS history from 2010-2012, tied the MLS season goal-scoring record that had stood for 16 years last season and parlayed those gaudy numbers into a well-earned designated player contract entering 2013.

What's next for the affable Wondo? It seems crazy to think he could equal -- much less improve upon -- his amazing 2012 campaign, yet it seems foolish to doubt him. With the DP status comes more pressure, something Wondolowski has had little of at one of the league's more thrifty franchises, but with the club building momentum to the opening of a new stadium in 2014, the Earthquakes are banking on Wondo giving an encore.

9. Nelsen and Payne take Toronto

First, Toronto FC hired former D.C. United president Kevin Payne to take over a franchise in desperate need of direction. Then Payne hired Ryan Nelsen, a former D.C. United player Payne drafted and at the time of his hiring, still a starting centerback for relegation-threatened Queens Park Rangers of the English Premier League.

After a period of head-scratching around MLS caused by the strangeness of the situation, Nelsen finally negotiated a release from QPR and joined TFC in time to prep for his first season as an MLS head coach. By all accounts, Nelsen has all the makings of a quality coach, but with the history of failure that clings to TFC -- not to mention a new president intent on putting his heavy-handed stamp on all of the club's operations -- it remains to be seen if Nelsen can be successful. Desperation in TFC can hardly get any more intense, but the spotlight is on both Payne and Nelsen as they try to make this thing -- whatever it is -- work.

10. Petke in New York

The New York Red Bulls have tried the foreign coach thing, they've tried the American coach thing and they've tried the foreign coach thing again. None of it worked, at least not well enough to bring the club its first trophy. After failing in a bid to hire another foreign head coach -- reportedly because he couldn't obtain a visa -- the Red Bulls are back to an American. Only this particular American once played for the club, has served as an assistant at the club and brings a resulting passion to the job that no other candidate could have mustered.

Mike Petke might not have been the first choice, but he seems undeterred by that fact and ready for the challenge. With a host of talent at his disposal, he'll have the tools to meet it. The rest will be the simple (on paper, anyway) matter of managing expectations, his own learning curve and the egos of his players.