The U.S. averts its first crisis on road to Brazil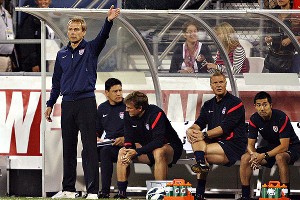 GettyImages / Andy Mead/Icon SMI"I communicated with Jozy that I was not happy about his latest performances with us, maybe over the last 14 months," Klinsmann said Monday.
Jurgen Klinsmann was facing his first mini crisis as USA coach in Columbus, Ohio, this week.

In the city that gave the world Jack Nicklaus, there was suddenly the real danger that the Americans would fail to make the cut for the World Cup. A shock first-ever loss in Jamaica in a sterile display on a bumpy surface had left the Klinsmann project on trial.

Typically, this somewhat "new age" coach took a few risky selection decisions for the must-win rematch in Ohio. He got the result he needed. In all honesty, it was a 1-0 battering, with the woodwork rattled three times.

Making five changes, Klinsmann took a punt on Sporting Kansas City's Graham Zusi to play his first competitive international. It worked. Zusi was a live wire and has already emerged as a threat to American hero Landon Donovan's place on the right.

And what about Donovan? He seems a little out of love with the game at times and talks of retirement, but no one should forget how many times he has delivered when it mattered most. Perhaps he has just got to that jaded-palate stage where it takes a little more to get his competitive juices flowing. It would be a mistake to discard such a key player, and after such long and distinguished service Donovan deserves to be cut a little slack if it means he is fresh and ready for the big games.

Klinsmann's other big call against the Jamaicans was to give Danny Williams the defensive midfield slot in which he shines for Hoffenheim in the Bundesliga. The German-American put in a sensational shift that dispelled my fears that the U.S. midfield ceases to function without Michael Bradley.

With Bradley and hopefully Stuart Holden to come back when fit, Klinsmann now has some real options in the engine room.

Jose Torres, a neat creative type, has failed a few auditions. But his performance against Jamaica suggested he can stay in the mix.

Klinsmann also has choices at the back now that Geoff Cameron has emerged as an automatic pick.

Even the 107-cap skipper Carlos Bocanegra is in a battle to stay first choice, though the nous and experience of he and Steve Cherundolo remain vital.

Fabian Johnson, an unknown a year ago, has solved the left back problem in style. He has been a revelation.

Klinsmann is also blessed by having Tim Howard, one of the world's top keepers.

And Herculez Gomez's speed, movement and set piece deliveries mean he deserves to get the nod over Jozy Altidore, whom you sense is a source of frustration for his coach. Since Altidore is the type who probably needs an arm 'round the shoulder, the cool relationship is probably not helping his international form. But he will be back.

The sizzling slick football played in the first 45 minutes by the U.S. in Columbus was the best of the Klinsmann era. More of the same should be too much for their CONACAF rivals so long as the old qualities of gutsy resilience are still there.

The U.S. should qualify for a seventh successive World Cup, but as ever the road might get rocky.

The first crisis has been averted, and I expect the U.S. to move on to the dramatic final qualifying stage by winning both its remaining games in this phase at Antigua and Barbuda, then against Guatemala in Kansas City on Oct 16.

Hold tight for an exciting ride along the route to Brazil.

Ian Darke is a commentator for ESPN. You can reach him on Twitter at http://twitter.com/iandarkeespn.