MLS 2013 Team Preview: D.C. United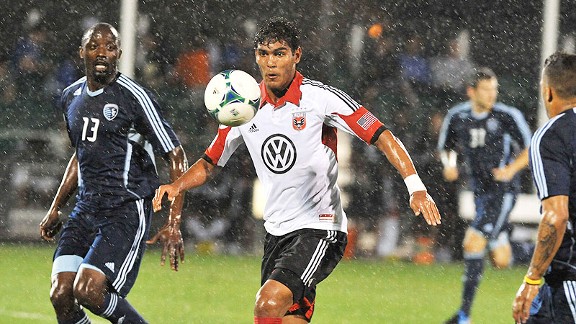 Al Messerschmidt/Getty ImagesMuch is expected of young loanee Rafael at D.C. this season. Can he deliver?
2012 record and finish: 17-10-7 (2nd place Eastern Conference)

Additions: M John Thorrington, F Rafael, F Michael Seaton, M/F Syamsir Alam, F Casey Townsend. D James Riley, F Carlos Ruiz

Losses: M Branko Boskovic, D Mike Chabala, D Emiliano Dudar, F Maicon Santos, M Stephen King, F Long Tan, M/D Andy Najar

Key questions facing this team

1. How good is Rafael?

United's big offseason acquisition was Brazilian forward Rafael, on loan from Bahia. Rafael joins United as a young DP who will be asked to immediately step in and bolster an aging forward line that lacks a consistent goal-scoring threat. As with any unproven player brought in from abroad, questions abound about Rafael's ability to handle the pressures of a new league in an unfamiliar culture.

United has plenty of potential goals in midfield with Chris Pontius, Dwayne DeRosario and Nick DeLeon, but Ben Olsen still desperately needs a player to apply pressure the opponent's back line and bring those advancing midfielders into the attack. Is Rafael that player? Will he justify the DP status or will he fall into the batch of failed signings that United has made in recent years?

2. How will United fare without Andy Najar?

D.C. United nurtured Andy Najar from young Honduran immigrant to breakout MLS star to first homegrown player sold abroad; though the club will reap rewards from Najar's sale both tangible and intangible, the first order of business is replacing him on the field.

This job will fall to some combination of Chris Korb and the newly acquired James Riley, two competent players who are more than capable of handling the defensive responsibilities. What United will miss most with Najar gone is the threat he represented on offense. Neither Korb nor Riley present the same threat flying up the wing as Najar, though both are better natural defenders. Selling Najar makes United less dangerous but more defensively sound. It's up to Ben Olsen to find somewhere else on the field to make up for that change.

3. Is this still DeRo's team?

United successfully navigated the stretch run of the 2012 MLS regular season without Dwayne DeRosario by changing its tactical approach. Now that DeRosario is healthy again, Ben Olsen must determine how much freedom to give the 2011 MVP while keeping United defensively sound.

United does boast other attacking weapons in Chris Pontius and Nick DeLeon, but getting away from what worked -- and what got them into the Eastern Conference Final -- will require further adjustment for a team that counts unproven young DP Rafael, second year player Casey Townsend and aging, prickly Carlos Ruiz among the notable additions at forward. In other words, United will rely on its midfield for goals and DeRosario will be crucial to that effort; what's as yet undetermined is how Olsen and United will balance letting DeRosario do his thing against what made United most successful last season.

Biggest X factor: Raphael Augusto

United's other young Brazilian loanee is also "Raphael" -- spelled with a "ph" -- Raphael Augusto from Fluminese. After spending the four months of his time just training with United last season, Raphael Augusto finally made his league debut in the team's biggest game to date, the first leg of the Eastern Conference final against Houston.

Expect Ben Olsen to give him more playing time this season, either as a deep-lying midfielder or in an attacking midfield role closer to goal. Through fatigue, injury and international call-ups, Raphael Augusto should finally get the chance to show the full scope of his talents. If they're up to par, he'll give United something of an unexpected boost in midfield depth.

Breakout player to watch: Pick 'em

It's not that D.C. United's roster lacks for younger players, more that many of them are already trusted contributors. From Bill Hamid to Perry Kitchen and Deleon, it's notable how well very young players have turned into important regulars in short order. That makes picking a "breakout player to watch" nearly impossible, because the young players who are not yet regulars are sitting behind a entrenched starters or remain deep down the depth chart.

Homegrown talent Conor Shanosky (21) has yet to make a senior appearance in three pro seasons. Defender Ethan White (22), another homegrown signing, took a step back and didn't appear for United in 2012 after a decent debut season in 2011. Newly acquired forward Casey Townsend was highly rated out of college but remains something of an unknown after playing 17 games and scoring just twice for a bad Chivas USA team last year. The best choice for breakout player might be the player we know the least about, new 20-year old Brazilian forward Rafael.

Outlook

If not for a questionable call and a slew of injuries at the worst possible time, D.C. United could have played for its fifth MLS Cup title last December. As it is, they head into 2013 having surprised many having finished as high, and having gotten as far, as they did.

A new year brings new challenges, especially for a team who did little to upgrade their roster. But they'll have a fully healthy Dwayne DeRosario to start the season, a bonafide star in Chris Pontius, DeLeon with a year of professional experience under his belt and a core of young players. The more experience Ben Olsen collects as an MLS head coach, the more adept he becomes at steering his club through the campaign, so there's reason to hope that United will build on last year's success.

The Eastern Conference doesn't seem to have gotten away from United either, despite their lack of real spending during the offseason. On paper, United is still one of the conference's top five teams. Whether led by DeRosario again or on the backs of Pontius and DeLeon, United will have a shot at another playoff appearance in 2013. A lack of a quality MLS striker and some questions of depth make their margin thin but Ben Olsen proved in 2012 that he's capable of managing an undermanned team to the MLS playoffs, and very nearly, an MLS Cup final.