MLS 2013 Preview: The Replacements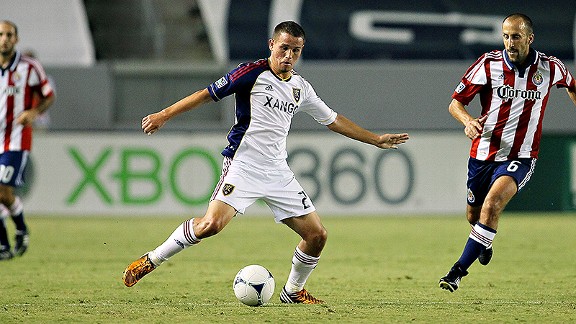 Victor Decolongon/Getty ImagesLuis Gil is just 19 but is expected to contribute plenty this season for Real Salt Lake.
An offseason of transition thrusts new burdens upon a new wave of MLS talent. Across the league new players must step into a range of positions previously held by long-established stars and team leaders. And this isn't just in places where playoff qualification has been hard to come by; even those teams expected to contend for the playoffs and an MLS Cup title will be reliant upon fresh starters.

- MLS notebook: Adu not biting
- Donovan still owes us something

Turning over crucial roles to new names as they head into the new season, several clubs are hoping that these new, often unproven, players can pick up where the departed names left off.

As such, here are five players expected to take over big gigs in 2013.

1. Chris Schuler, Real Salt Lake

Schuler steps in for Jamison Olave, the Colombian centerback and RSL legend who was traded to New York in a cost-cutting move this offseason. Schuler is 25 -- so he's no rookie -- but moving into Olave's spot next to Nat Borchers (when Borchers returns from quad surgery) is a big step in his young career. Head coach Jason Kreis says that Schuler has the potential to be an American international in the future and in sporadic duty over three pro seasons, Schuler has shown flashes of big-time ability. As Schuler moves into Kreis' best 11, he'll have every opportunity to prove that he's worthy of such lofty praise. Schuler has the size and skills -- consistency is the only box left to check.

2. Oriol Rosell, Sporting Kansas City

No loss could be bigger for any club in MLS than Sporting Kansas City saying farewell to Roger Espinoza. The Wigan man covered acres of ground in the Sporting midfield, breaking up opponent attacks and springing Kansas City's speedy offense. Those tasks now partly fall to Rosell, the Barcelona product who joined MLS in the middle of 2012.

Rosell's technical abilities are beyond reproach, but there are obvious questions as to how quickly he can adapt to Major League Soccer's fast and physical style. His passing and comfort will the ball make him an upgrade over Espinoza in some ways, though he won't bring the same intensity and defensive prowess. As he steps into the fire as a full-time MLS starter, Peter Vermes will hope that a combination of Rosell, newcomer Benny Feilhaber and MLS veteran Paolo Nagamura can both fill Espinoza's shoes as well as give Sporting something more on offense.

3. Bakary Soumare, Philadelphia Union

When the Union signed former Chicago Fire All-Star Bakary Soumare on his return to MLS, they probably didn't expect that he would need to take over for their captain Carlos Valdes. But Valdes orchestrated a loan to his native Colombia in the offseason, leaving Bakary and Jeff Parke -- acquired from Seattle via trade -- as the new centerback pairing.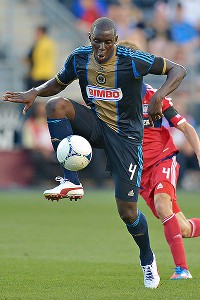 Drew Hallowell/Getty ImagesPhilly fans will be hoping that Bakary Soumare can come close to replacing Carlos Valdes in the heart of the Union defense.

It would be just as correct to say that Parke is replacing Valdes but because Soumare played just once in 2013, there are still questions about his fitness. If head coach John Hackworth had his druthers, he'd rather have Valdes entrenched with either Parke or Soumare filling in the other centerback role. As it stands now, much of the Union's defensive strength will turn on how good Soumare will be.

4. Mario Martinez, Seattle Sounders

Seattle's first true MLS star, striker Fredy Montero, headed south this winter to boost his national team credentials back home in Colombia. Enter Martinez, a talented Honduran who joined the club last summer and who can play either in midfield or at forward. He may not end up directly replacing Montero in a one-for-one manner, but Martinez holds the key to the Sounders moving on from the Montero era without missing a beat.

Eddie Johnson helped carry Seattle to its first franchise playoff win last season, but much of his success came with help from Montero. For Johnson to be as effective -- and for Seattle to be as potent -- Sigi Schmid will need to find a combination that incorporates Martinez and doesn't marginalize Rosales. Seattle should expect to contend in the West again, and Martinez will be a major part of that quest.

5. Luis Gil, Real Salt Lake

The highly touted Gil's time has come in the Real Salt Lake midfield now that Will Johnson was traded to Portland. Gil has the talent and awareness to fill in ably for the Canadian but like with so many young players, the grind of a long MLS season will test more than his development. It won't help that Gil is missing the tail end of RSL's preseason preparation while away with the U.S. U20s but his experience in the team's setup, learning behind Johnson and Javier Morales, should serve him well as he steps into the starting lineup.

Few 19-year-olds are given the type of responsibility Gil will have this season -- both in terms of his role in the Real Salt Lake system and as a poster child for the club's transition into a new era at Rio Tinto Stadium.