MLS 2013 Team Preview: Vancouver Whitecaps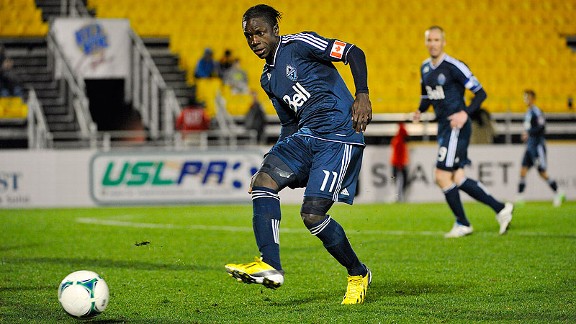 Rainier Ehrhardt/Getty ImagesDarren Mattocks is confident he can avoid a second-year slump, but he'll need help with the scoring load.
2012 MLS Record: 11-13-10 (5th in the Western Conference)

Additions: F Paulo Jr., D Brad Rusin, F Kekuta Manneh, F/M Erik Hurtado, F Corey Hertzog, F Tommy Heinemann, M Daigo Kobayashi, D Johnny Leveron, M/D Nigel Reo-Coker.

Losses: G Brian Sylvestre, M Tiago Ulisses, F Etienne Barbara, M John Thorrington, M/F Atiba Harris, M Barry Robson, D Martin Bonjour, M Michael Nanchoff.

Key questions facing this team

- 2013 Season Preview: San Jose Earthquakes
- 2013 Season Preview: FC Dallas

1. Who will supplement Darren Mattocks on the goals front?

After an impressive rookie season, one would expect Darren Mattocks to continue his development and improve on his return of seven league goals last season. Mattocks is more than able to lead the line, yet the Whitecaps need to supplement his goals from other parts of the team.

The Whitecaps were a low-scoring side last season with 35 goals. It should come as little surprise given they were second bottom in MLS when it came to shots on goal and total shots; meaning they either need to become more clinical or become more speculative.

2. Will Kenny Miller justify that DP money?

Last season was not a fun one for Scottish strikers on DP contracts. Arriving midway through a season is also never easy; a new culture and a new style of play can be tough even when the coach is a fellow countryman.

It's something of a misnomer that Kenny Miller is a potent goalscorer. He has endured periods of lean goal return in his career, and his two-goal return in 2012 is likely to have worried some Vancouver fans. Martin Rennie's direct style didn't really help Miller, nor will the recent stat that departed midfielder Barry Robson was the teammate who passed to him most last season. If the diminutive striker can play behind Mattocks and use his intelligence off the ball he could be a skilled poacher, but it's very much make or break for him this year.

3. How will Rennie manage his four central midfield options?

We often hear of managers being struck down with a 'selection headache'. Rennie could very much have that this year. Nigel Reo-Coker's versatility has been heavily played up, meaning he will probably see time in a number of positions, but that still leaves several guys vying for at most two positions.

Injuries and suspensions during the course of the season may thin the deck of options somewhat, but how he manages those players will be key. They also need to find the right balance tactically. Ideally, Reo-Coker and Rochat seem the best pairing, with the former's athleticism a nice compliment to Rochat's defensive nature. A physically adept pair, they may also free up Kobayashi to be the creative fulcrum for Vancouver.

Biggest X Factor: Darren Mattocks
Mattocks is a confident man. Laughing off any possibility of a second season slump, he made his intentions clear: "Without injury or without cards or mishaps, I think I can get 20 goals this season. I would like to make the All-Star team -- but I think those are goals I know I can do."

Watching his season unfold will be an exciting one regardless. If (as expected) he thrives, Vancouver could have arguably the best young strikers in MLS on their hands. Watching how he'd respond should he struggle would be just as engaging.

Breakout player to watch: Nigel Reo-Coker

Nigel Reo-Coker put a lot of consideration into this move. While he may have previously suffered from delusions of grandeur, he spoke with humility at his Vancouver unveiling last week. Seeking a multitude of character references before spurning New York and Portland, I think he has exactly the kind of qualities needed for MLS.

While he mentioned his ability to be a box to box or a 'maklele role' - he'd be wasted in anything other than the former. If he can even chip in with some goals like he did in his last few months with Bolton things could go incredibly well for the former Aston Villa man.

Outlook
"For us, we're just focused on getting better and improving," Rennie said recently. Consequently that means the outlook for the Whitecaps is at least reaching the playoffs.
Impressively stout in defence last year, they will need a similar performance in 2013 if they are to even come close to making that goal. How their veteran players will hold up is a question that still hangs over this side. If both DeMerit and Lee can remain in the side for 90 percent of the year Vancouver will have done well.

Just like last year, however, the attack remains an issue. Rookie Kekuta Manneh provides a wild-card element after an impressive preseason; but the likes of Omar Salgado and Miller will need to improve on the tally they registered last year if Vancouver want to continue their progression as a club and move ahead in the playoffs.