MLS 2013 Team Preview: Real Salt Lake
2012 record and finish: 17-11-6 (2nd place Western Conference)

Additions: M Cole Grossman, M Aaron Maund, M Lovel Palmer, F Robbie Findley, M John Stertzer, F Joao Plata, F Devon Sandoval, F Olmes Garcia

Losses: M Nico Muniz, GK Kyle Reynish, M Jonny Steele, F Paulo Jr., F Emiliano Bonfigli, F Justin Braun, D Jamison Olave, F Fabian Espindola, M Will Johnson

Key questions facing this team

- 2013 Season Preview: Seattle Sounders
- 2013 Season Preview: San Jose Earthquakes

1. Can RSL remain one of the league's elite with Olave, Espindola, and Johnson?

In the aftermath of a somewhat disappointing 2012, Real Salt Lake said painful goodbyes to three of the club's most consistent and crucial performers over the past five seasons. Jamison Olave, the Colombian center back who won 2010 Defender of the Year; Will Johnson, the hard-nosed Canadian midfielder who gave RSL effort and bite on the wing; and Fabian Espindola, a full-effort forward who played so well off of star striker Alvaro Saborio. The trio combined for over 6,000 minutes in 2012, but more than simply replacing their play, the club must replace the intangibles they brought to the field. If RSL wants to transition from rebuild to reload mode in one season, it will be crucial to convince everyone involved that the club's winning tradition did not leave with their three former stalwarts.

2. Are the youngsters ready for prime time?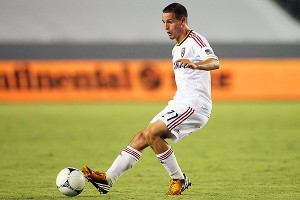 Victor Decolongon/Getty ImagesLuis Gil, 19, has the opportunity this season to display his potential.
Like most rebuilding efforts, RSL's relies heavily on players still learning on the job. 2013 figures to be the year highly touted American youth international Luis Gil steps fully into the spotlight in RSL's midfield. Fourth-year defender Chris Schuler is tasked with filling the massive shoes of Olave in the center of the defense. Other youngsters will be important roles in the RLS offense, such as 20-year old Joao Plata, who comes over from Toronto FC, Sebastian Velazquez the second year midfielder from South Carolina, and (perhaps) David Viana, a mysterious newcomer from France. The club recently added 20-year old Colombian forward Olmes Garcia to bolster the forward ranks. Though the transition to youth was necessitated by salary cap issues, the names expected to play the largest parts in RSL's season, Schuler and Gil, look ready to make the most of the opportunity.

3. How much does Javier Morales have left?

The status of RSL's star attacking midfielder Javier Morales -- the player who made the team go for so much their run as MLS elite -- dragged on through the offseason before eventually ending with a new contract for the Argentine. That's good news for a team with so much turnover heading into the new campaign; Morales is the unquestioned leader of the team, and at his best, their best attacking player. The question, with Morales now 33-year and coming off a season limited by the horrific ankle injury he suffered in 2011, is whether he'll ever be quite the same player he was when leading the club to a surprise MLS Cup title in 2009. The better Morales is, the easier the transition for some of the young players who will assume prominent places in the RSL lineup.

Biggest X factor: Robbie Findley

One-time American international and World Cup starter Robbie Findley returns to Real Salt Lake in 2013 after spending the last three years in England. When Findley was last a part of the RSL roster, he started as part of a championship team and scored 17 total goals over two seasons. During his time abroad, he scored only three times while struggling for playing time. If Findley can regain his scoring touch back in comfortable environs, he helps mitigate the loss of Espindola and takes pressure off of younger forwards RSL will hope to groom for the future. An ineffective Findley sharpens the necessary learning curve immensely.

Breakout player to watch: Luis Gil

Johnson's departure clears the way for Gil to make his name as a week-in, week-out starter on the wing for Real Salt Lake. Gil is full of promise and looks for all the world like a future MLS star; 2013 represents his opportunity, at just 19 year of age, to realize it. Though Johnson's part in RSL's success was easy to overlook in light of bigger stars with flashier skill sets, the Canadian was in many ways the tone-setter over five seasons in Utah. Gil will be asked to not only replace Johnson, but to fill in across the midfield as injury and fatigue dictate.

Outlook

The dismantling of Real Salt Lake feels dramatic and drastic after all of their success under Jason Kreis. But for all of the change, stars like Kyle Beckerman, Morales, and Saborio remain. Beckerman shows no signs of relenting his status of one of the league's best defensive midfielders. Saborio is still one of the league's top goal-scorers. Morales showed positive signs that he's on his way back to his full capabilities at the end of 2012. When healthy and playing consistently, those three players give RSL fans every reason to think they'll remain among the league's better teams in 2013.

General manager Garth Lagerwey and Kreis made their name on turning budget-conscious club into a perennial MLS Cup challenger, and very nearly a continental champion. Revamping the roster under the cloud of salary cap restrictions will go a long way towards revealing if that reputation is deserved. With L.A. and Seattle regressing -- at least on paper -- RSL figures to remain in the playoff picture.