MLS 2013 Team Preview: Houston Dynamo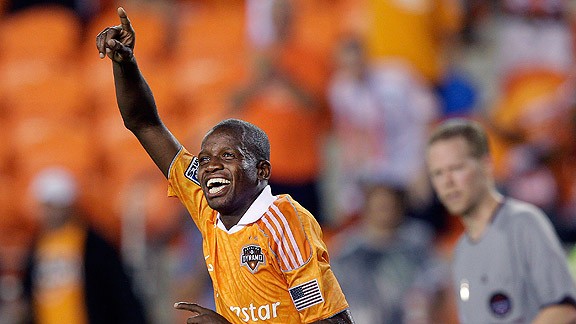 Bob Levey/Getty ImagesDynamo midfielder Oscar Boniek Garcia should help lead Houston to another MLS postseason.

2012 MLS Record: 14-9-11 (5th in Eastern Conference)

Additions: D Eric Brunner, M Andrew Driver, F Omar Cummings, F Jason Johnson, F Bryan Salazar
Losses: F Macoumba Kandji, D Andre Hainault, M Colin Clark, F Colin Rolfe, M Josue Soto, D/M Nathan Sturgis, M Je-Vaughn Watson

Key questions facing this team

- 2013 Season Preview: Columbus Crew
- 2013 Season Preview: FC Dallas

1. Does this team have another MLS Cup run in it?

The veteran-laden Dynamo are a year older but also a year wiser. With Dominic Kinnear manning the controls, as long as Houston qualifies for the playoffs they will remain a threat to make it back to MLS Cup. Kinnear did another nice job in the offseason of bringing in a blend of experienced players while injecting youth, namely home-grown product Bryan Salazar, who was once a Dynamo ball boy. MLS SuperDraft pick Jason Johnson is also an intriguing addition, but the strength of this team resides in the midfield. Bad Davis still as excellent as ever, Adam Moffat is a threat to bomb one in from way deep and Mr. Rambo himself Ricardo Clark instills fear in forwards everywhere from his defensive midfield position. To boot, Houston have yet to register a defeat in their new home digs, BBVA Compass Stadium, and playing a summer match outside in Houston makes any opponent miserable.

2. Who will replace Calen Carr's offense in the spring?

Toward the end of last season and into the playoffs, Kinnear had his team playing a 4-4-2 with Will Bruin and Calen Carr up top. It paid dividends as both were instrumental in helping the Dynamo nearly claim a third MLS Cup title. But Carr tore his ACL in MLS Cup and will be sidelined for the next few months. To help at that position, Kinnear has brought in veteran forward Omar Cummings and the new arrival from Colorado should benefit from a midfield that knows how to serve up balls for strikers. There is also Brian Ching, who was mostly used as a second-half substitute last year but can still find the back of the net with time and space.

Biggest X factor: Oscar Boniek Garcia

It is no coincidence that Houston's 2012 season took flight when Honduran designated player Boniek Garcia joined the club in late June. Garcia's pace, skill, presence over the ball and impeccable service sparked Houston to a run toward the top of the Eastern Conference table before they settled back into a fifth place spot. Prior to Garcia's arrival, the Dynamo had a minus-3 goal difference but improved to a plus-10 once the Honduran landed in Houston. And if anyone needed any further proof of how dangerous Garcia can be, a look back at the United States national team World Cup qualifying defeat against Garcia's Catrachos will convince any doubter.

Breakout player to watch: Kofi Sarkodie

Canadian defender Andre Hainault left during the offseason as a free agent, so now the responsibility to man Houston's right back position squarely falls on young Kofi Sarkodie. The former Akron product gained confidence playing in CONCACAF Champions League matches last season and that carried over into MLS play as he eventually replaced Hainault in late summer as the first choice right back. Sarkodie loves to make runs down the right side which gives the Dynamo an extra attacking element, but more importantly his overall defending improved vastly in the season's final months. With another preseason under his belt, Sarkodie only stands to make a leap forward in 2013.

Outlook

If there is one area of concern for Dynamo fans it could be the depth in defense. Eric Brunner joins from the Portland Timbers and Bobby Boswell, Jermaine Taylor and Corey Ashe are expected to be ready for the opener against DC United, but Houston could stand to have an extra body in the back. Another DP signing would not be a surprise and in true Kinnear form, it would likely be another under-the-radar but effective reinforcement from somewhere south of the Rio Grande. There are no qualms about the midfield as the Dynamo bolstered that part of the field by signing Andrew Driver who played with Hearts in the Scottish Premier League. Like Davis, he is left-footed but could see time in the middle as well. Attacking midfielder Giles Barnes is also one to watch and gives Kinnear an offensive option off the bench. Overall, the Dynamo are poised for another stellar season and mentally, it's hard to find anyone tougher in the playoffs than the boys in orange.