MLS 2013 Team Preview: Colorado Rapids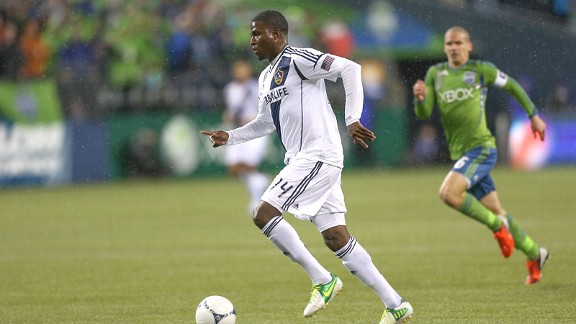 Otto Greule Jr/Getty ImagesEdson Buddle hopes to regain his 2010 L.A. Galaxy form in 2013 with Colorado.
2012 MLS Record: 11-19-4 (7th place Western Conference).

Additions: M/F Atiba Harris, M Eric Avila, F Edson Buddle, M Nathan Sturgis, D Diego Calderon, F Kevin Harbottle, D DeShorn Brown, M Dillon Powers, M Dillon Serna, M Nick LaBrocca, F Charles Eloundou

Losses: F Conor Casey, M Edu, GK Ian Joyce, D Tyrone Marshall, M Joseph Nane, D Scott Palguta, D Tyson Wahl, D Luis Zapata, D Hunter Freeman, F Omar Cummings, M Jeff Larentowicz, M Eric Avila.

Key questions facing this team:

1.) Will Edson Buddle recapture his Galaxy form?

It's tough not to feel some sympathy for Edson Buddle. After a difficult spell in Europe with Ingolstadt 04, he returned home to familiar surroundings in the hope of restarting his career. Traded by the LA Galaxy, Buddle now has a point to prove in 2013.

Playing backup to Robbie Keane, the Rapids' No. 9 is now allowed to be the centrepiece at Colorado. With Oscar Pareja's 4-3-3 formation seeing him at the top of the attack, you would expect much of the play in the final third to run through him. That should see him benefit as both scorer and provider -- making him a potentially astute pickup from the Rapids. A good move for his career, he could easily be picking up the 'Comeback Player' award later this year.

2.) Will Colorado's leaky defence improve?

The third worst backline in the West has to improve if Colorado want to reach their goals. From a tactical standpoint the back four will gain coverage from former Wigan man Hendry Thomas. However, it remains just as important that the new players settle into the side and generate an early season cohesion. Part of that understanding may be forged by Pareja in the form of extra training sessions with his chosen back five.

There also have concerns over the lack of height in the starting centre back pair. With Drew Moor at six foot and new signing Diego Calderon five foot, 11 inches, neither would seem dominant in the air. For Calderon there is also the added facet of adapting to a new league, culture, and style of play. The lack of language barrier will be a plus for Pareja in terms of instructing Calderon, but it remains a tough test for the former LDU Quito man.

3.) Will the spate of transactions improve Colorado?

Pareja made his aims for Colorado in 2013 abundantly clear in preseason: "I wanted to have a roster that is full of people that want to make the eleven," he said. "We need younger guys who are fighting and challenging the seniors or whoever is playing. That is going to provide us competition."

His desire for competition goes a way to explaining just why Colorado were one of the busiest teams in the offseason. However the potential issue stems from whether those players can quickly generate the understanding and fluency Pareja's tactical approach requires. With Colorado enduring a horrible midseason streak (2-11-1) in 2012 due to their lack of depth, that issue should be eradicated given they now possess a deep roster.

Biggest X Factor: Martin Rivero

It speaks volumes of Martin Rivero's importance to the team that he lead the Rapids for assists in 2012. Thus you can imagine the sense of dread that swept over Pareja when his star man dropped to the floor clutching his foot following a routine pass. Motioning to the bench that he had to come off, relief came days later when it was established that his injury was not the the potential three month layoff that was expected.

"The doctor thinks he can recover quicker than anticipated," Pareja told MLSsoccer.com. "It might be less than two months." Still ruled out until early April, Rivero will likely be the difference between success and failure for Colorado this year.

On a personal level, if there remains one critique of Colorado's number 10, it is his lack of goals. Poor finishing meant he averaged one goal for every 30 attempts in 2012, something he will need to address if Pareja's side are to make progress.

Breakout player to watch: Nick LaBrocca

As one door closes, another opens. Just as the unfortunate news came through that Rivero will miss the early season through injury, Nick LaBrocca's chance now arrives. One of several players coach Pareja tipped as a potential attacking midfield replacement for Rivero -- now is LaBrocca's chance.

Playing a similar role in a struggling Chivas side; 2011 was his best season on the West Coast as eight goals and six assists were supplemented by a nomination for that year's All-Star team. Back in familiar surroundings, the 28-year-old should theoretically be hitting the peak of his MLS career and be ready to perform from first kick.

Outlook

Last season was tough for Pareja. Trying to implement a style completely different to the one Gary Smith had installed was always going to take time. Joining the club just weeks before the season started, he was never really afforded the preparation period that his rivals had.

In his second year he can't rely on that excuse. Having moved on some of the team's veterans, much of the foundation and early building has been complete. Although his soccer can be nice to watch, his position can only be justified by the Rapids denoting some form of notable improvement or evolution on the field.

My only real concern with the Rapids is the heavy number of youth players. Talent is one thing, but too often the mental pressures are over looked when trying to incorporate young prospects, with each individual reacting differently to the mental strain professional soccer holds.

By no means the worst team in MLS, I can see Colorado challenging for a playoff spot but just missing out. That will represent a marked improvement, and secure Pareja the third season he needs to complete his 4-3-3 vision and return the club to the postseason.