MLS Notebook: Adu not biting and Quakes' injuries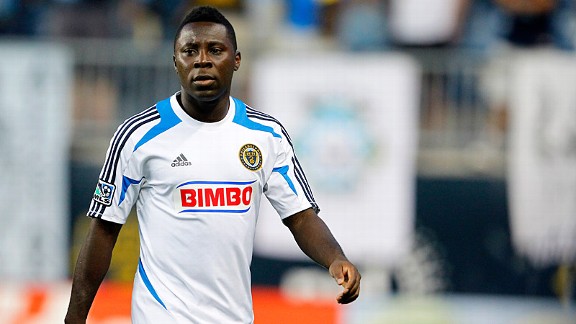 Rich Schultz/Getty ImagesFreddy Adu's immediate playing future still remains very cloudy.
The list of potential suitors for wayward Philadelphia Union midfielder Freddy Adu keeps growing but the former U.S international isn't interested, at least not for the moment.

With Philadelphia Union manager John Hackworth stating at last month's MLS SuperDraft that the Union was moving on without Adu, The Washington Post reported earlier this week that Adu had received interest from Mexico and South Korea. A source with knowledge of the negotiations confirmed both countries as potential destinations but that Adu had turned down the offers. The source also indicated that an offer from a club in the Ukraine had been rejected, as well as one in Greece. The Union had also offered Adu a restructured deal that would see him remain among the top wage earners on the team -- but that was turned down as well.

Reached by telephone, Adu's agent Richard Motzkin said, "There are all sorts of possibilities. Philadelphia has clearly stated that they don't want Freddy back. There's the possibility that Freddy could be traded to another team in MLS, that he could go outside MLS on a loan or that a negotiated settlement could occur allowing Freddy to pursue options outside of MLS on a free transfer. Whatever happens, from my perspective the best answer is the one that will allow Freddy to get back on the soccer field as soon as possible with a club and in an environment where he is wanted."

So what is Adu's end game? According to the source: Europe. Again.

However, the sticking point is that Adu wants the Union to buy out his deal in full. The source indicated that this would cost the Union's owners around $1.3 million, which would then allow Adu to begin trying out with European clubs ahead of the summer transfer window. The problem is that it's actually cheaper for the Union's ownership to keep Adu on the roster since they are only on the hook for the amount above the Designated Player salary cap hit of $367,000.

As it stands now, either Adu agrees to have his contract bought out for a lower number or he sits in limbo and doesn't play anywhere -- not a good development for either party.

Injuries have Quakes looking for attacking mojo: One wouldn't think that a team that scored a league-best 72 goals last season would need an offensive rethink heading into 2013, but that is the case for the San Jose Earthquakes, at least in the near term.

What's happened? Well, injuries have hit deep before the regular season has even started and while the losses of Marvin Chavez (knee sprain) and Stephen Beitashour (sports hernia) have been significant, it's up front where the Quakes are feeling the pain most.

Last year between Steven Lenhart and Alan Gordon, San Jose always had at least one target man in the lineup. But Gordon is set to miss the start of the season due to offseason hip surgery while Lenhart has been slow to recover from a November operation on his right knee.

"It's just the workload," said manager Frank Yallop regarding Lenhart's recovery. "If Lenhart does quite a bit of work, the knee will swell up. We've just got to be real careful with it. It could be a week, it could be another couple of weeks."

That means the Quakes could start the season without the kind of target man that has historically taken much of the attention off Chris Wondolowski. Mike Fucito has been partnered of late alongside Wondolowski and offers a different look in that he tries to stretch defenses with his speed in a bid to create space for his strike partner. The team did score three goals in last weekend's tie with Portland but the Quakes' buildup play was sketchy at best. For that reason, Yallop indicated that he's not done experimenting with his team's attacking approach.

"If Mike has to start the first game of the season I have no problems with him doing that," he said. "We're just going to soldier on and get on with that. I think our team does suit a target man. We've got to figure out in the next two games exactly what the lineup is going to be and then go from there."