MLS 2013 Team Preview: Columbus Crew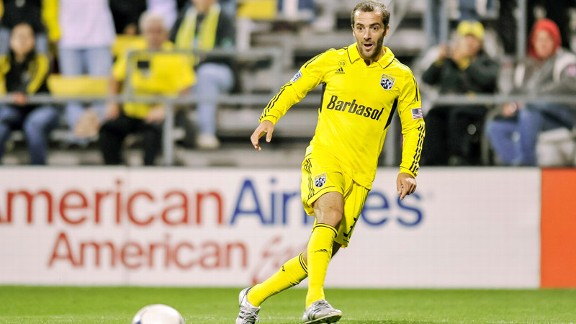 Jamie Sabau/Getty ImagesWith a full preseason under his belt, 2012 MLS Newcomer of the Year Federico Higuain should be even more effective for the Columbus Crew in 2013.
2012 MLS Record: 15-12-7 (6th in Eastern Conference)

Additions: D Drew Beckie, D Augustin Viana, D Glauber, D Chad Barson, D Tyson Wahl, M Matias Sanchez, M Wil Trapp, M Tony Tchani, M/F Dominic Oduro, F Ryan Finley

Losses: GK William Hesmer, D Rich Balchan, D Nemanja Vukovic, D Julius James, D Carlos Mendes, D Sebastian Miranda, M Chris Birchall, M Dilly Duka, M Cole Grossman, M Milovan Mirosevic, F Tommy Heinemann, F Emilio Renteria, F Olman Vargas

Key questions facing this team

- 2013 Season Preview: Colorado Rapids
- 2013 Season Preview: FC Dallas

1. Can Robert Warzycha return this team to the playoffs?

For many teams in MLS a winning record is the sign of a successful season, but standards in Columbus are high. The Crew missing the playoffs for the first time in five years did not sit well with supporters. Columbus spent their winter adding depth to key spots so now the impetus will be on the Polish boss to return the Crew to the postseason. Making sure the new pieces jell will be critical for Warzycha. He already helped himself out, avoiding potential locker room discord by dealing the disgruntled Dilly Duka to the Chicago Fire in exchange for Dominic Oduro.

2. Will the defense be improved?

The last two and a half months of the season were not the prettiest from a defensive perspective for the Crew. Starting with a 2-1 win July 28 at Sporting Kansas City, the Crew allowed a goal in 15 of their final 16 games. Much of that was due to the absence of Chad Marshall, who was chronically plagued by an injury. Now fully fit, Marshall and several offseason acquisitions comprise a newly formed back line that should fare better. Brazilian Glauber will likely pair up with Marshall at center back while MLS veteran Tyson Wahl is likely to be slotted in at left back. That is welcome news for the right-footed Josh Williams, who will return to right back after playing a good chunk of last year at left back. Veteran Danny O'Rourke provides depth when needed.

Biggest X factor: Dominic Oduro

Lacking firepower up front, the Crew recently made the move to bring in Oduro for the aforementioned Duka. Columbus were led last season by Jairo Arrieta and Eddie Gaven who each had nine tallies so it will be upon Oduro to bolster that total. In his previous two seasons with the Fire, Oduro had 18 goals, a stat he stands to improve on with the Crew. And even if Oduro's goal totals don't shoot through the roof, Columbus' attack is better with him on the field. Oduro's speed down the right side will force opposing defenses to play slightly deeper, thus allowing the ever-dangerous Federico Higuain all the more space to operate and create goal-scoring opportunities.

Breakout player to watch: Matias Sanchez

Columbus continued with their tradition of Argentine excellence by adding another player from the land of Maradona in Matias Sanchez. The 25-year-old midfielder spent the previous five seasons at Estudiantes de la Plata, where he helped the team win a Copa Libertadores and played in the epic 2009 Club World Cup final against Barcelona. Sanchez brings in a warrior mentality in which he'll fight for every ball in his defensive/holding midfielder role. He's also a player who can cover plenty of ground and will give fellow midfielder Tony Tchani the chance to push higher in attack. Sanchez has already developed an excellent rapport with his countryman Higuain (the two have been preseason roommates down in Orlando), and Crew fans can expect those good vibes to carry onto the field.

Outlook

A firmed-up back line, key acquisitions to the midfield and added power up front points to a return trip to the playoffs for the Crew. Despite arriving in late summer and only playing in 13 matches, Higuain still garnered the award for MLS Newcomer of the Year for his five goals and seven assists. With a full preseason under his belt and trusted players behind him, Higuain will have full reign to orchestrate the Columbus attack and set up Oduro, Gaven and Arrieta with plenty of scoring chances. The only question is whether the music will stop in early to mid-November or play into December.