MLS 2013 Team Preview: Chicago Fire

2012 record and finish: 17-11-6 (4th place Eastern Conference)

Additions: F Maicon Santos, M Joel Lindpere, M Jeff Larentowicz, M Brendan King, M Dilly Duka
Losses: GK Jay Nolly, M Pavel Pardo, F Guillermo Franco, M Alvaro Fernández, F Federico Puppo, F Dominic Oduro

Key questions facing this team

- 2013 Season Preview: Columbus Crew
- 2013 Season Preview: Montreal Impact

1. How effective will the rebuilt midfield be?

The Fire's 2012 midfield rotation of Patrick Nyarko, Alvaro Fernandez, Pavel Pardo, Sebastian Grazzini, Logan Pause and Marco Pappa was effective enough to help Chicago to a fourth-place finish in the Eastern Conference. Despite losing both Pappa and Grazzini in the summer, the Fire rattled off four straight wins in September and held on for a knockout-round playoff birth. In 2013, the midfield overhaul is complete with Dilly Duka, Jeff Larentowicz and Joel Lindpere stepping in holes left by the departures of Fernandez (out on loan), Pardo (retired) and Pause (position change). If those three players, plus the returning Patrick Nyarko, can be as effective as the last Fire midfield, Frank Klopas and Co. will be playoff contenders again.

2. Is Austin Berry the real deal?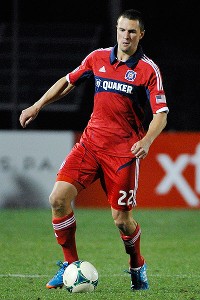 Rainier Ehrhardt/Getty ImagesThe consistency of surprise Rookie of the Year Austin Berry will be tested as he adjusts to new teammates.
Central defender Austin Berry won the 2012 MLS Rookie of Year in something of a surprise after starting 28 games and remaining remarkably consistent through the bulk of his debut season. That was no mean feat for a young defender coming straight from college into the pro game. Berry benefited from having veteran German defender Arne Friedrich next to him, but he certainly deserved the award. For his next challenge, Berry will have to avoid a sophomore slump while adjusting a slew of new teammates in midfield as his workload increases further. If Klopas can lean on his young defender, and Berry can handle the load, the Fire boss won't hesitate to do so. Take 2 will prove if Berry is capable of not only handling another long season and remaining consistent throughout, but if he's ready to rise to the elite level of MLS defenders.

3. How far can Sherjill MacDonald and Chris Rolfe take them?

With the departures of Fernandez, Pappa and Dominic Oduro, the Fire head into the new season without three of their best attacking players from 2012. The loss of those players and their combined 14 goals puts more onus on the team's returning forward duo of Sherjill MacDonald and Chris Rolfe to do the heavy lifting in the goal-scoring department. MacDonald's play after arriving mid-season last year showed promise (four goals in 14 appearances), and Rolfe manage to pick up where he left off in MLS after spending three seasons in Denmark (he led the team with eight goals). But the two will have to do better than a dozen goals between them if the Fire are going to avoid a precipitous drop in offensive production. New arrival Maicon Santos might help with a small handful of goals, but shouldn't be counted on for much more.

Biggest X factor: Alex

Brazilian midfielder Alex gave the Fire a dose of creative play off the bench in his debut MLS season, scoring twice in 17 appearances. If Chicago is to overcome the loss of so many attacking threats from their midfield, Alex will need to up his contributions in 2013. He may not start -- early indications are that Klopas likes the Larentowicz/Duka/Lindpere/Nyarko quartet -- but he will have a large role to play over the course of the season. Lindpere is 33 and will need regular spelling, injury could thrust Alex into a the first 11 at any moment, or Klopas could reshuffle his lineup looking for more creative spark. Whatever form his time on the field takes, Alex has the potential to play a big role in the Fire's fortunes.

Breakout player to watch: Dilly Duka

Yes, Duka has been a potential breakout player since he entered the league back in 2010. No, he hasn't yet lived to lofty expectations. But the former U.S. youth international still possesses the necessary skills to become one of Major League Soccer's brightest midfielders. Perhaps a change of scenery will do him good. It was no secret that he often butted heads with Columbus head coach Robert Warzycha, an atmosphere that did little to help him mature as a player. In Chicago's overhauled midfield alongside fellow newcomers Lindpere and Larentowicz, Duka has a fresh slate with which to work.

Outlook

The level of roster turnover in Chicago is notable even in an offseason that has see more than its fair share around MLS. After a fourth-place finish and a loss in the knockout round of the playoffs to the eventual Eastern Conference champions Houston Dynamo, the Fire are essentially starting from scratch in the midfield. That doesn't necessarily bode well for equaling last year's performance, but Klopas merits the benefit of the doubt on the back of a somewhat surprising 2012. If the new acquisitions in the center of the park jell quickly, Chicago will be fine; if age catches up to Lindpere, Duka remains something of an underachieving talent, and Larentowicz proves less effective than his best days in Colorado, the Fire will struggle. There's depth in players such as Corben Bone and Victor Pineda, but the ultimate success of the Fire will hinge on the new acquisitions.