MLS 2013 Team Preview: Montreal Impact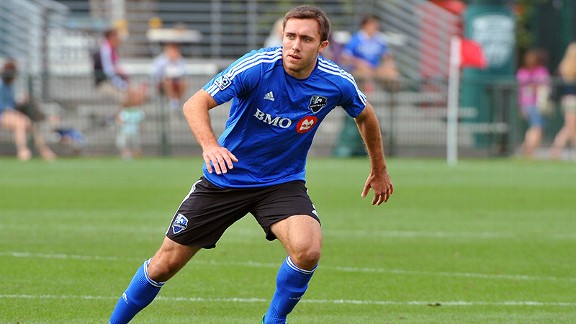 Al Messerschmidt/Getty ImagesNumber one overall 2012 MLS SuperDraft pick Andrew Wenger could have a breakout 2013 with the Montreal Impact.
2012 MLS Record: 12-16-6 (7th in Eastern Conference)

Additions: GK Brad Stuver, M Fernando Monge, M Blake Smith, M Andrea Pisanu, F Andres Romero

Losses: GK Greg Sutton, D Shavar Thomas, D Josh Gardner, M Lamar Neagle, M Miguel Montano, M Bryan Arguez and M Evan James, F Eduardo Sebrango, F Bernardo Corradi

Key questions facing this team

- 2013 Season Preview: New England Revolution
- 2013 Season Preview: Philadelphia Union

1. Can Marco Schallibaum make a difference?

Despite being a first-year team in MLS in 2012, the Impact did a nice job of collecting results and making a late charge toward the playoffs that fell short. Club officials still elected to make a switch at the top as Jesse Marsch was relieved of head coaching duties and was replaced by Marco Schallibaum, who signed just a one-year contract.

The Swiss coach's tenure is off to a decent start with a winning preseason, and the hope is that feeling can carry into the first weeks of the season with tricky visits to Seattle and Portland headlining March. But history shows that first-year European coaches in MLS don't pan out well. Considering that Schallibaum hasn't coached in two years and is sitting on just a one year deal suggests plenty of doubts.

2. Who will play in the midfield?

Heading into Week 1 against Seattle, Montreal fans will have a good idea about their goalkeeping, defensive and attacking personnel. However, the midfield is another story. 2012 team MVP Patrice Bernier is for sure slotted into the central midfield, but from there it gets hazy as to who will be supporting him.

When Marsch switched formations to a 4-2-3-1 last season, Collen Warner thrived in a defensive midfielding role and was a large reason why Bernier was named MLS Player of the Month in August. But late in the season, Calum Mallace impressed in his starts showing more technical skill than the speedy Warner. The bet is that experience wins out and Warner starts with Mallace one of the first options off the bench.

Out wide there is a lot of traffic with six players fighting for two spots. New Italian arrival Andrea Pisanu, on loan from Bologna FC, has lit things up in the preseason with a golazo against DC United and already has a bond with striker Marco Di Vaio, but starting Pisanu would likely send team captain Davy Arnaud to the bench. Other options out wide are Andres Romero, Sanna Nyassi, Justin Mapp and rookie Blake Smith. With a glut of players in the middle and out wide, Schallibaum will be doing some shuffling around before finding the right combination.

Biggest X factor: Felipe

Regarded by many as the newcomer of the year in MLS in 2012, Montreal hopes that there is no sophomore slump for the Brazilian attacking midfielder. Diminutive in size at just 5-foot-7 and 150 pounds, Felipe is quick, versatile and above all, consistent in his play for the Impact. He had four goals and 10 assists in 30 appearances last season and as he continues to develop a stronger outside shot, that goal tally could very easily increase in 2013.

Breakout player to watch: Andrew Wenger

The No. 1 overall draft pick in the 2012 MLS SuperDraft could very well be poised for a standout second season. It would be foolish to think that the 36-year-old Di Vaio will stay fit to start all 34 regular season matches, so expect Wenger to improve on his 2012 that saw him appear in 23 matches where he scored seven goals. At 22 years of age, the brainy Wenger is a student of the game and uses his head as much as his dexterity to wreak havoc on defenses.

Outlook

Impact fans need not worry about the back as veteran netminder Troy Perkins will start in goal and the four-man back line, led by Italian center backs Alessandro Nesta and Matteo Ferrari, will provide a stable defensive front. If Schallibaum can find the right midfielding ingredients, then Montreal has a chance to make a large step forward in its second year and stick its nose into the playoff race. But if Di Vaio ends up more on the training table than on the field and Wenger cannot step up, then the Impact will be in trouble.

Teams around the league will be watching closely because a poor start could leave to some roster overhaul via trades and a potential new DP signing.