Accomplished Donovan still owes us something
Landon Donovan made his first public comments since it was announced Sunday that he would return to the Los Angeles Galaxy in late March. But in the process, he sounded more like a player who needs to retire than one who will be coming back from an extended break.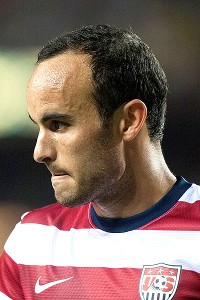 Patrick McDermott/Getty ImagesLandon Donovan needs to decide whether he wants to be an active player or a retired one, out of respect for the Galaxy and the USMNT.
And if that is what Donovan's heart is telling him, that is perfectly fine. That is what his 14-plus years as the face of U.S. soccer have bought him. But what he is doing at present, essentially trying to have it both ways by missing training camp and the first two months of the MLS regular season, is damaging to his club and the U.S. national team and seems incredibly self-indulgent.

Donovan appeared at a forum at a USC journalism class Wednesday night, and many of his comments were tweeted by Jesse Xiao, a student in attendance. The record U.S. goal scorer said, among other things, that he does have an interest in once again playing for the U.S. national team "if given the opportunity." He added, "I was so exhausted from the weight of the past 15 years ... really the past 28 years."

Donovan, 30, later added that he will be spending the next 10 days in Cambodia.

It's a move that is more Ricky Williams than Lionel Messi, and if social media is anything to go by -- and it is by no means a scientific survey -- then there are many willing to indulge Donovan's behavior. The thinking goes that Donovan's work at the forefront of the game here in the U.S. has earned him his sabbatical and that no one has the right to dictate what decisions the Galaxy attacker makes, especially if he's feeling burned out. "He doesn't owe us anything" is among the most common refrains.

Except Donovan does owe us something. From the moment he signed a professional contract, he agreed that in exchange for being paid handsomely to play soccer for a living, he would show up for things such as training camp and competitive matches. This is the bare minimum that is expected. Yes, Donovan has done much more than that over the years, giving countless clinics, interviews and PR bits. But Donovan is not asking to lessen his workload away from the field. He's demanding that he be allowed to step away from all of it, then come back at his convenience.

Is Donovan going about this in a malicious way? That has never been his style, and it's highly doubtful that is his intention here. He remains among the most thoughtful players in the game. But Donovan is also not making these decisions in a vacuum. His club is affected, as is the national team, and not for the better. There are important games coming up, critical ones in the case of the national team, which will face Costa Rica and Mexico next month. Donovan would no doubt help his team win.

But perhaps the bigger problem is the incredible double standard created by Donovan's behavior. Had David Beckham decided to miss the first two months of the MLS regular season because he had lost his passion for the sport, he would have been rightly excoriated by all involved. But Donovan deserves a free pass because of his long service to the game? It makes little sense and has the potential to cause problems down the road.

How this will be received by teammates currently slogging through training camp or club seasons in Europe is a headache that both Galaxy manager Bruce Arena and national team boss Jurgen Klinsmann will have to address going forward. Imagine being the player Donovan is replacing in the lineup, one who has done all the right things, made it through the drudgery of training camp, only to be told later that he has to sit in favor of another player whose commitment is in question. In the Darwinian world of professional soccer, that is a recipe for locker room discord if there ever was one.

This is not to minimize the demands of being a professional athlete. Yes, there are downsides to such a career, and the toll, both mental and physical, is extreme. But no one is forcing Donovan to play, and no one demanded that he sign a professional contract in the first place. All that is really required is for Donovan to decide what he is. Is he a retired soccer player or an active one?

He can't be both.