MLS 2013 Team Preview: FC Dallas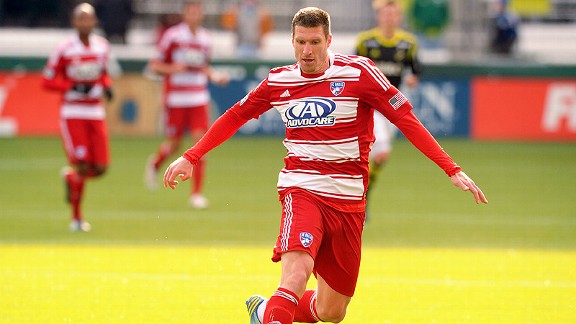 Steve Dykes/Getty ImagesLook who's back in Big D: Kenny Cooper returns to his hometown in his second stint with FC Dallas.
2012 MLS Record: 9-13-12 (6th in Western Conference)

Additions: GK Raul Fernandez, D Michel, D London Woodberry, D Walker Zimmerman, D Stephen Keel, M Peter Luccin, M/F Bradlee Baladez, M Je-Vaughn Watson, F Eric Hassli, F Kenny Cooper

Losses: GK Kevin Hartman, D Hernan Pertuz and D Carlos Rodriguez, D/M Daniel Hernandez, M James Marcelin, M Bruno Guarda, M Bryan Leyva, M Brek Shea, M Julian de Guzman, F Scott Sealy, F Ruben Luna

Key questions facing this team

- 2013 Season Preview: Houston Dynamo
- 2013 Season Preview: San Jose Earthquakes

1. How long will the new formation growing pains last?

The big news in Big D this winter has been head coach Schellas Hyndman's decision to shelve Dallas' traditional 4-5-1 and implement a 4-4-2 formation. The early returns have been shaky. In preseason contests there has been a noticeable disconnect with wide gaps exposed in midfield. But with three quality strikers in Blas Perez, Kenny Cooper and Eric Hassli, Hyndman must accommodate and have at least two of his higher dollar forwards on the field.

The issue has been with the build-up of play from the back, working the ball through the midfield and to the forwards. Attacking midfielder David Ferreira is more accustomed to playing in a forward role, not dropping back toward defense to then gain possession. Dallas will need improved wing play, especially in light of Brek Shea's departure to Stoke City, but should the lack of offensive prowess continue and discontent grows, Hyndman might be forced to alternate his setup yet again.

2. Can Dallas avoid the injury bug?

Looking at Dallas' potential starting XI, the ages listed are not that of an old folks' home, but there are certainly enough players north of 30 where questions about durability will arise. Ferreira finally returned to health last season after a crippling leg injury, but at 33 years of age he is vulnerable to nagging injuries more than ever. Out of the three forwards, Cooper is the spring chicken at 28 while 'Super Raton' Perez is 31 as is the Frenchman Hassli. New arrival and defensive midfielder Peter Luccin is 33 and has already gotten injured in preseason. To boot, he is yet to experience the joys of an early summer evening kickoff in Frisco, TX which makes any player's hamstring quiver at the thought. Also the recently signed Michel, a versatile defender who can also help in a defensive midfielding role, is 31.

Believing that all the aforementioned players can stay healthy the entire season would be naïve, however too many absences, especially from the players up front, could end up crippling Dallas' playoff hopes.

Biggest X factor: Andrew Jacobson

Out of all the players on the field for FC Dallas, no one will have a more pivotal responsibility than Jacobson. In Hyndman's 4-4-2, Jacobson will serve as the defensive midfielder that needs to shut down the opposition's playmakers, hold possession and then deliver good balls forward to Ferreira or out wide to Fabian Castillo or Brazilian midfielder Jackson. Hyndman originally had thought to have Luccin play this role but a knee injury has slowed the Frenchman so Jacobson stands to be the primary choice heading into week one versus Colorado. The good news for Jacobson is that the back four is solid and should provide enough cover so there will be slightly less pressure on him.

Breakout player to watch: Fabian Castillo

All eyes in north Texas are focused squarely on Castillo who counts himself as one of the many people expecting big things from him in 2013. The lightning-fast Colombian winger enters his third season with Dallas as a Designated Player. After struggling for a good portion in 2012, it was no coincidence that Castillo started to blossom once his countryman Ferreira returned to action. The attention paid to Ferreira gave Castillo more one-on-one situations that he was able to exploit. Assuming Jacobson can fulfill his role of service and Ferreira remains healthy, the 21-year-old Castillo is poised for a superb season.

Outlook

There will be some growing pains with the new formation, but should Hyndman get it to click, or perhaps even introduce a slight wrinkle to alleviate issues, Dallas could be an extremely attractive team to watch this year. The back four of Jair Benitez, Matt Hedges, George John and Zach Lloyd is very good and goalkeeper Chris Seitz is steady in net. That should provide some comfort to Hyndman while he tweaks his team's attack. Cooper is back in his hometown which will be an emotional lift and everyone knows how dangerous Hassli can be close to the goal and with enough space. Meanwhile there should be no drop-off from Perez who is happy at Dallas, evidenced by his decision to extend his contract during the offseason. With no more Brek Shea off-the-field distractions, Dallas stands to benefit from only worrying about its performance on the field. Provided most stay healthy, a playoff run is very much within grasp.